Insights > Entergy National Engineers Week Spotlight: Waterford 3's Grace Settoon
Entergy National Engineers Week Spotlight: Waterford 3's Grace Settoon
02/23/2016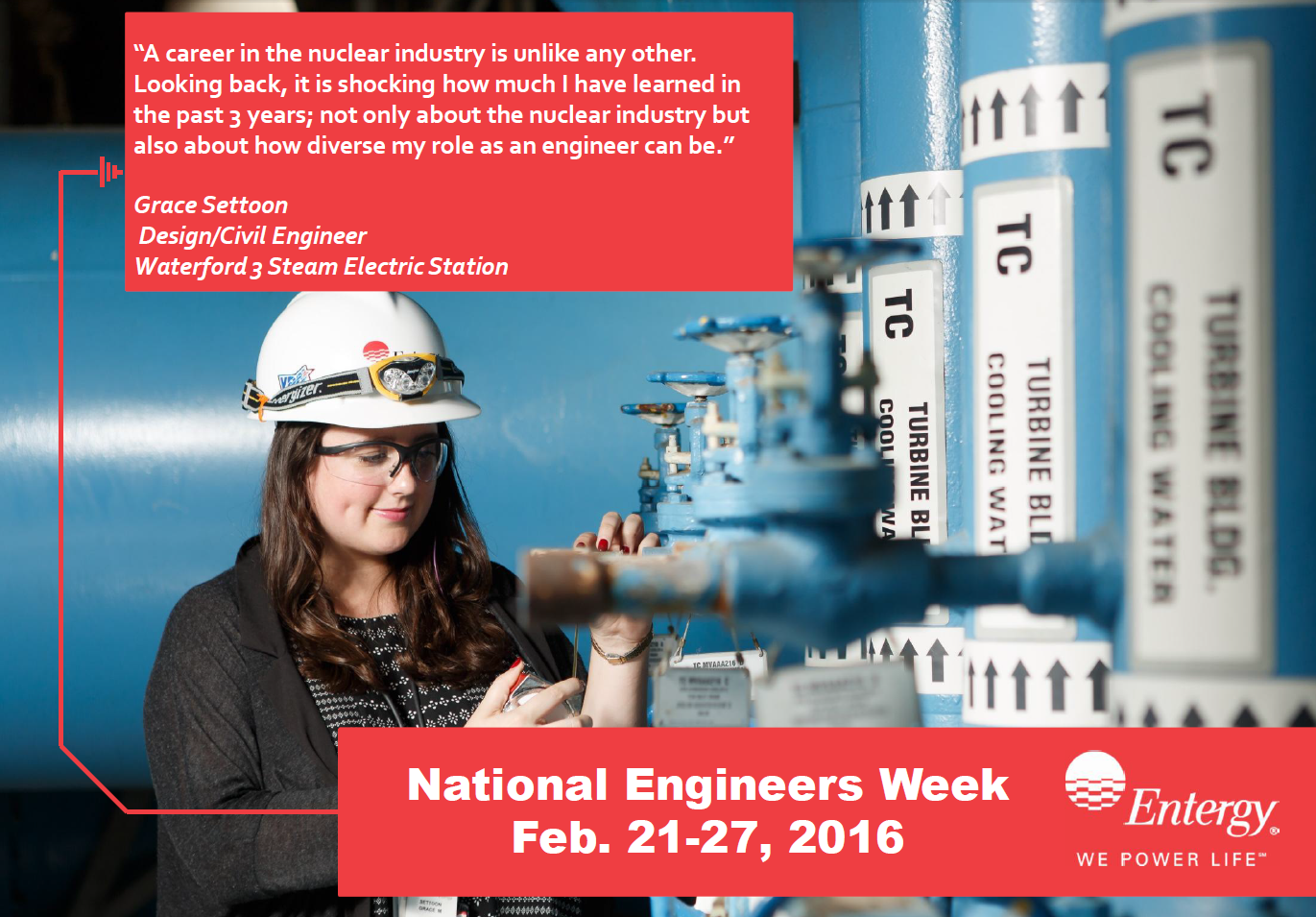 Grace Settoon is a design/civil engineer II at Waterford 3 Steam Electric Station. She's been an engineer for three years. 
High school physics class inspired her to be an engineer
Both of my parents have science/math-related careers and I have always considered following in their footsteps. But if I had to pinpoint my first attraction to engineering, it would be Mr. Collins' physics class. I think a big factor was that Mr. Collins was a great teacher. He helped begin my attraction to the idea of designing a solution to a problem and using math to solve it.
Civil engineering runs in her family
When I made the decision to major in civil engineering, my mom mentioned that both my grandfather and great grandfather were civil engineers – I had no idea! I now have their old slide rulers and notebooks.
Her internship was eye-opening and empowering
I interned with the Shaw Group (now CB&I) for two and a half years while in college in Baton Rouge. It was a great experience – it completely opened my eyes to the professional life of an engineer. I not only got a better understanding of the business side of engineering, but I also had the opportunity to work with a number of female engineers. There weren't many girls in my classes so it was really empowering to work with such successful and respected women.
Her role as an engineer is diverse
My career at Waterford 3 has been a completely different experience, though just as good. A career in the nuclear industry is unlike any other. Looking back, it is shocking how much I have learned in the past three years; not only about the nuclear industry but also about how diverse my role as an engineer can be. I have had great mentors and coworkers who have passed their knowledge on to me and have kept me enthusiastic about my career. I have definitely learned to be ready for anything.  
Engineering in the nuclear industry is about teamwork
Engineering is vital to nuclear power. Whether its civil, mechanical, electrical, reactor or chemical engineering, the plant could not run without one of them. It is also important to have a good understanding of each engineering field and each plant system. When there is a component failure or something goes wrong, we all work together to figure out the cause and the best solution. We're a team.
The best part about her job
I love seeing final results. I'm working on a project right now that is supposed to solve a big plant issue and it is near completion. It's almost unsettling how excited I am to see the final results and report back that the project worked.
---