Insights > Entergy Partnering on Powerful Tools that Help Reduce Poverty
Entergy Partnering on Powerful Tools that Help Reduce Poverty
05/17/2017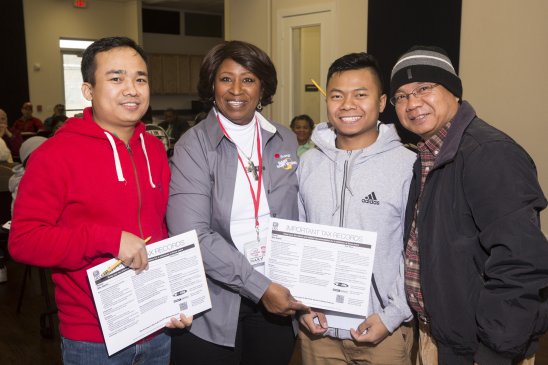 Free tax prep and other financial services help low-income customers save, invest in home ownership, pursue better education and more.
During Entergy's Super Tax Day events, we met a customer whose financial well-being was drastically affected by the 2016 floods in Louisiana. Volunteers at the Capital Area United Way in Baton Rouge helped her receive a tax refund that was about $800 more than the estimated refund she had received earlier from a paid tax preparer. She also saved $200 in processing fees.
How? She filed her taxes for free at a local Volunteer Income Tax Assistance (VITA) site and ensured she claimed the federal Earned Income Tax Credit (EITC). EITC helps put money back in the pockets of working families making $54,000 or less annually.
Multiply this true story by hundreds of Entergy-sponsored VITA sites, thousands of tax filers working to make ends meet, millions in EITC refunds, and enhanced financial  counseling and savings programs provided through Entergy's VITA Plus program, and you can begin to understand how We Power Life for working families struggling to improve their lives.
More than 18,900 local residents of Entergy-served communities in Arkansas, Louisiana, Mississippi and Texas received free tax prep and more than $35 million in EITC refunds in 2016.  
"The Earned Income Tax Credit is the most successful poverty-alleviating tool in the United States, and Entergy's work to ensure customers benefit is part of a bigger picture of helping people gain economic security," said Liz Brister, manager of Entergy's low-income program portfolio.
In addition to free tax services, the company launched VITA Plus in 2015, offering additional financial support at some locations. "Entergy's VITA Plus increases the impact of the EITC. It combines free tax prep plus other financial services and resources to help low-income families use their refunds to build wealth and become more self-sufficient," Brister said.
For example, Little Rock-based Southern Bancorp Community Partners offers a year-round matched savings account program. The program helps local residents develop financial goals and convert tax credits and other savings into asset purchases such as a home.  A "Split, Save and Win" promotion provided prizes to those who chose to save any portion of their refund on the spot while filing taxes at a VITA site.  Partnering with Arkansas Access to Justice, legal clinics were also available at some VITA sites, helping protect customers' assets for the next generation.
Success stories for Entergy-sponsored EITC and VITA programming abound. In New Orleans, one participant in the United Way of Southeast Louisiana's matched savings program received a year of intensive financial coaching and saved enough money to purchase a home last March. She has developed a pattern for saving and her credit scores have increased by 50 points. In addition to being grateful, she says she better understands the importance of taking care of her finances now in order to be more financially stable in the future.
To date, more than 1,200 low income families and individuals have received financial coaching, credit counseling, pro bono legal aid and goal-setting support toward asset development and home ownership through VITA Plus. Another 590 have enrolled in matched savings programs, 328 of whom have already reached their savings goals. Like the customer in New Orleans, 217 have bought a home. Others used their matched savings to start small businesses, seek education and job training or purchase transportation for work.
Entergy, our employees and partners, EITC, VITA and VITA Plus are providing powerful means for improving the everyday lives of hard-working customers. Learn more at http://eitclocations.com/ .
---