Insights > Entergy Receives 29th EEI Award for Emergency Response Following Nor'easters
Entergy Receives 29th EEI Award for Emergency Response Following Nor'easters
06/06/2018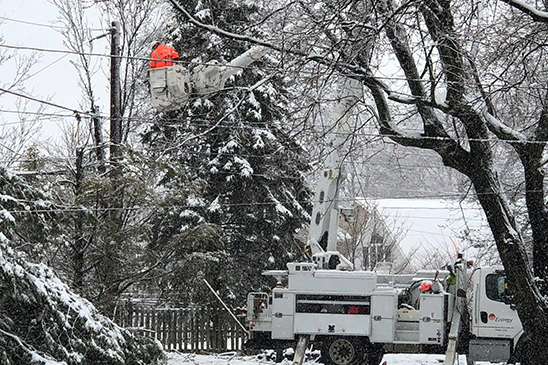 In recognition of Entergy's exceptional power restoration efforts following several nor'easters earlier this year, the Edison Electric Institute awarded Entergy with their Emergency Assistance Award. This marks the 21st consecutive year EEI has recognized Entergy employees for their outstanding mutual-assistance work.
On March 1, a series of severe storms buffeted the East Coast, producing high winds and blizzard-like conditions in more than a dozen states. Entergy earned the Emergency Assistance Award for its efforts to help restore power to customers in Pennsylvania, New Jersey, Massachusetts and Connecticut. In total, Entergy sent 154 line workers for 16 days to assist with the recovery efforts.
"Mutual assistance is a hallmark of the electric power industry. When a disaster impacts a region, neighboring electric companies quickly respond to assist," said EEI President Tom Kuhn. "The work of Entergy's crews to restore power to customers impacted by these nor'easters is a terrific example of mutual assistance in action and our industry's commitment to serving our customers."
Entergy is the only utility in the nation to have earned EEI recognition every year since the launch of its Emergency Response Award program. Including this year's honors, Entergy has received 29 EEI awards for recovery and assistance work.
"Helping others in times of need is ingrained in our culture," said Mike Vaughan, Entergy's system storm incident commander. "Even though these efforts can be challenging, Entergy crews are always eager to get on the road and lend a helping hand to other utilities. Our greatest strength is the ability to maintain focus, prevent injuries and bring everyone back home safely — that's the true measure of success."
EEI awards are presented twice annually to member companies to recognize their extraordinary efforts to restore power to customers and for assisting other utilities after service disruptions caused by severe weather conditions or other natural events. The award was presented on June 5 during EEI's Annual Convention in San Diego.
---