Insights > Entergy recognizes Utility Scam Awareness Day, offers tips to stop scams
Entergy recognizes Utility Scam Awareness Day, offers tips to stop scams
11/13/2023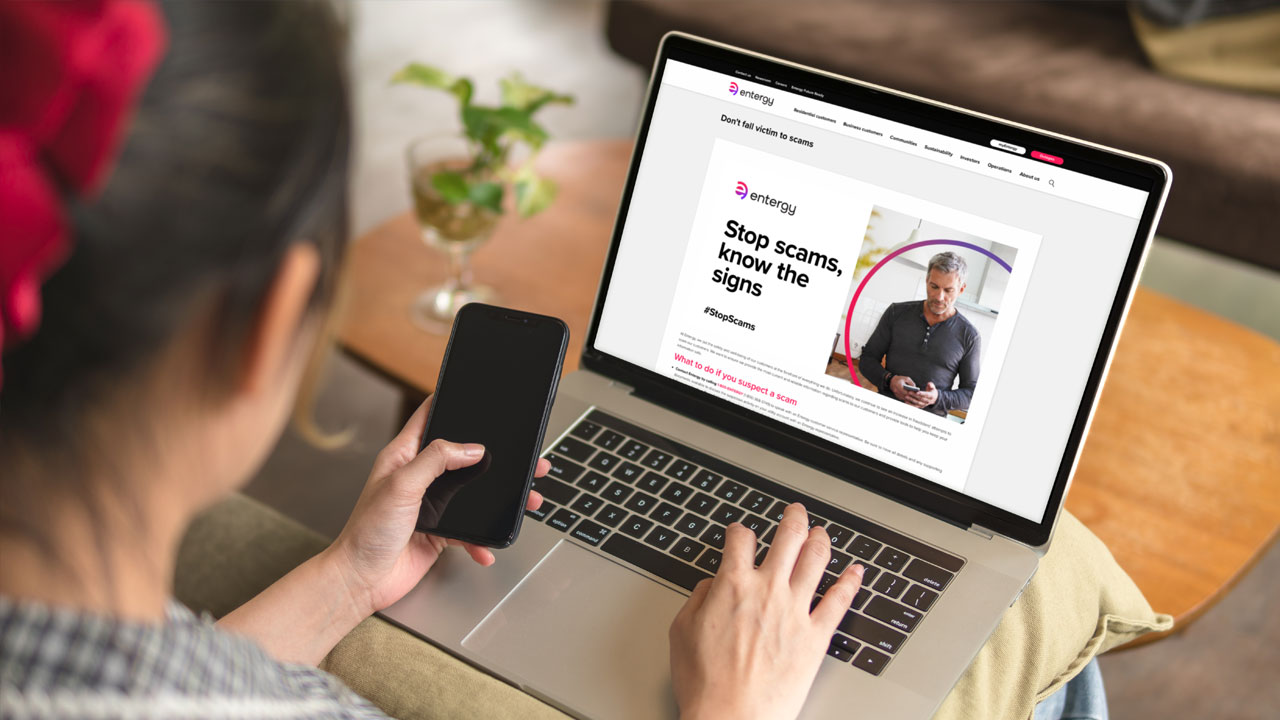 This year's theme is "Screen the Search" to reflect the pervasiveness of search engine scams
Entergy is proud to join Utilities United Against Scams to recognize the eighth annual Utility Scam Awareness Day on Wednesday, Nov. 15, during International Fraud Awareness Week. Utility Scam Awareness Day is an advocacy campaign focused on exposing scams targeting utility customers.
Nationwide losses to business imposters – scammers who falsely claim affiliations with well-known companies like trusted utilities – soared in 2022, according to the Federal Trade Commission. Reported losses totaled $660 million, up from $453 million the previous year.
"Utility imposters use a variety of phone, online and in-person tactics to target and defraud our customers," said Chris Peters, vice president and chief security officer, Entergy. "We urge you to remember that scams can be sophisticated and convincing, especially when your guard is down."
Here are five common scams and tips to protect yourself from them:
Search engine scams: Watch out for convincing, but fraudulent, websites that look like ours when you search for it online. Always confirm that you are using our official website, entergy.com, and our official customer portal, myEntergy.com, to conduct business.
Cash transaction app scams: Don't try to pay your Entergy bill through third-party cash transaction apps like Cash App, Venmo or Zelle. To review our authorized payment methods, visit myentergy.com/s/makepayment.
Fake caller ID displays: Don't rely on caller ID displays; criminals can falsify them to disguise themselves as Entergy representatives. Always confirm an unknown caller's identity through independent verification.
Threats to disconnect: Beware of threats to disconnect your utility service if you don't provide immediate payment. We never demand immediate payment or cut off service without considerable advance warning.
False overpayment scams: Beware of scammers who claim they want to give you a "refund" for an alleged Entergy bill overpayment. Use verified channels like myEntergy, or contact us directly, to confirm the status of your account.
While far less common, in-person scammers often claim they need access to your property to provide repairs, offer free inspections or restore power first following an outage or disconnect in exchange for an upfront payment.
We never demand or accept payment to restore your power, and we will call you or provide written notice if we need to access your property. If you are uncertain, contact us directly to verify whether an Entergy service representative should be on-site.
If you fall victim to a scam, report it to Entergy, your bank or financial institution and the proper authorities, including the local police, state attorney general's office, Better Business Bureau or FTC. Document all details, such as receipts, names, websites, phone numbers or email addresses, associated with the crime.
Entergy is proud member of United Utilities Against Scams, a consortium of more than 150 U.S. and Canadian electric, water and natural gas utilities and their respective trade associations that are dedicated to combating utility imposter scams.
With the assistance of customer reports, UUAS has helped disconnect more than 14,020 toll-free numbers that scammers used to target utility customers.
"We urge our customers to report suspicious activities and help us spread awareness," said Peters. "Together, we can stop scams."
Visit entergy.com/scams for additional resources on new and evolving threats.
---