Insights > Entergy sponsors American Heart Association Go Red events
Entergy sponsors American Heart Association Go Red events
03/31/2022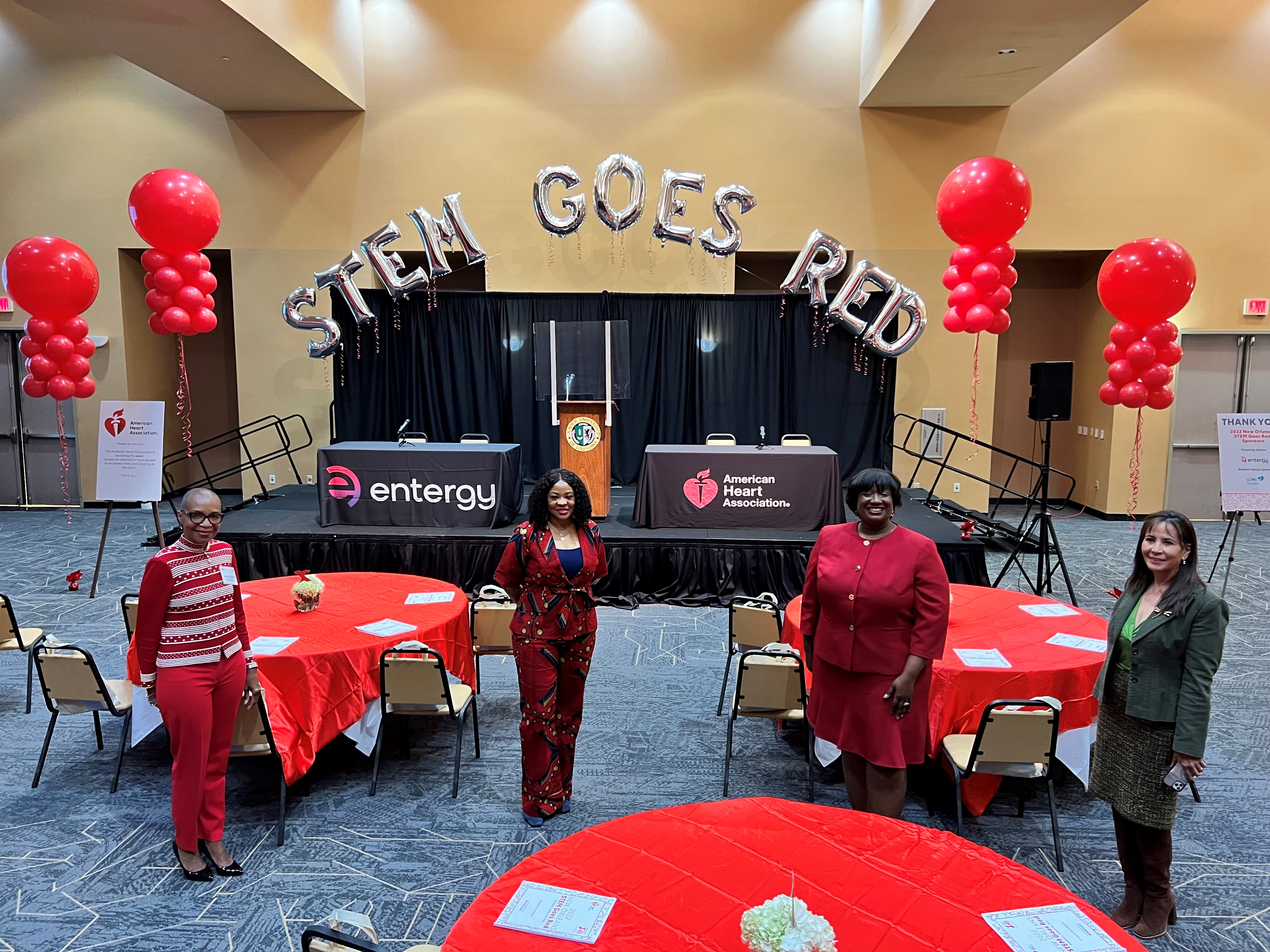 STEM Goes Red
Entergy was the presenting sponsor of the American Heart Association's 2022 STEM Goes Red event on March 24 at Xavier University of Louisiana in New Orleans. The event encourages young women to explore careers in science, technology, engineering and math. Fifty high school girls assembled for the first in-person event since 2020, engaging in a daylong event of hands-on STEM activities and mentorship. The day kicked off with a talk by Taiwan Brown, vice-president, diversity and workforce strategies, on increase diversity in STEM fields for women.
Students networked and explored STEM in small groups with industry experts and mentors who volunteered their time and experience. The girls alternated through four breakout sessions covering each field of STEM. The day also included speed mentoring with experts in their field. Patty Riddlebarger, vice president of corporate social responsibility, wrapped up the day with closing remarks.
"Entergy is proud to partner with the American Heart Association on STEM Goes Red to engage the next generation of young women in STEM and develop tomorrow's future," said Riddlebarger. "Supporting opportunities such as STEM Goes Red means inspiring bright minds to pursue complex solutions for today's energy, environmental, health care and engineering problems."
Entergy's participating mentors and panelists included:
Kenyon Webber, senior engineer, transmission design, basis standards.
Mandy Anderson, senior manager, IT project management.
Lauren Carpenter, Louisiana water lead, senior analyst, power generation.
Rachel Mogilka, manager, substation design, transmission engineering.
Alicia Clay Jones, manager, policy and performance, chief security officer organization. 
Vonda Flentroy-Rice, IT business analyst, senior.
"Since heart disease continues to be the number one killer of women, ensuring more women are at the forefront of developing science, technology, education and math solutions has never been more critical," said Nicolle Psilos, director, New Orleans Go Red for Women. "STEM is our future, and as a science-based health nonprofit, STEM is at the heart of who we are and what we do. We're so thankful to our sponsors at Entergy for aiding in putting this wonderful event together for our local students."
Go Red for Women
In February, Entergy was also the lead sponsor for the American Heart Association 2022 New Orleans Go Red for Women Luncheon. Riddlebarger presented local honorees with the Women in STEM award including Erin Hodges, vice president, continuous improvement. The award celebrates female leaders who have demonstrated extraordinary commitment and impact in the STEM field.
---