Insights > Entergy Texas Lineman of the Game Nathan Odle scores successfully in safety and teamwork
Entergy Texas Lineman of the Game Nathan Odle scores successfully in safety and teamwork
08/24/2023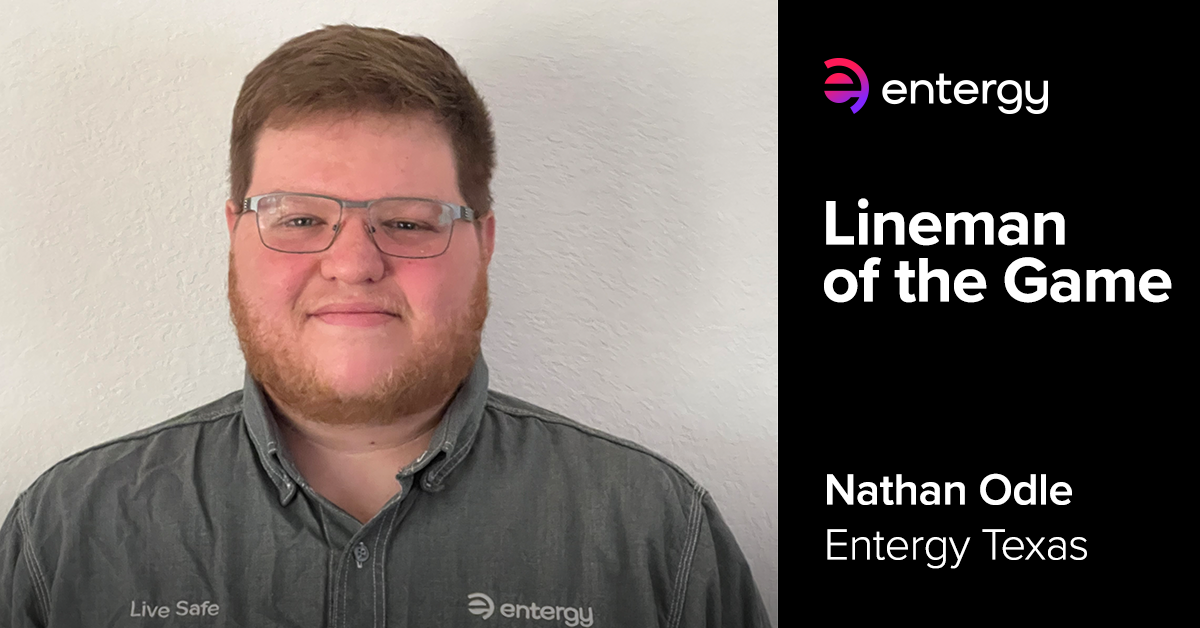 Nathan Odle will be recognized as Entergy Texas' Lineman of the Game at the start of the Saints vs. Texans match up in New Orleans on August 27. For each New Orleans Saints home game in the 2023 season and pre-season, Entergy and the Saints recognize an Entergy employee from operations during the game for outstanding performance on the job and in the community.
Nathan is from Groves, Texas. He earned a degree in instrumentation from Lamar Institute of Technology before landing his first role as an engineering helper in 2017. He currently serves as a fourth-year relay apprentice for the Conroe network.
"I really enjoy the intricacies of what I do. There are so many different things going on," said Nathan. "While challenging at times, it also feels rewarding when you're able to figure out the problem and have a solution."
Along with his outstanding work and can-do attitude, Nathan says his parents made it a point to encourage the importance of family and creating a safe space for others. His support and concern for everyone's safety is reflected in his daily work.
Being selected as Lineman of the Game came as a surprise to Nathan, but his team can attest to the great work he's done not only as a lineman, but as a team member.
"Nathan's connection with his team is greatly appreciated," said Gary Rogers, utility foreman for the Conroe network. "He also keeps us updated on upcoming area developments, especially restaurants!"
Nathan and his wife will enjoy two nights in New Orleans, a pre-game field pass to watch the players warm up, and tickets to the Entergy suite to watch the game.
Catch Nathan hyping up the crowd at the game this Sunday!
---