Insights > Entergy Texas Partners with Lone Star College to Support its LSC Promise Scholarship Program
Entergy Texas Partners with Lone Star College to Support its LSC Promise Scholarship Program
08/29/2016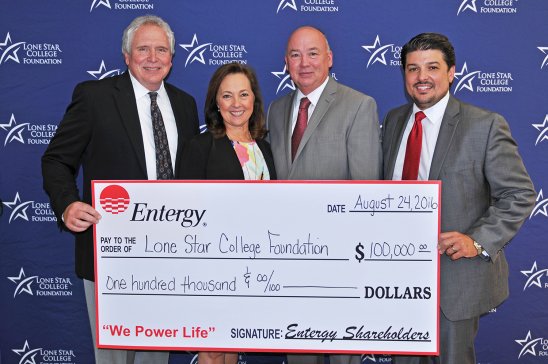 The scholarship will help the LSC prepare tomorrow's workforce today
As part of the company's mission to power life for the communities that it serves, Entergy Texas is supporting student success by donating $100,000 to the Lone Star College Foundation for student scholarships.
Entergy Texas' contribution will help fund the LSC Promise scholarship. This program provides an opportunity by funding the balance of tuition and fees for students with financial need after grant and scholarship awards are exhausted.
Through our giving to the scholarship program, Entergy Texas is equipping students to be prepared to meet the challenges of an increasingly technological workforce on day one.
"The needs of today's workforce have changed dramatically," said Sallie Rainer, president and CEO of Entergy Texas and a director of the Lone Star College Foundation. "This donation will be used exclusively to fund students' pursuit of studies in energy and manufacturing or industry certification, and we are excited to partner with Lone Star College to help students find a pathway to a college education."
Known for its leadership, innovation and steadfast commitment to student success, Lone Star College provides high-quality academic transfer and workforce education /career training programs to more than 83,000 credit students each semester, and a total enrollment of 95,000 students.
---