Insights > Family, Food and Special Traditions: Entergy Employees Share Their Favorite Holiday Memories
Family, Food and Special Traditions: Entergy Employees Share Their Favorite Holiday Memories
12/20/2017
When the holidays roll around each year, so do memories of seasons past. Whether it's recalling your grandmother's delicious pumpkin pie, the excitement of Santa bringing you THE gift you wanted or your family's special traditions, many families will reminisce about their most cherished holiday memories when they gather to celebrate this year.
My favorite Christmas memories are of spending the holidays at my grandparents' home when I was a kid. The whole family – including about 20 other grandchildren and great-grandchildren – filled the house with noise and laughter. My grandmother decorated the fireplace with hand-quilted stockings embroidered with each family member's name. They hung by clothespins on a string of twine my grandfather stretched from wall to wall across the fireplace mantle and were filled with traditional stocking stuffers like oranges, toothpaste, socks, candy and lip balm. Most years my grandmother also made each grandchild a gift, like sock monkeys, crocheted poodles, quilts and even Cabbage Patch-inspired dolls complete with her signature on their bums. It took her all year to sew them for so many kids! I still have most of those treasures, including my hand-quilted stocking which I display every Christmas as a loving reminder of Mama Lou and Papa George and their generous spirits.
I invited my colleagues to share their favorite holiday recollections and they came through with their own heartwarming stories. We hope you enjoy them and that they'll spark your joyful holiday memories, too.
Every Christmas I would climb up in my grandparents' attic to drag down the Christmas tree and decorations. I would very carefully place every ornament just right on the tree. It's safe to say I had OPD - Ornament Placement Disorder – and I still do! But what an honor it was to be given that responsibility even at a young age. Every year on Christmas Eve my family, which included my parents, grandparents, aunts, uncles and several cousins, would all get together for a family Christmas. The living room of my grandmother's house would be covered in wrapping paper from all of the gifts. We had to be careful cleaning up so that presents wouldn't get thrown away. It was that bad! After cleanup, we would proceed to the dining room for a very large dinner. After dinner was finished we all would go outside to shoot fireworks. For some reason this always turned into the men of the family aiming them at each other and a few of us kids hiding in the cars to watch safely from a distance. Our family Christmas tradition was a lot like the movie Groundhog Day, but I wouldn't trade those memories for anything in the world. All my grandparents have since passed away and new traditions have started, but I am forever grateful for the memories.
-  Mistie Worsham
Joey Lee, in blue, sits in front of the family's cardboard fireplace one Christmas anxiously awaiting Santa's arrival.
My Dad was in the Air Force so growing up for me meant moving from base to base every couple of years. When I was younger, I was convinced Santa couldn't come visit me if we didn't have a fireplace, and no base housing we ever lived in had fireplaces. So my parents found a cardboard fireplace with a light bulb where the fire should be that they would set up each Christmas. That little fireplace gave this guy a lot of comfort, knowing Santa would always be able to come see me. Of course, now that I'm a grown up I know better, Santa doesn't need a fireplace, he's magic and can get in a house any number of ways!
- Joey Lee
My favorite Christmas memories include spending time with my family when I was a kid. There were six of us, but three of my brothers and sisters were older and were already married, in college or in the army, so I mostly remember Christmas with my two younger sisters. Those were the days of plastic window curtains, Johnson's paste floor wax and silver tinsel Christmas trees. My mom would always buy new curtains and throw rugs, and my sisters and I would clean house and decorate. We would start with waxing the linoleum floors, especially the living room, with Johnson's paste floor wax. It had a distinct smell that would have the whole house filled. It wasn't that we liked cleaning floors so much as it was the fun in how we would distribute the wax and make the floors shine like glass. After applying the paste to the floors on our knees with rags, we would all put on a pair of old socks and slide across the floor until the whole floor was covered and shining like new money. Then we would decorate the silver tinsel tree that was so skinny you could see all the way through it. We also had two large pine trees outside on either side of our front porch that we would put Christmas colored lights (with the big bulbs) on as well as stringing lights around the porch. My mom was the greatest cook. Everything that she cooked during her lifetime was absolutely delicious. Our house would be filled with the smell of sweet potato pies, pound, chocolate, coconut and pineapple cakes, which were her favorites to cook. Everyone in the neighborhood wanted a piece of her famous pound cake or requested that she make them one also. My dad would always bring in fruits, nuts and peppermint candy canes for us and egg nog for the adults. We would hardly sleep Christmas Eve because of the anticipation of finding out what was under the tree. On Christmas morning we would wake up to the smell of chicken and dressing, already baking in the oven. In our pajamas, we would excitedly open our gifts, saving the wrapping paper for next year's gifts. This may sound strange now, but we were poor though we felt rich because of the love that surrounded us not only on Christmas but throughout the year. My mom and dad are gone on now but the memories are still precious to me. We were a close family then, and my siblings and I still share that closeness as we grow older and pass on the love and traditions to our children.  Happy Memories!!!
- Patricia White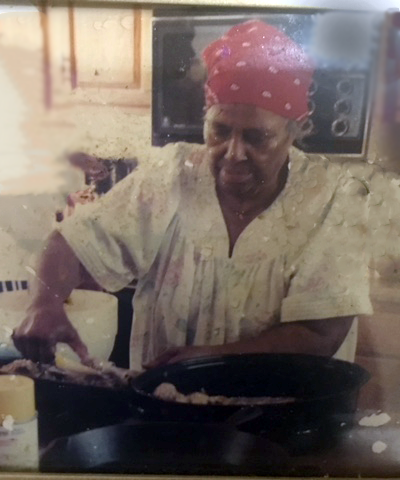 Patricia White keeps this photo of her mom, Kelly Lee Pryor (affectionately known as Mrs. K'Lee), cooking at the family's last holiday together in her own kitchen as motivation to cook.
I have a funny Christmas memory that took place in Washington, D.C. last year. My wife and two kids wanted to go see the lighting of the National Christmas tree near the White House. Getting downtown during a holiday spectacle was quite a challenge. We wanted to be adventurous so we drove in as close as possible and parked at the Pentagon City Parking garage. We hopped the Metro and made our way to the Federal Triangle train station. Crowds were heavy and it was bitter cold, but we made it to the ellipse near Presidents Park. An announcement came over the loud speaker that the National Christmas tree was about to be lit. On come the lights and we look at each other with a chuckle. The National Christmas tree was only 10 feet tall with strands of mesh lighting draped over it. Not exactly what we were expecting, but it was the National Christmas tree after all! It made for a good laugh as we enjoyed each other's company the rest of the evening dancing to live Christmas music, drinking hot chocolate and strolling around our Nation's capital on such a beautiful night.
- Keith Herrington
As the youngest of nine children, I remember my parents always played Santa Claus for us. My Mom cooked and decorated, and our house smelled so good from all the food - ham, dressing and greens. And oh, the desserts would be all over the counter tops and table. She cooked so many cakes and pies. My mom still cooks her famous three-layer Christmas cake, with a red top layer, yellow middle layer and bottom green layer. Talk about good!  We had to be in bed early, which wasn't a problem because we knew when we heard Santa leaving we could get up and see what he had left us.  Man, oh, man to wake up and see all the stuff you had asked for and much, much more! Our Christmas goodie bags had an apple, orange, candy cane, orange slices, all type of nuts and candy. Still today, my siblings and our families gather on Christmas Eve at my parents' home and we play games all night, wake up to my brothers cooking breakfast and open gifts, starting with my Mom (the oldest) until the youngest. You can just imagine that the smaller kids' anticipation is over the top!  My mom still makes her Christmas goodie bags, for whoever wants one, which we all do! Remembering helps me realize I've been blessed my whole life!
- Tammy Wooten-Moorehead
---