Insights > First clean air breaker on Entergy's system energized in Vicksburg
First clean air breaker on Entergy's system energized in Vicksburg
03/15/2023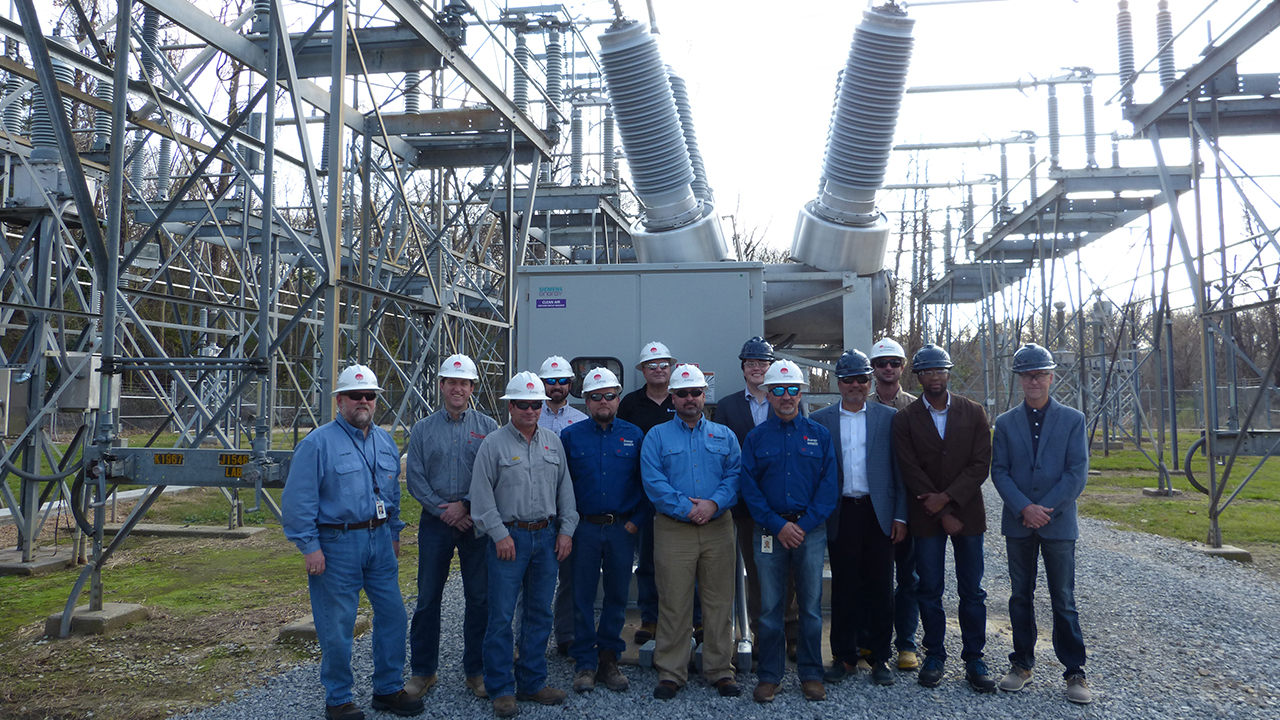 Project is another step toward company's sustainability efforts
When Entergy Mississippi crews installed a high-voltage clean air circuit breaker at one of our Vicksburg, Mississippi substations late last year, two companies reached milestones. The equipment installation was a first for Entergy's four-state service area and the second U.S. dead-tank BLUE Circuit BreakerTM installment in the country for the manufacturer, Siemens Energy.
In our efforts to achieve net-zero carbon emissions by 2050, Entergy is deploying a number of sustainable solutions from building solar power generation and working to relicense our nuclear plants to replacing some equipment, like circuit breakers, with cleaner technology.
Manufactured in Richland, Mississippi, the Siemens Energy BLUE Circuit BreakerTM is a 123kV high-voltage clean air vacuum breaker that replaced a high-voltage oil circuit breaker used to control the flow of power on the electric transmission system. The equipment uses a clean air mix of 80% nitrogen and 20% oxygen for its insulating medium rather than sulfur hexafluoride, a potent greenhouse gas. Energized on Nov. 21, 2022 the gas-free breaker is a pilot project we will monitor to understand how this kind of technology can help reduce our greenhouse gas footprint and emissions.
"By testing this technology, we're gaining a better understanding of how innovations like Siemens Energy's clean air breaker can strengthen the electric grid while advancing our sustainability goals," said Haley Fisackerly, Entergy Mississippi president and CEO. "And we're proud this product, made by Mississippians who live and work in our service area, is helping us create a more resilient grid for all our customers."
In working with Siemens Energy, we not only took one more step toward creating a cleaner electric grid, but also supported another important initiative, Hire Mississippi. Approved by the Mississippi Public Service Commission in 2018, Hire Mississippi helps increase awareness of potential business opportunities among Mississippi companies that are qualified to provide services to utilities.
Learn more about how we're building a cleaner, more resilient and sustainable power grid for everyone through innovative energy solutions like this one at https://www.entergy.com/future/.
---