Insights > First Female Entergy Automotive Mechanic Fits Right In
First Female Entergy Automotive Mechanic Fits Right In
01/04/2021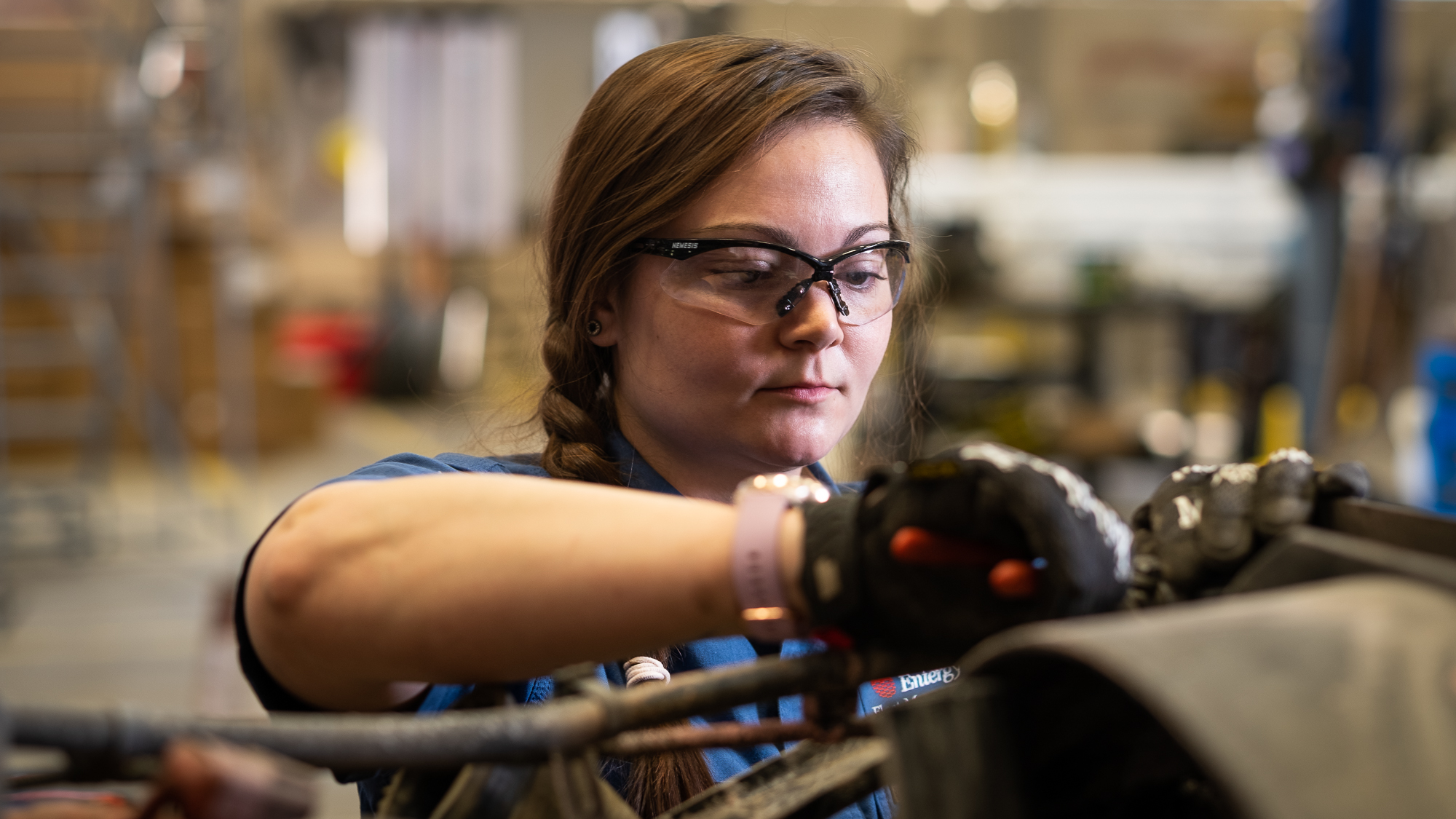 New Entergy mechanic Kassie Cramer comes by her vocation naturally. Her father owned an automotive repair shop when she was a little girl, and she was frequently right there to hand him a wrench. Now, at age 28, "I really like taking things apart and putting them back together."
Having started her career with Entergy Nov. 23, she'll have plenty of opportunities to do just that as one of  15 mechanics in Arkansas working on Entergy's fleet of 1,742 trucks that routinely come into the shop off Dixon Road for repairs and maintenance.
One might think that hiring the first female Entergy automotive mechanic would have happened with a bit more fanfare, but no. She's got the cred, she's got the skills, and the fleet maintenance group is just happy to have her on the team.
"She was the best candidate for the job, and I had quite a few candidates," said her supervisor Ben Sims. As it turns out, Cramer wasn't a complete stranger to Entergy when she applied. She'd done some contract work for the company during the five years she was working as a diesel mechanic for Cummins Mid South, and the Entergy mechanics she worked with at the time told Sims that if he ever had the chance to hire her, do it.
Whether or not she set her sights on being a pioneer, she is, and Cramer is quite aware that people are watching. She knows of at least a couple of women she's influenced to pursue careers as mechanics. "I felt like I could help change the way women perceived a mechanic's job," Cramer said. Regarding working in what is traditionally a male-dominated environment, "I just let other women know it's really not that awkward. It's just the same as working anywhere else."
Cramer's co-workers agree. "It was cool from the start," said mechanic David Shewmaker. "I never had any doubt she could do the job," said mechanic Bradley Shelman. In fact, Shelman added, based on Cramer's previous employment, she may have a trick or two to teach her new peers. "She's definitely more competent in the Cummins engine than we are."
"They're actually really helpful and it's just great, so far," Cramer said. "They're like family. When you're there eight to 10 hours a day they become your family."
So far, Cramer's tasks during her first few weeks at Entergy have ranged from replacing a radiator to replacing a generator to repairing a rear differential on a truck. "There's so much more here than just engines. I've never changed the leaf spring [rear suspension] before, but I did that two weeks ago," Cramer said.
Supervisor Sims says Cramer can count on a well-rounded experience, including going out on calls to work on vehicles stalled in the field. And when storms hit, she'll have the experience of supporting the team wherever the action is.
While there's a certain amount of muscle required, being a mechanic in 2020 is as much about technology as torque wrenches. Cramer studied to be a diesel mechanic at UA Pulaski Tech for two years around 2012. She also got trained in brakes and transmissions and got a commercial driver's license. Then while at Cummins she'd attend advanced training a couple of times a year to stay on top of technology and improve her skills.
These days, troubleshooting, especially, relies on technology. Cramer learned early on in her days with Cummins "that I didn't have to sit there and look at the engine and be like, 'what's wrong with you?' There's computers that tell you what's wrong."
As for advice for anyone considering a career as a professional mechanic, Cramer said, "Take every automotive class you can. Learn everything you can, especially electrical." That and be dependable. "I'm always early," she said. And be a good member of the team. "You've got to be able to talk to one another and be able to communicate."
What's next for Cramer? In the immediate future, while she shares her expertise on Cummins engines, she'll be leaning on her teammates to teach her hydraulics, which are a prominent component in bucket trucks.
Looking further down the road, "I'd eventually like to move my way up. I don't think I'm gonna turn wrenches when I'm 50."
Meanwhile, she's grateful for her new gig. "It's very family-oriented here. They want you to go home to your family safely every night. I have two little ones at home depending on me, so I appreciate that very much."
---