Insights > Harvey Relief Gifts Spread Joy Throughout Southeast Texas
Harvey Relief Gifts Spread Joy Throughout Southeast Texas
12/20/2017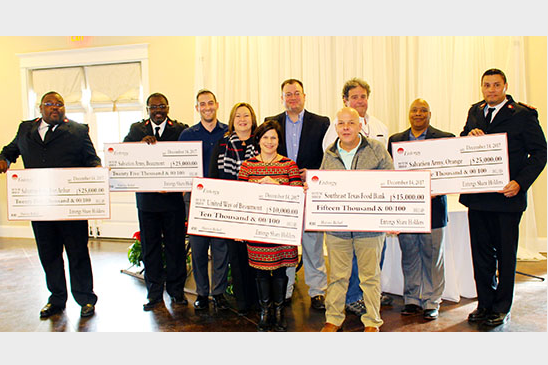 The $150,000 Entergy Texas grants that were announced for Hurricane Harvey relief before Thanksgiving is literally spreading joy across Southeast Texas.
During a special awards presentation held last week in Beaumont, five of 11 agencies who received grants were presented large checks, signifying the assistance funds to help citizens and customers get the help they need to recover from the devastating floods in September.
"The Entergy donation has become one of those donations that really feeds into a continuum of the work that's being done right here in Beaumont," said Capt. Donald Marvels of the Salvation Army in Beaumont. "One of the things we're also going to use that money for is to reach out to places like in Hardin County – Jasper, Silsbee and Lumberton. We're going to be setting up case workers to give the same type of service that we would give here in Beaumont in those places."
One of the services is a voucher system that was implemented to help take care of a variety of customers' needs, such as paying a car note, getting supplies to rehabilitate residences or furniture to replace what was lost, Marvels said. 
"That $25,000 is going to be stretched a very long ways," he said. "We're working with other organizations and others who are committed to seeing this long term recovery take place. Us Texans have pulled together."
More than half a million dollars has been donated by Entergy, its employees and stakeholders for Hurricane Harvey relief. Besides the Beaumont Salvation Army, grant funds went to Salvation Army in Port Arthur, Salvation Army in Orange, Southeast Texas Food Bank, United Way of Beaumont and North Jefferson County, Montgomery County Community Foundation, Montgomery County Food Bank, The Mission Northeast, Covenant with Christ International, Montgomery County United Way and the Community Impact Center.
To learn more about Entergy's efforts and all of the agencies who are being funded, see this news release.
---