Insights > How customers can beat the heat and keep their cool
How customers can beat the heat and keep their cool
07/22/2022
Summer heat is on full blast, and most likely, your cooling system is too. Whether you've lowered the thermostat or cranked up the air conditioner, increasing your energy usage can lead to an increase in your electricity bill.  
Temperatures are hitting record-breaking numbers this year, with recordings in Southeast Texas rising significantly from 2021. The historical average for Beaumont's high temps in July ranged between 91-92 degrees. This year, recordings range from the mid-to-upper 90s and even into triple digits.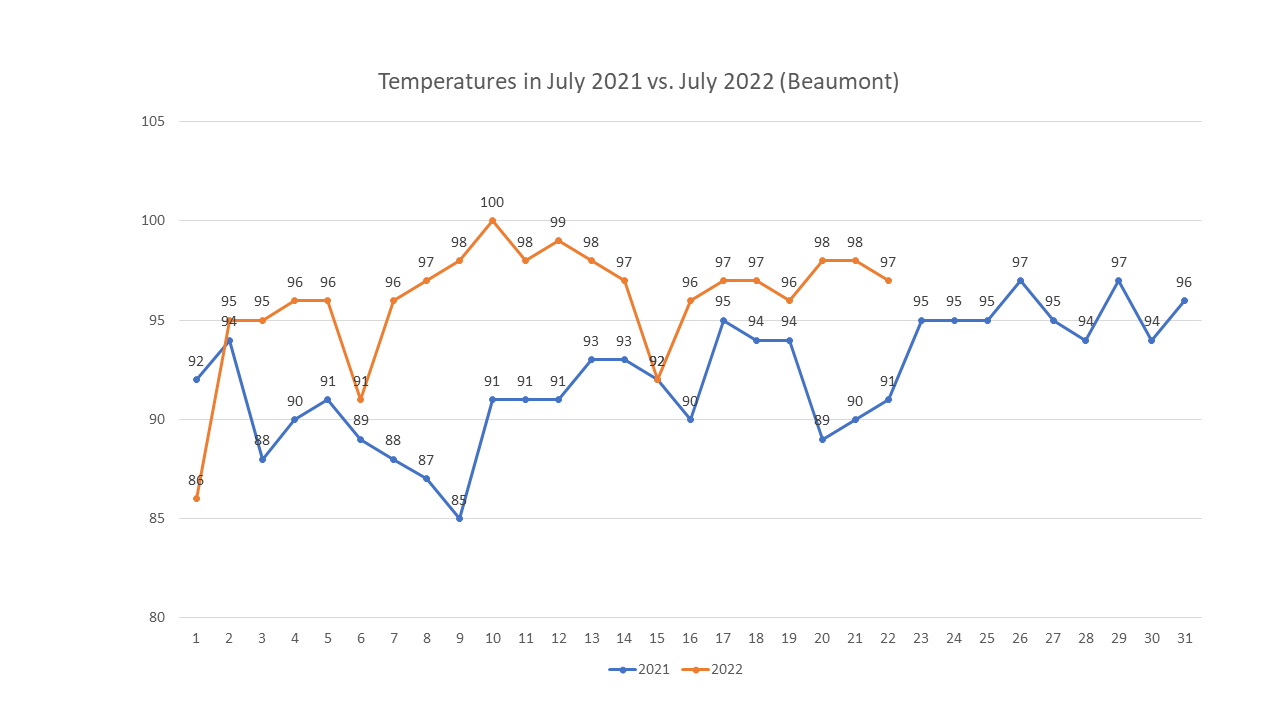 Cooling and heating costs make up about 55% of an average customer's electric bill. When it is extremely hot, as it is now, it takes more energy to keep your home at the temperature you have set on your thermostat.
Staying cool doesn't have to come at a cost. Here are ways you can save energy without breaking a sweat or the bank.
Get your A/C inspected to make sure your system is leak-free and operating as efficiently as possible. Don't forget about air filters; some units require monthly cleaning or replacing.
Set your thermostat to 78 degrees or the highest comfortable temperature. Every degree lower than 78 can raise your bill as much as 3%. If you crank down the A/C to a cooler 72 degrees, you've already increased your bill by 18%.
Buy a programmable thermostat. As energy use rises, costs also rise. If you spend most of your day outside of the house, set your thermostat to automatically shut off or raise the A/C setting when you're away.
Use fans to cool off, but remember – fans cool people, not rooms. Ceiling fans, box fans and oscillating fans use very little electricity and circulate the air, which helps you feel several degrees cooler. To save more energy, be sure to turn them off when you leave the room.
Close blinds, shades and curtains to keep the sun out and the cool air in. Also, close A/C vents in rooms that are not in use.
Seal cracks and holes around doors, windows and ductwork. Inexpensive weather stripping and caulk will help keep the cold air inside the house and the hot air outdoors.
Monitor your usage. Use the myAdvisor tool on myentergy.com to learn when you use the most energy. The usage and cost tool can compare your usage history by month, day and hour.
 If you've received a high bill, here are six options to manage costs or get bill assistance:
Level Billing – Entergy averages your bill over a rolling 12-month period, so you have a consistent bill each month of the year. You will pay about the same every month, with no surprises.
Pick-A-Date – Choose the day of the month you get billed to line up with your budget and manage your cash flow.
Deferred Payment – Contact us with more details and we may be able to make deferred payment arrangements. Call 1-800-ENTERGY (1-800-368-3749).
Payment Extension – Qualifying customers who need additional time to pay their bill can call our automated answering system at 1-800-ENTERGY (1-800-368-3749) or request an extension through myEntergy.
Power to Care – Through Entergy's The Power to Care program, local nonprofit agencies can provide emergency bill payment assistance to seniors and disabled individuals in crisis. Find out more at www.entergy-texas.com/bill-help/.
LIHEAP – LIHEAP (Low Income Home Energy Assistance Program) provides money to help people with energy bills and other energy-related expenses. LIHEAP is funded through the federal government and works with community action agencies to help people pay for and keep electric service in their homes. For information on resources visit entergy-texas.com/bill-help/.
Another useful way to manage your bill is to monitor your usage by using our free Entergy mobile phone app

where customers with a smart meter can track usage and discover ways to be more energy efficient before the next bill arrives.
Customers who are concerned about their bill payments or are having trouble paying for their bill should reach out to the company either online or by phone at 1-800 ENTERGY (1-800-368-3749). Our representatives can review your account or help with available bill assistance options that may work best for you and your family.
---