Insights > Hurricane Harvey Restoration Update: Texas
Hurricane Harvey Restoration Update: Texas
08/30/2017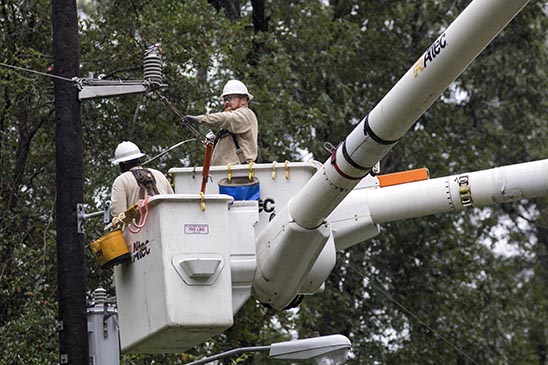 This morning, more than 83,000 Entergy Texas customers were without power. Currently, there are 4,956 customers that are without power and not accessible to be restored due to high water access issues. Entergy has restored 110,697 outages since Harvey began impacting our area on Friday and our crews continue to safely restore power as quickly as possible.
Flooding is significantly impacting Entergy's ability to restore power to customers in some areas. Damage will be assessed as flood waters recede and restoration will continue as it is safe to do so.
Beaumont
There are currently 15,000 customers without power in Beaumont and the surrounding areas.  Several poles are down along Eastex Freeway, primarily around the Delaware intersection, as well as numerous power lines that have been knocked down. Assessments and restoration efforts are significantly impacted due to high water preventing area workers from reaching customers and essential equipment. Additional workers are located in Woodville, Jasper and Lake Charles and they will assist once they are able to safely travel. As soon as possible, we will begin working across the area by boats. South County areas of Fannett and La Belle as well as Bevil Oaks, Pinewood, Countrywood and Northwest Forest remain inaccessible due to flooding.
Conroe
There are currently 828 customers without power in the Conroe, Willis, Montgomery and surrounding Lake Conroe areas. There are currently over 150 Entergy workers in the Conroe and surrounding areas and the number of workers will increase throughout the day. Damage in these areas includes broken poles, damaged transformers, wires down and trees on power lines. Areas in Conroe near 336 Loop westbound, 336 Loop northbound and south of FM 1485 are currently inaccessible due to severe flooding as well some surrounding areas. Scouts will reassess flooded areas by  helicopter today.
Additional workers have been added and will be working at Cedar Circle, Old Humble Pipeline, Barkwood Circle, House Rd, Fultz and surrounding areas. Additional workers have arrived in Montgomery County north of FM1485, Pioneer Trail Rd, Nightingale Rd and FM 149 and at the corner of Rolling Hills Dr. and Hallmark Rd. These workers will continue today in these areas without power. Silver Stone subdivision and nearby locations have been restored.
Cleveland
There are currently 5,509 customers without power in the Cleveland area. Floodwaters are receding which makes the area more accessible. High water continues to have an impact on restoration efforts. Eight workers are currently repairing a power line that is entangled, causing 2,000 customers to be without power in North Cleveland and fifteen additional workers arrived yesterday to assist. Workers in Splendora are currently repairing damaged power lines affecting 792 customers. 
Dayton
There are currently 1,109 customers without power in the Dayton area. Currently there are approximately 28 workers in the Dayton area working to restore power. Flooding is slowing our restoration efforts with many areas inaccessible due to high water, including Indian Springs subdivision on Hwy 146, the East side of Hwy 1409, Day Lake Rd Subdivision, and Huffman in the Lochshire addition. The Saratoga, Daisetta and Batson areas remain hard to access at this time due to floodwaters, but we are monitoring this area to gain access to restore power to approximately 45 customers as soon as is safely possible.
The water has receded at Eastgate at Kubes Crossing off of Hwy 1960 in Huffman and power to 55 customers has been restored. We were able to restore power to approximately 200 customers in the overhead portion of Lochshire addition in Huffman, which leaves 92 customers without power at this time.
The majority of the outages are in the south Liberty area, off of Hwy 563 from Hankamer to Liberty, with 776 customers without power because of a transmission line that was knocked down. After the transmission line is restored we will still be unable to access this area due to flooding. Five utility workers are working to restore power to all locations that are not restricted due to flooding. Additionally, we will have a crew changing a bad transformer today in Devers and a crew changing out a pole in Batson when accessible. We have two tree crews working today in Hardin and on Hwy 1409. We also have a crew working in a boat to assess damage in flooded areas.
Huntsville
The Huntsville area currently has 158 customers without power. There are 50 Entergy workers restoring power in Huntsville, mainly located at Riverside, Glendale and Park Road 40. Carmona Creek has been restored and Ellis Prison Unit restoration is being worked on today. All Huntsville areas are accessible and the number of outages is expected to be fewer than 100 by this afternoon, Wednesday, August 30.
Navasota
Currently there are nine customers without power in the Navasota, Somerville, Plantersville, Singleton, and surrounding areas. Assessment of the area will continue today as additional scouts arrive. Entergy currently has workers on Highway 30 from Roans Prairie towards College Station. Damage to the area included power lines and broken poles, some in areas not fully accessible due to off road conditions and flooding. All work is planned to be completed today.
New Caney
There are 6,733 customers currently without power in the New Caney area. Customers in the Sorters and North Park subdivisions lost power overnight due to severe weather conditions. Workers will assess the damage in those areas today and will continue to work to restore all other areas that are not impeded by flood waters. The Tavola, Peach Creek and Kings Colony subdivisions still remain inaccessible due to high water conditions and road obstructions.
Orange
The Orange area currently has over 29,000 customers without power and is the most heavily impacted area in the Entergy service territory. Overnight damage to this area is extensive and scouts will be assessing outages as soon as it is safe to do so. More detailed updates will be provided as they are available. 
Port Arthur
There are currently 6,927 customers without power in the Port Arthur and Mid-County areas. Overnight damage to this area is extensive and workers continue to deal with heavy rain while restoring power around the area. The Medical Center of Southeast Texas is currently without power and will be a priority to be restored today. The Taylor Landing area is inaccessible due to water covering Hwy 73 and Sabine Pass is still not reachable due to high water. Scouts will assess the damage today and workers will be restoring power in Port Arthur, Groves, Nederland, Port Neches and Port Acres as it is safe to do so. 
Silsbee, Woodville
Currently there are 10,636 customers without power in the Silsbee and Woodville areas. In Silsbee, there are 16 workers ready to assist with restoration efforts, but due to flooding, scouts are not able to assess damages in Silsbee or Lumberton at this time.
In Kountze there are many trees that have fallen onto power lines along Highway 69, mainly by Hardin County Tractor. In Woodville, there are 20 workers ready to assist with restoration efforts once it is safe to do so. The City of Spurger has trees down and damaged equipment along FM 1013. The city of Chester has 171 customers without power that we are unable to restore at this time, due to a large tree that has fallen on power lines in a fast-moving creek.   
Winnie
There are currently 5,706 customers without power in the Winnie area. The Arboretum Nursing Home was restored and today workers will be working to restore the damaged transmission line from Winnie to Anahuac and repairs will be underway in Hamshire, Winnie, Anahuac, and the Bolivar area. Flooding is having an impact on restoration efforts with many areas inaccessible due to the high water, including Boondock, Cottonwood, Oilfield, County Road 1051, and Brush Island. Restoration will continue in those areas as soon as it is safe to do so.
The Woodlands
There are 1,013 customers currently without power in The Woodlands and South Montgomery County Area. Many areas are still inaccessible due to flooding, including River Road, and Forest Hills off 242 and 45, as well as parts in The Woodlands south, off Grogan's Point, Trace Creek and Tanglebrush. There are 490 customers without power in Gleneagles and crews are currently in the field assessing this outage. There were 66 customers who lost power off Robinson Road, near Darby Loop and workers are en route to asses. There are around 80 customers without power in Grogan's Point and workers cannot access the area to fully assess the damage at this time. 
Power was restored to 800 customers in Harpers Landing with approximately 104 customers still without power around Forest Hills due to flooding. Power was also restored to 27 customers in Sleep Hollow, 177 customers in Oak Pass and 50 customers in the Trace Creek area, off Dara Beth Ct.
Today's focus will be placed on restoration where access is possible; scouts patrolling areas for receding water. Damage in the areas includes broken poles, flooded and damaged transformers, wires down and trees on power lines. Additional focus today is on assessing incoming reported power outages in surrounding area, again where access is possible, including South Conroe and The Woodlands.
For more information on the Harvey restoration, visit Entergy's online storm center.
---