Insights > Hurricane Laura Restoration Update
Hurricane Laura Restoration Update
08/27/2020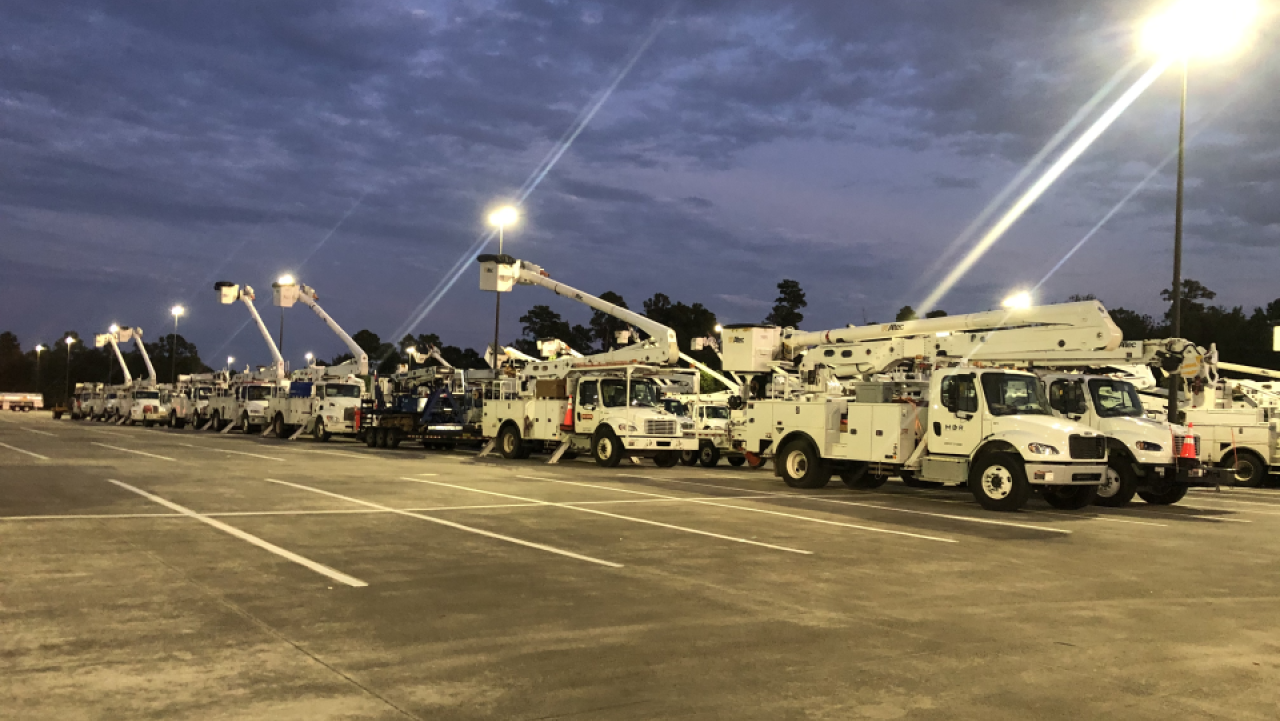 Laura made landfall at Cameron, Louisiana at 1 a.m. CDT, as a catastrophic Category 4 hurricane, with sustained winds estimated at 145 mph. The storm is forecast to remain a hurricane until it passes Shreveport, Louisiana.
The eye wall, which brings the most damaging winds and intense rainfall, passed directly over Lake Charles disrupting power for most of our customers in the area. Significant power outages are occurring in Texas. Outages will continue to increase today as the storm moves through Louisiana and Arkansas.
Customers may see extended power outages. Given the intensity of this storm and the additional need for our crews to follow COVID-19 precautionary measures, hardest hit areas may experience outages for weeks. In addition, restoration may be hampered by flooding, blocked access or other obstacles.
At 8:15 a.m., 280,278 customers were without power, including:
Louisiana – 171,858
Texas – 106,027
Mississippi – 1,677
Arkansas - 716
We continue acquiring more resources for our restoration teams, with more than 13,000 currently ready to restore service for customers whose power may be affected by Laura. These resources include company employees, contractors and mutual aid resources numbering 284 in Arkansas, 325 in Mississippi, 6,757 in Louisiana and 5,644 in Texas. These can be relocated as needed to restore service to affected customers.
Restoration workers are coming from 27 states including Alabama, Arkansas, Delaware, Florida, Georgia, Illinois, Indiana, Kansas, Kentucky, Louisiana, Maryland, Michigan, Minnesota, Missouri, Mississippi, North Carolina, New Jersey, New Mexico, Ohio, Oklahoma, Pennsylvania, South Carolina, Tennessee, Texas, Virginia, Wisconsin and West Virginia.
Our crews, contractors and mutual-assistance partners are prepared to work long hours after the storm passes, restoring service to customers as safely and as quickly as possible. We continue acquiring more resources to restore service, including adding more transmission restoration workers in anticipation of damage to our high-voltage systems. We are in contact with other utilities and contract workers to pre-position as many out-of-state utility crews as possible to quickly move in to help restore service.
We staged external resources in safe locations outside of the impacted area to be ready to restore service as soon as it is safe to do so.
Once our workers return, we can begin safely restoring service to customers by closing circuit breakers, rerouting power and other means.
As we learn more about the damage, we put in place a restoration plan that helps us restore the greatest number of customers safely in the shortest amount of time.
Here's how we approach things at this stage to restore your power safely and quickly when conditions are safe:
Essential services such as hospitals, nursing homes, fire and police departments, and water systems are at the head of the restoration list, along with our equipment that supplies electricity to large numbers of customers.
Then we will concentrate our resources on getting the greatest number of customers back the fastest.
We can't use our bucket trucks until sustained winds are less than 30 mph, but we can still begin restoring service to customers by closing circuit breakers, rerouting power and other actions.
You may see trucks, other vehicles and workers lined up while we process them into our system, taking inventory of equipment and personnel and giving a complete safety orientation.
Repairs begin with major lines to the substations, then to the lines and equipment serving neighborhoods, businesses and homes.
Service lines to individual homes and businesses will be restored last because fewer customers are involved, and in the case of fewer outages spread over larger areas, it often takes more time to get power back on for them.
Significant flooding and other accessibility challenges due to the storm will affect our ability to reach some areas of our territory and could delay restoration in those communities.
When restoration starts, keep in mind that if you don't see us working near you, we may be working on another part of the electrical system that you can't see but must be repaired to get power to you.
Responding to a major storm and COVID-19 could affect our response:
Along with standard storm preparations, Entergy employees are navigating the COVID-19 pandemic by taking additional steps. These include traveling separately when possible, adjusting crew staging locations and increasing the use of drones.
Due to the additional measures crews must take, restoration may take longer, especially where there are widespread outages. Additionally, crews will continue to practice social distancing and we ask that customers do the same. For their safety and yours, please stay away from work zones.
Click here for storm restoration photos and videos.
Staging area in Kenner, LA and convoy of employees and contractors heading west for Hurricane Laura restoration, Aug. 27, 2020.
---