Insights > Look Up! It's a Bird…It's a Plane…It's a Power Line?
Look Up! It's a Bird…It's a Plane…It's a Power Line?
11/04/2015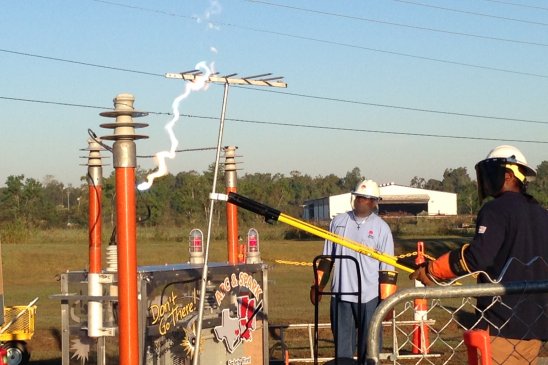 Finishing strong isn't just for Entergy employees, but customers too
City of Beaumont workers sometimes run into a snag when removing solid waste and tree limbs from city streets. On occasion the machines that they use to perform these tasks make contact with power lines. Apart from the safety risk to these workers, this act can cause outages for Entergy customers. In order to bring awareness to this danger, Entergy Texas linemen recently presented their popular Arcs n' Sparks program to an audience of 100 city workers.
Pictured at the Arcs n' Sparks presentation at Lafin Road are (left to right): Derek Smith, 1st class lineman, Frank Shannon, former  Beaumont line supervisor, Derrick Richardson, 1st class serviceman and Mike Jones, utility foreman. Shannon is now senior manager for region customer service in Louisiana.
Arcs 'n Sparks is a custom-built, portable device that reduces a power line and its electrical components to a wheeled aluminum box that employees take to schools or other public venues. It allows customers to see for themselves the power of electricity and the need to consider safety when near the ever-present, ever-powerful commodity.
Pam Williams, Entergy Texas customer service representative, facilitated bringing the important demonstration to the city's Lafin Road location, which allowed the company to partner with the city for the good of both parties and the community.
Williams said, "The employees had excellent questions and comments, and I believe we made great strides with the message of 'look up' to avoid contact with electrical, phone or cable lines. Anytime we can help others stay safe, reduce outages and our costs while building a cooperative relationship, it makes our company that much more successful."
 
---