Insights > Mutual Assistance in Action: An Army of Workers Helped to Restore Power After Hurricane Ida
Mutual Assistance in Action: An Army of Workers Helped to Restore Power After Hurricane Ida
11/19/2021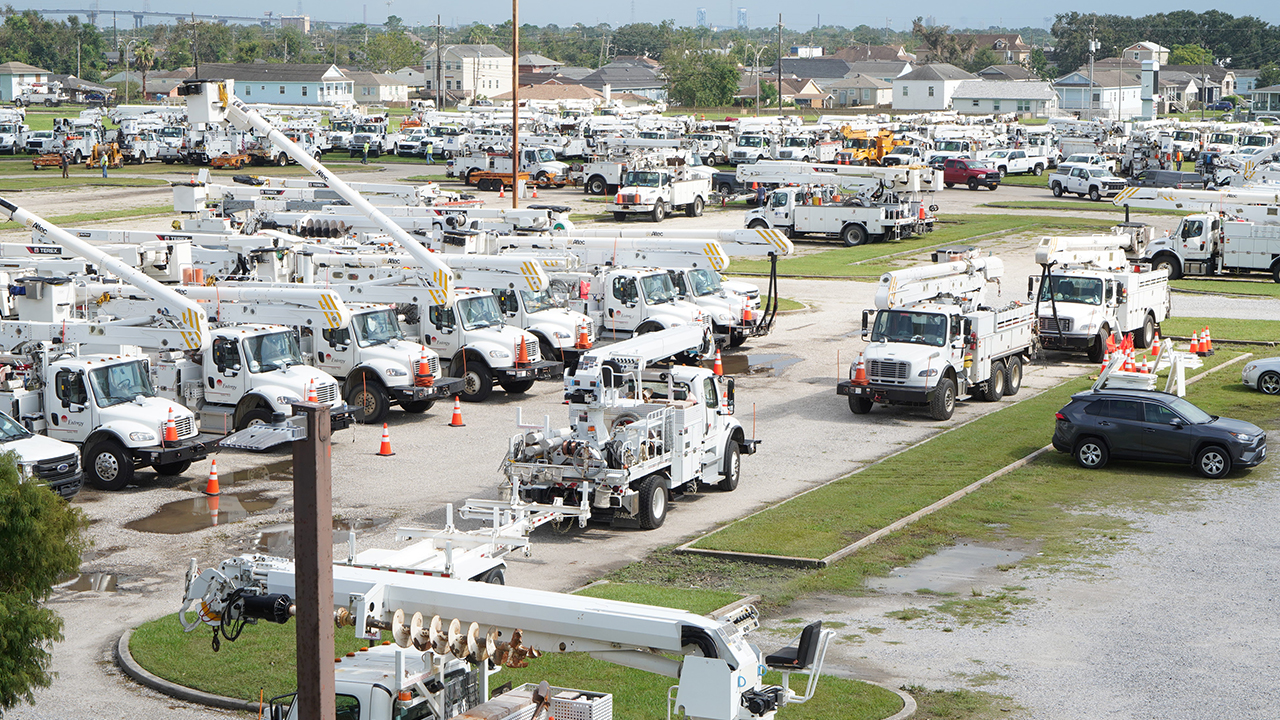 Electric companies have been as busy as ever during the last two Atlantic hurricane seasons, with 2020 going down as the most active in recorded history.
2021 has not treated the Gulf Coast much better. Hurricane Ida made landfall on August 29 as a dangerous Category 4 hurricane near Port Fourchon, LA, with sustained winds of 150 mph and gusts reaching 172 mph.
Ida's fury resulted in some communities being temporarily uninhabitable, due to storm surges that were more than 15 feet high, tornadoes, and flooding. With more than 30,000 power poles damaged or destroyed, the devastation that Ida caused to the distribution system was greater than that caused by Hurricanes Katrina, Ike, Delta, and Zeta combined.
When monster storms and other extreme weather events ravage cities and towns, the electric power industry's mutual assistance network can be counted on to respond in force, working together to bring a community back to life. Thanks to our mutual assistance partners, Entergy mobilized its largest restoration workforce in company history, beating our own record set less than one year ago.
More than 28,000 workers from at least 41 states and the District of Columbia deployed amid a pandemic to assist Entergy and other electric companies impacted by Ida. These crews worked around the clock for long hours in the Louisiana heat and humidity, not to mention in marshy and other challenging conditions, to restore power safely and as quickly as possible to grateful communities across Louisiana and Mississippi. From the bottom of our heart, the entire Entergy team and our customers thank them for aiding us in our time of need.
Well before a hurricane like Ida makes landfall, industry and government begin coordinating at the highest levels through the CEO-led Electricity Subsector Coordinating Council (ESCC) to ensure an effective and efficient response. Throughout the response to Ida, the ESCC convened calls with impacted electric companies and senior officials from the Departments of Energy and Homeland Security, FEMA, the Federal Energy Regulatory Commission, and the National Security Council to receive updates on damage assessments and the restoration progress and to ensure that all equipment, material, and workforce needs were being met.
As the leader of one of those impacted companies, I can attest to how valuable this coordination is and how eager our industry and government partners are to assist and to help troubleshoot challenges.
In addition to the ESCC calls, I was joined by Southern Company Chairman, President, and CEO Tom Fanning, who co-chairs the ESCC, and EEI President Tom Kuhn to brief President Biden, Energy Secretary Jennifer Granholm, Homeland Security Advisor Liz Sherwood-Randall, and other senior administration officials on the restoration efforts and some of the challenges that were identified through the damage assessments. We also discussed how recent investments in smarter and stronger energy infrastructure are proving effective.
At Entergy, we have had the opportunity—although during unfortunate circumstances— to put our newer equipment and structures to the test. These assets, which are designed to withstand winds of 150 mph, performed well in Hurricanes Laura and Ida.
For example, along a transmission path where Ida made landfall on the coast, fewer than 1% of the more than 380 newer, more resilient structures were damaged. On seven other regional transmission lines, about 99 percent of more than 1,500 structures were undamaged.
Making investments in resilience and constructing stronger poles, towers, and power plants are not small investments, and there must be balance among affordability, reliability, and environmental sustainability.
We are committed to working across the industry and with our government partners and to having conversations about how best to harden infrastructure and to make it more resilient against these more frequent and intense storms and extreme weather events.
LEO P. DENAULT is chairman and CEO of Entergy Corporation. This article was originally published in the November/December 2021 issue of EEI Electric Perspectives magazine.
---
The Electricity Subsector Coordinating Council (ESCC) serves as the principal liaison between the federal government and the electric power sector, with the mission of coordinating efforts to prepare for, and respond to, national-level disasters or threats to critical infrastructure. The ESCC includes electric company CEOs and trade association leaders representing all segments of the industry.
---