Insights > Patty Riddlebarger Leads by Example, Helps Entergy Power Life
Patty Riddlebarger Leads by Example, Helps Entergy Power Life
02/23/2017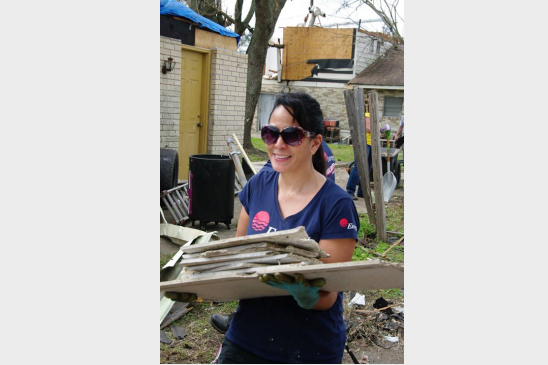 Company's director of corporate social responsibility recognized for commitment, success.
As Entergy Corporation's director of corporate social responsibility, Patty Riddlebarger is tasked with developing ways to create sustainable value for Entergy's shareholders, 2.8 million customers, 13,000 employees and communities in eight states.
The daughter of immigrants and first in her family to graduate from college, Riddlebarger was recently recognized as one of ten top Latina corporate executives in the United States during the Latina Style Awards in Washington, D.C.
Kim Despeaux, Entergy's senior vice president of federal policy, regulatory, environmental and governmental affairs, nominated Riddlebarger. The magazine's annual awards program spotlights outstanding professional Hispanic women.
"Social responsibility is a key component to accomplishing our company's strategic goals," said Despeaux. "The programs Patty and her team spearhead create sustainable value for our owners, customers, employees and communities by improving the lives of our low-income customers, boosting educational opportunities in our communities, motivating our employees to volunteer and helping to build our local workforces and grow our economies. These initiatives are carefully coordinated and carried forward by teams in our operating companies, generating plant sites and other groups. The result is a very visible, measurable demonstration of our vision, We Power Life."
Riddlebarger, second from right, was recognized at Latina Style Magazine's recent awards program in Washington, D.C.
Riddlebarger joined Entergy in 2000 as manager of corporate communications at Entergy Texas. In the role of corporate social responsibility director, she inspires fellow employees and influences improvements in communities companywide through her passion and perseverance to make a difference. By pairing her concern for others with a strategic plan to add value for Entergy's stakeholders, she has helped the company build a world-class corporate social responsibility program that delivers $100 million in annual benefits for Entergy's communities and employees. Riddlebarger's focus on encouraging volunteerism has resulted in employees contributing 100,000-plus volunteer service hours annually.
Riddlebarger, who calls it "a privilege to give back," contributes her own time to community service, raising funds to benefit programs for women and children, pushing for increased funding for early childhood education, leading environmental improvements and more. Her recently created "Latinas Lead!" is an informal networking organization providing support and connections for fellow professional Latinas in the New Orleans area.
"I am proud of this recognition, but more importantly, I am proud to represent the more than 13,000 Entergy employees who give so generously and tirelessly of their time and resources," said Riddlebarger. "It is rewarding to help power life in so many meaningful ways for our customers and communities."
---