Insights > Plugging into Entergy's Shore Power Program (T&D World Magazine)
Plugging into Entergy's Shore Power Program (T&D World Magazine)
02/01/2021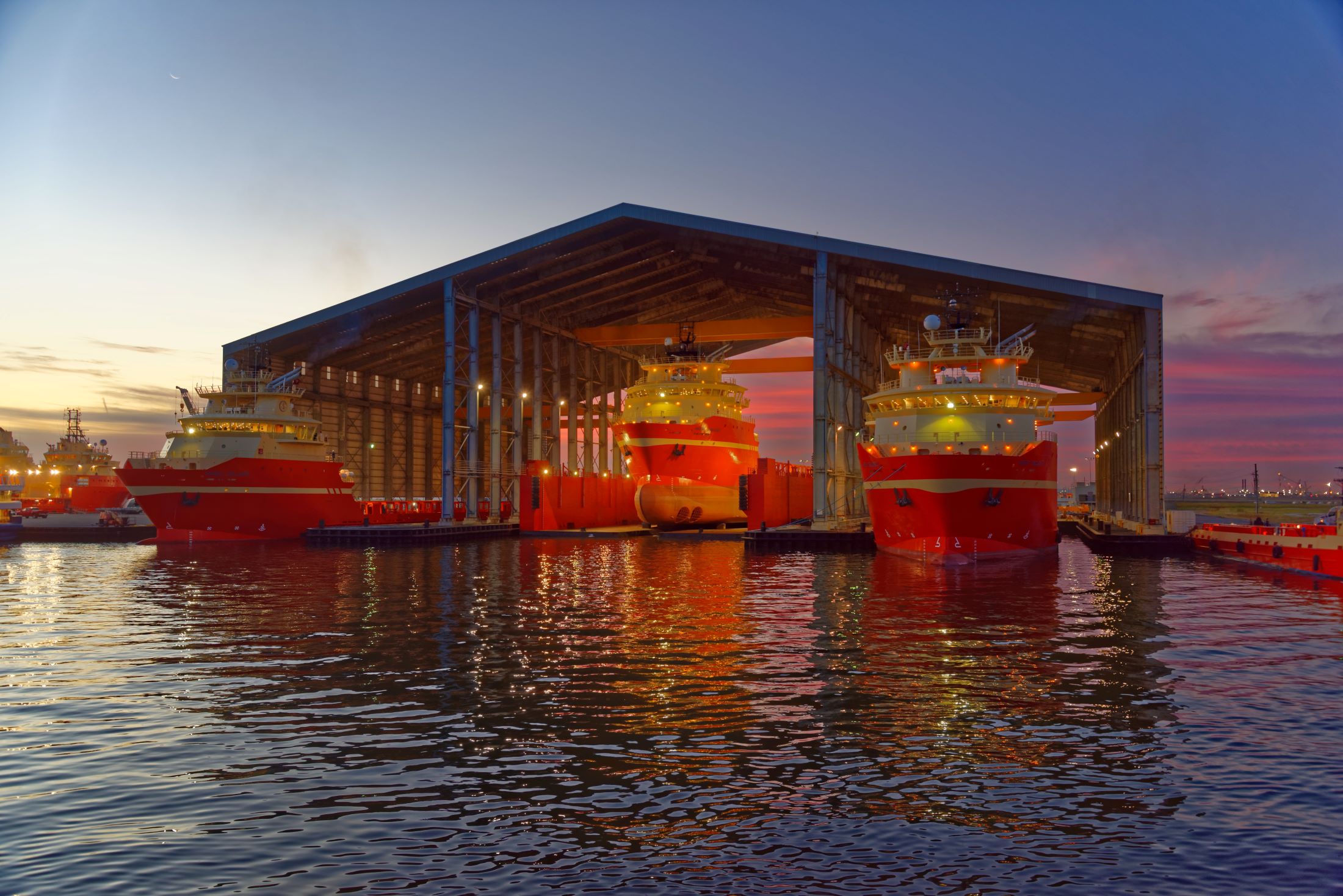 In its spirit of innovation, Entergy builds infrastructure for port-side maritime electrification to reduce both emissions and maintenance costs.
In south Louisiana, maritime vessels docked port-side can now plug into the electric grid rather than continuously burning diesel oil. Through shore power electrification, Entergy Services LLC's innovation center, KeyString Labs, is working to scale shore power services in the Gulf South as a utility-led beneficial electrification initiative.
Nationwide, electric utilities are expanding to offer electricity to marine vessels through shore power electrification to help their customers protect the environment through lower carbon emissions. In Louisiana, applying shore power to marine vessels in Entergy Louisiana's footprint can reduce as much as 98% of nitrogen oxides, 48% of sulfur oxides and 42% of carbon emissions from vessels, estimated by comparing the emissions rate of marine diesel oil versus Entergy's at-the-plug emissions rate.
Grid power provided by Entergy Louisiana is competitive with, or even less expensive than, marine diesel oil as a fuel source. Marine vessels powered by the grid, rather than by an auxiliary engine, also create less noise pollution, and because their engines run less often, they require less maintenance.
"Entergy has invested significant capital over the last decade to modernize its power generation portfolio, ensuring that efficient, cleaner technologies provide customers with a balance of low-cost, more sustainable electricity."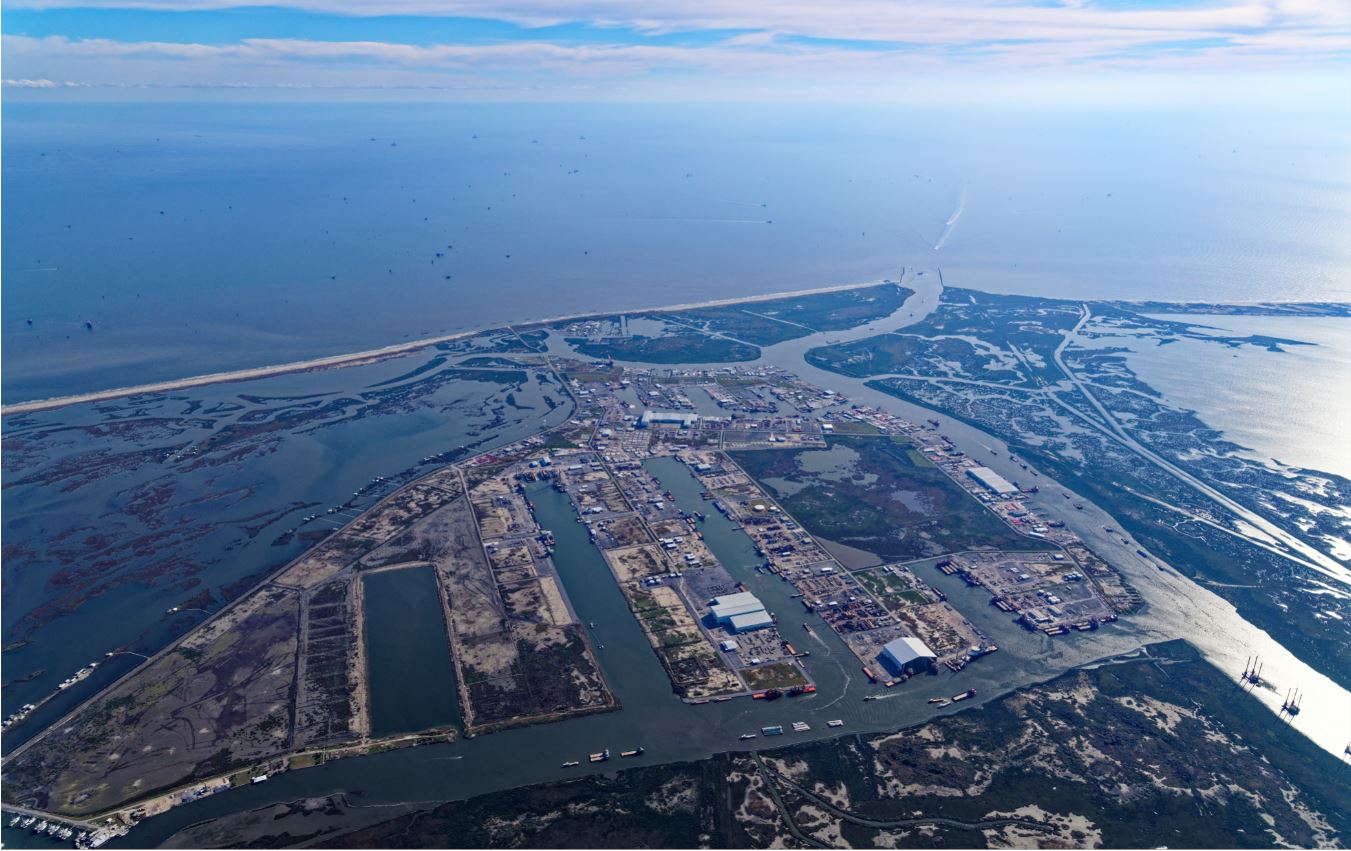 Aerial photograph shows ECO platform supply vessels and the proximity of Port Fourchon, Louisiana's southernmost port, to the Gulf of Mexico. The port is one of Louisiana's most vital ports for U.S. offshore oil and natural gas operations.
Diving into the Market
In early 2020, Entergy Louisiana, which provides electric service to more than 1 million customers across Louisiana, wrapped up its first shore power installation project at Port Fourchon, a south Louisiana port servicing more than 90% of the offshore oil and gas industry in the Gulf of Mexico. With 20% of the nation's oil supply flowing through the pipelines in this area, this port serves a critical role in not only South Louisiana, but also the nation. Nearly 100% of all deep-water offshore energy activity in the U.S. Gulf of Mexico takes place from this port.
Traditionally, maritime vessels must run their auxiliary engines while docked at port. By the customer retrofitting the vessels to accept electricity from an outside source, however, utilities can enable their customers to run on grid power. If they are not equipped with the ability to receive grid power initially, companies can dry dock the ship and retrofit the electrical system to receive power from an outside source directly into ship's electrical bus.
Utilities can create individual powering stations for each customer, similar to a charging station in a parking lot for an electric vehicle. At Port Fourchon, however, Entergy Louisiana created a "mini parking lot" for grid-enabled maritime vessels owned by Edison Chouest Offshore, a marine transportation company. ECO contacted Entergy seeking to develop this innovation that had not been applied at this scale in the Gulf South. Entergy worked with ECO on concept and design. Today, approximately 10 platform supply vessels measuring up to 160 meters in length can now dock port-side and accept grid power from Entergy before traveling back out to sea to deliver supplies and provide services for Louisiana's offshore oil and gas platforms.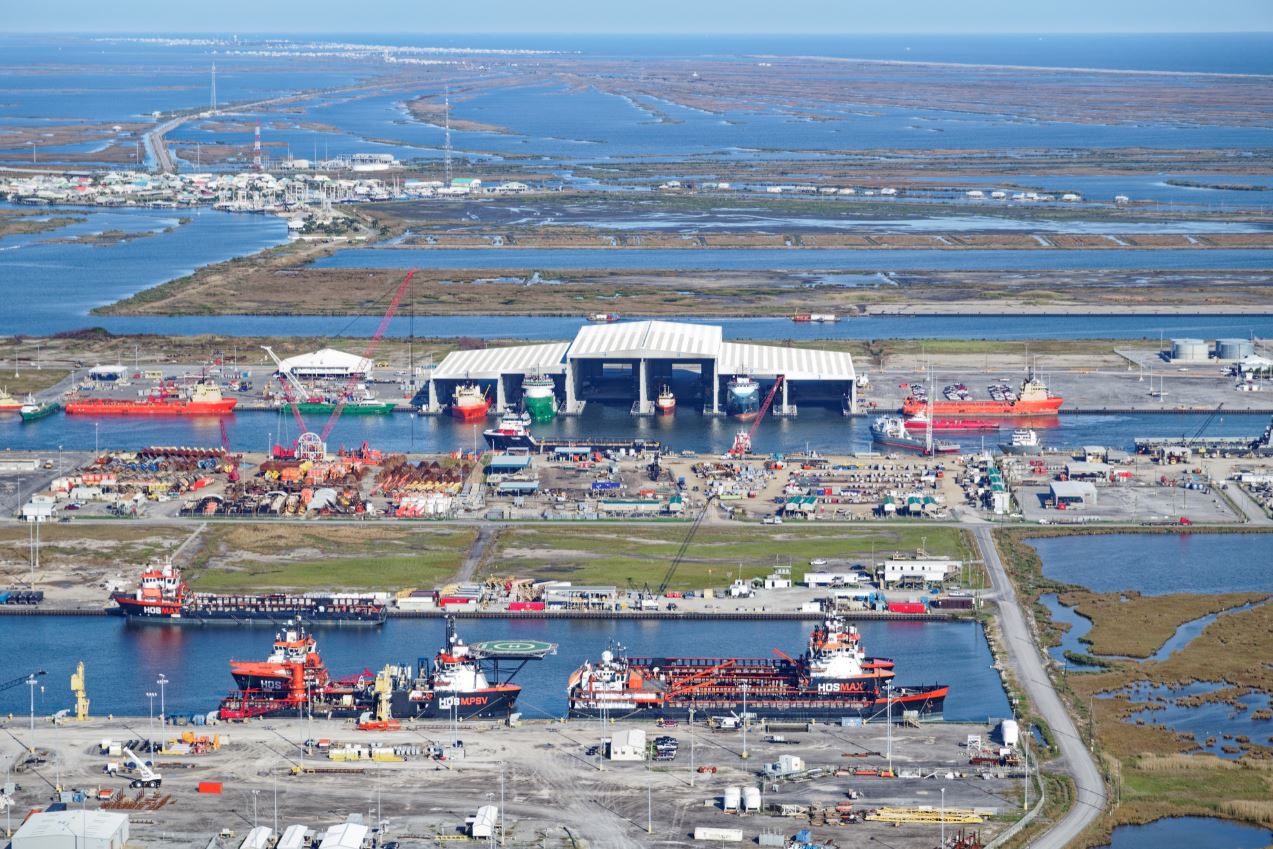 Daytime operations at Port Fourchon, Louisiana's southernmost port located in Lafourche Parish. The port services more than 90% of the Gulf of Mexico's deepwater oil production.
Building Out Infrastructure
Before providing electric service, Entergy first had to extend the existing power line and infrastructure to Edison Chouest Offshore's operations near the shore. The crews first extended the 13.8 V distribution line eight additional spans from the distribution feeder to a terminal pole. The distribution construction crews then ran the conduit underground up to a platform, where they installed five platforms 14 ft (4.3 m) above the ground with each having a 750-kV transformer. These transformers stepped down the voltage from 13.8 kV to 440 Volts and leverage tap changers to maintain required voltage consistency. Next, the grid-powered electricity flows into a shore power unit, and the ship's engineer plugs a special extension cord into the electrical bus of the ship.
To switch it from marine diesel oil-powered to grid-powered, the ship's engineer signals the vessel's onboard equipment to stop receiving power from the engine and start receiving it from the grid, just like a hybrid vehicle. Because the vessels are using grid power, they no longer need to make their own power at the port—driving down carbon emissions at the port and in the surrounding community.
Before getting the new shore power units running for its customer, Entergy first had to run a few tests. For example, the utility's engineers ran a power quality test to ensure the voltage remained consistent during motor starts as there are numerous local pulls on the distribution system in this area.
| | |
| --- | --- |
| A nearly completed Entergy shore power platform located near a marine slip at Port Fourchon, Lafourche Parish, Louisiana. The transformer and unit are constructed 14 feed above sea level. | The electric substation, where transmission of power from a centralized generation station located about 60 miles away, is stepped down to the local distribution feeders in Lafourche Parish, Louisiana. |
Learning Lessons
After successfully completing the project, Entergy learned best practices that it can apply on future maritime electrification projects. For example, traditionally, linemen install pad-mount transformers on a concrete pad. On the Edison Chouest Offshore project, however, Entergy had to develop a lift plan to elevate five transformers onto specialized platforms at the edge of the water. The utility also expanded its distribution standards to accommodate this permitting requirement for the shore power electrification projects.
Another lesson learned on the project was to align the design and construction teams early in the project scoping phase. Unlike other types of utility projects, shore power electrification projects must require right of way access to be on the customer's property for the distribution line extension, especially in the case of commercial and residential customers who typically receive utility primary service at the edge of property. As such, both the design and construction teams must be involved in the discussions early during the project life-cycle. While Entergy's distribution design group is responsible for performing the engineering services, the construction team must build out the extension of the line and must be aware of the plan before the start of the project, so that the proper resources and equipment can be sourced and readily available.
Like several companies in the Gulf South, Edison Chouest Offshore had been using smaller shore power applications in its vessels for years. The task of transitioning from small-scale electrification to having the entire vessel powered by grid-power required partnership, sharing expertise across industries, and testing applications to ensure that power could be provided safely and without negatively impacting other customers or onboard technology for shore power-enabled vessels. This customer-utility partnership creates an opportunity for ongoing cross-industry knowledge sharing as it relates to best practices in areas such as project implementation, planning and efficiency.
"ECO and Entergy worked closely together each step of the way, from design to testing to construction and commissioning. Partnering with Entergy from the outset was critical in achieving this level of reliance on the electric grid when our vessels are in port," says Reggie Ougel, manager of special projects for ECO. Beneficial electrification is an example of Entergy delivering value to our customers in new ways. Leveraging our generation sources and utility framework has enabled our customers to create untapped value within their operations, which provides benefits for our customers, their value chain and society at large.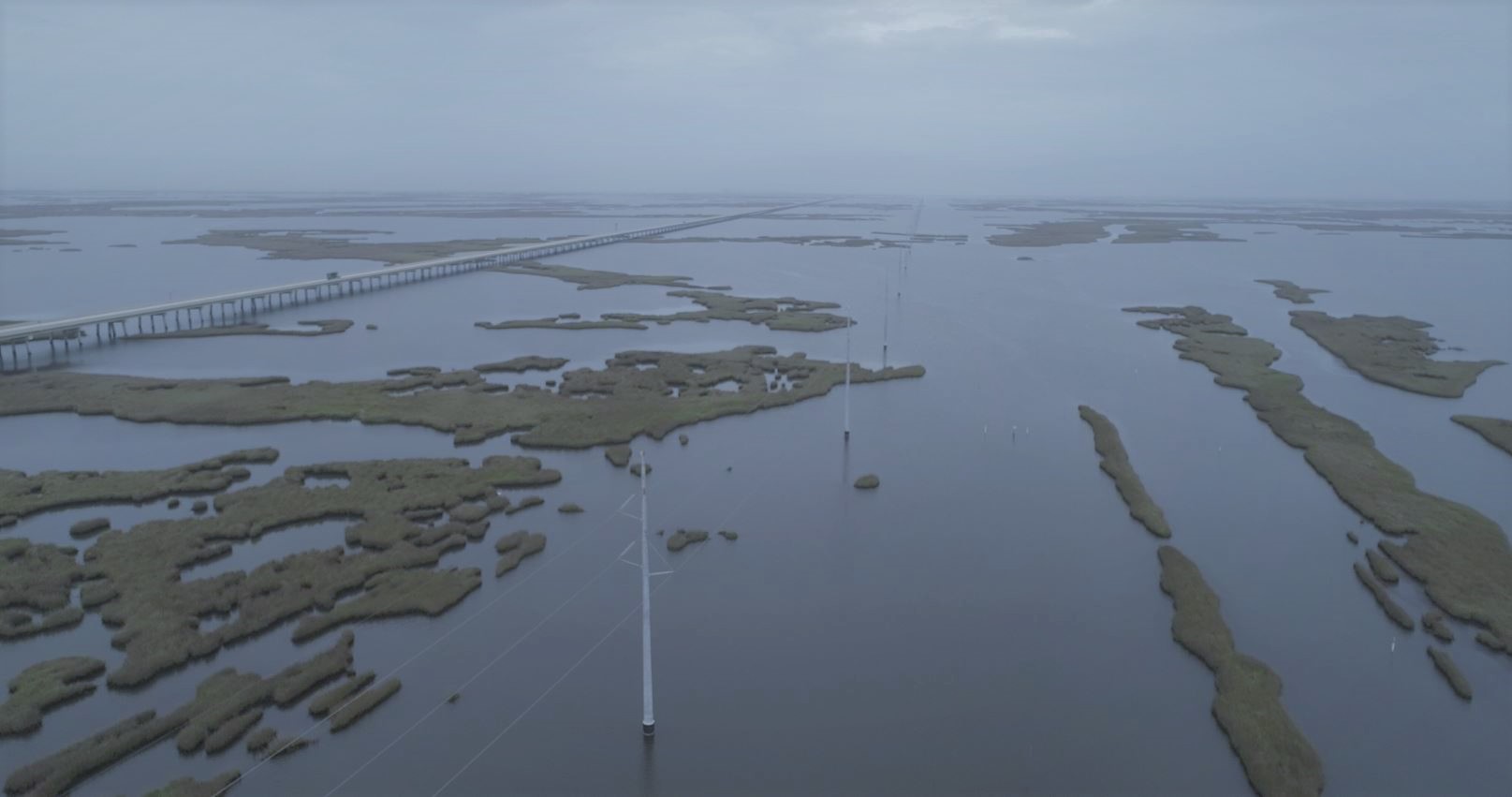 Transmission lines send electricity from centralized power generation stations (located about 60 miles away) across a marsh near Port Fourchon, Lafourche Parish, Louisiana.
Looking for Future Projects
Entergy Louisiana's investments in carbon-free nuclear generation, highly efficient natural gas generation and renewable generation make the utility's generation fleet one of the cleanest utilities in the United States. Entergy has invested significant capital over the last decade to modernize its power generation portfolio, ensuring that efficient, cleaner technologies provide customers with a balance of low-cost, more sustainable electricity.
The emissions impact of shore power is directly tied to the source generation of the electricity powering this application. The emissions reductions as a result of Entergy's shore power offering compounds the environmental benefits of the utility's investments in cleaner generation technologies.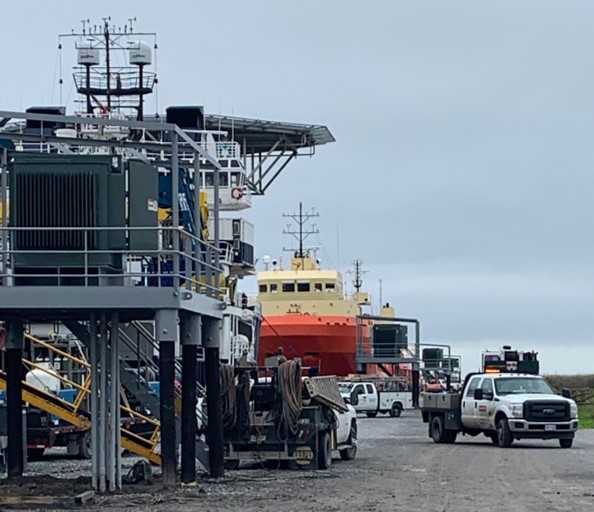 An ECO vessel tied to an Entergy shore power platform with electrical service buried underground to ensure the safe movement of cranes and other industrial equipment at Port Fourchon, Lafourche Parish, Louisiana.
Looking forward, Entergy is pursuing other opportunities in the maritime electrification industry. For example, the utility is working on a project in Lake Charles, Louisiana, and also at the Ports of Beaumont and Orange in Texas. With seven of the country's top 20 ports located in Entergy's service territory ― Arkansas, Louisiana, Mississippi and Texas ― the utility is exploring opportunities with customers to bring beneficial electrification technology to other ports and industries in its region.
The cruise ship industry also offers opportunities for maritime electrification. For example, a mandate in Alaska and California requires vessels to plug into grid power while at port. At this point in time, the maritime electrification projects often stem from customer requests to utilities. Due to its location near the Gulf of Mexico and ability to provide reasonably priced power, Entergy plans to pursue this business opportunity going forward through its utility operating companies
---
Michael Cross is the vice president of innovation for Entergy Services LLC, building new products and services to enable the premier utility. He leads the KeyString Labs group in reimagining the future of the industry and bringing new ideas to life through focusing on the customers' needs. Prior to joining Entergy in 2019, he was responsible for digital transformation and innovation for six years at AAA Insurance, which covers 23 states. He previously worked in the Sidney Garfield Innovation Center for Kaiser Permanente, where he led all mobility products across clinicians and customers.
Darryl Richard is the innovation architect and leader of the beneficial electrification focus area for Entergy's KeyString Labs. With prior responsibilities within Entergy's grid modernization and utility automation areas, he has applied experience from performance management, financial planning and regulatory strategy into the beneficial electrification offerings. He graduated with High Honors from the Georgia Institute of Technology as a four-year Football Letterwinner, All-Conference player, and team captain. A former National Football League defensive lineman, he also holds a master's degree in business administration from Georgia Tech.
For more information:
Entergy | www.entergy.com
Edison Chouest Offshore | www.chouest.com
Article originally published in the October 2020 issue of T&D World magazine.
---