Insights > Powering Through: Entergy's Katrina Stories
Powering Through: Entergy's Katrina Stories
08/27/2015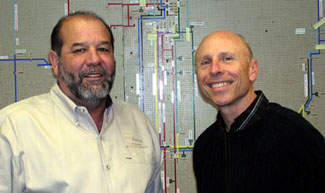 Glenn Jallans remembers the first time he saw what had happened to his beloved St. Bernard Parish after Hurricane Katrina did its worst in August 2005.
And it was a long time before he could stop working at his outdoor "office" of a table and four chairs and start working in a regular building.
"It took about two weeks after the storm before I could come back," Jallans said, adding he had to get there by ferry. When he finally got to the Entergy office in Chalmette, the mud was so thick that he had to engage the four-wheel drive on his truck. "There was so much mud on the property that we filled 196 dump truck loads with it," he recalled.
That didn't stop Jallans, however. Along with then-senior engineer David Cook and their co-workers, he immediately rolled up his sleeves and got to work on the seemingly insurmountable task of restoring power to the areas just east and south of New Orleans.
Since the Entergy office was affected like everything else around it, Jallans and his crew set up a table in the parking lot. "After the storm, there was nothing," Jallans said. "You couldn't even plug in a coffee pot – there was zero power and so much damage. I was told that 98 percent of all structures in St. Bernard Parish were underwater. The parish was totally devastated."
But from that table, which graduated to a motorhome to a temporary building known as "the snowball stand" to a trailer, Jallans, Cook, and the rest of the crew got to work.
"From day one, we provided power to our customers and never told anyone they couldn't have it," Cook said. He added that although it may have taken some time to overcome obstacles, the power eventually went on. "Once we got started, nothing stopped us."
Jallans and Cook recalled working around the clock for six months to restore the power in storm-ravaged St. Bernard Parish and a portion of Plaquemines Parish. "We did it and I'm really proud of what we did – I think it went very well," Cook said.
One item crucial to their success made it through the storm. When Jallans was able to get into their old office, he found the switching board – a large board outlining the district's power grid – slightly damaged, but intact. He called Cook and together they were able to reassemble it for use in the restoration efforts.
"That board was the most important thing in the office," Jallans said. "At first, we were using paper maps, but finding the board made it a whole lot easier. It was an invaluable tool to us."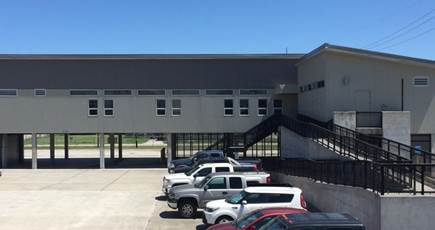 The new Chalmette office opened in 2009 to replace the original building destroyed by Hurricane Katrina. Since then, the devastated Entergy office building farther south near Belle Chasse in Plaquemines Parish was rebuilt to be stronger and higher as well.
Following Katrina, Entergy was committed not only to restoring St. Bernard and Plaquemines parishes, but all destroyed parts of its service territory. Jallans was pleased when a new 4,750-square-foot Chalmette Service Center was unveiled in late 2009 to house the linemen and other workers who help provide electricity to the area. The building is built on a raised foundation to reduce the risk of damage from future storm surge and to help Entergy rapidly respond to future storms.
"If this place gets flooded again, the top floor will be ready to go," Jallans remarked. "The offices are high and fitted with generators and windows that can withstand winds up to 150 miles per hour. Employees could stay during a storm if they had to and could also get back by boats and tie them up to the second floor."
Cook added that the new building and efforts to not only restore, but improve, service show that the company is committed to the customers it serves.
"Entergy's proactive efforts in making improvements are an investment in customers," he said. "We met customers' needs by providing good, reliable power when they needed it. And once we restored their power after Katrina, we immediately started trying to make it better."
---