Insights > Putting Down Roots for the Future of the Cache River
Putting Down Roots for the Future of the Cache River
03/26/2015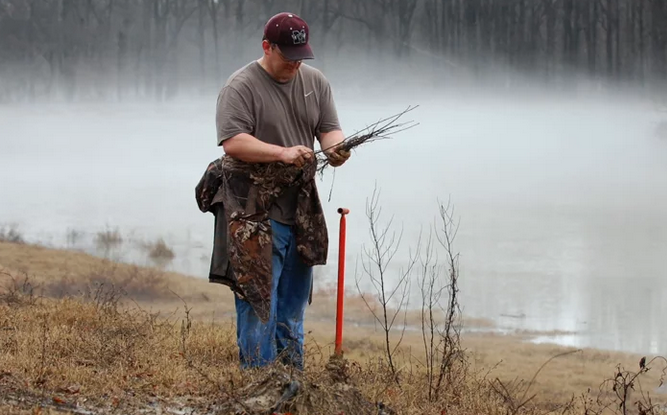 Entergy and The Nature Conservancy have been working together for years to protect and enhance the natural resources of Arkansas, particularly on the Cache River near Clarendon. On March 11 and 13, two separate groups of employees traveled by boat to bottomlands on the Cache to plant more than 2,000 hardwood tree seedlings as part of a project to restore the river to the natural state it was in before a seven-mile stretch was "channelized," cutting off the natural meanders.
"Being the state's largest electricity provider means more than just producing and delivering power safely and reliably at a reasonable price," said Entergy Arkansas President and CEO Hugh McDonald, who was one of the volunteers with the Friday team. "We also must make sure the company we work for and represent has a reputation in our communities as being part of the solution to make good things happen that wouldn't otherwise happen."
The volunteer opportunity grew out of conversations McDonald had while on the Cache River in September when he got a status update about the restoration project. Entergy awarded The Nature Conservancy of Arkansas a $125,000 reforestation grant which 20 employees kicked off, planting the first 2,000 willow oak, bitter pecan, Nuttall oak and black gum seedlings. The grant supports reforesting 400 acres with 160,000 saplings.
---