Insights > Remembering the Easter Flood of 1979
Remembering the Easter Flood of 1979
04/15/2019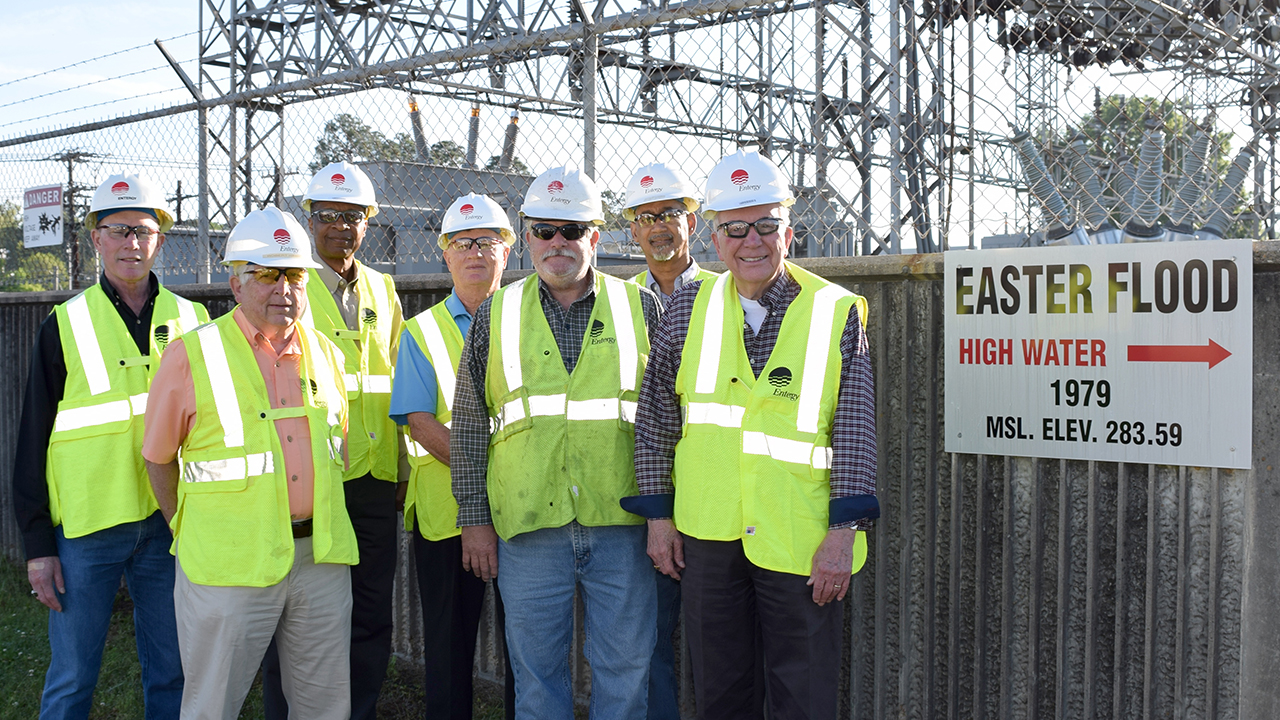 The devastating Easter Flood of 1979 is an unforgettable part of Jackson, Mississippi's history. The Pearl River crested and flooded the city's downtown that April. As expected, the community rose above the devastation. And Entergy, then Mississippi Power & Light, employees were there, fighting to protect the community's electric power supply. Now 40 years later, some of our employees and retirees still remember the damage and how they pulled together to maintain service to customers.

"Before the flood, several of us were discussing the prediction of high water. One of the employees said 'If the water gets as high as they predict, it will flood my house.' We also knew that the Mississippi Coliseum would flood if predictions held true. None of us Jackson natives had ever seen the Pearl River rise that high and we did not believe it would happen. The predictions proved true and not only were houses and business flooded, but we had to build a levee around the Jefferson Street office and substation! One of my memories is that Bernie Steen and I reported to duty and were told to 'patrol the levee'.  As new employees, we didn't exactly know what that meant. We soon found out that it included filling and placing sandbags!" – Ed Smith, senior customer service specialist, meter reading operations
"I remember we put stakes up near drainage ditches around town and took measurements every hour to find out how fast the water was rising. Later on, we found out the levee behind the YMCA wasn't expected to hold. If that happened we knew we had a number of substations that would be in trouble. We had to save all the substations to keep the power on. Had we failed to keep the substation at Jefferson Street on, we would have lost power to all the nerve center of Mississippi. There you had the capitol, old capitol, city hall, county government, WLBT, the Clarion-Ledger, the telephone company, and our own offices. It was a minute by minute race against time. We knew we did not have the odds on our side, but we moved forward anyhow. We worked all the alternatives at the same time. When one contingency did not work, another did. It was the best example of teamwork I ever experienced." – Don Meiners, retiree, former president and CEO

"It was all hands on deck. We all went down to the Jefferson Street levee to help with sandbagging to protect the call center as well as the substation in the back. It was a trying time working to keep the water out of the substation and call center. But we made it." – Louis Wright, customer service representative

"During the flood, we were all asked to help with Jefferson Street sandbagging. It was pretty much chaos. When Don Lutken, our president at the time, arrived on the scene, he jumped up on the sandbags and asked us 'Who's in charge down here?' When no one answered, being an old Navy guy, he started telling us how to plug the holes in the ship. He took control of the situation and turned chaos into an organized process. The company leaders deserve a lot of credit for how we responded." - Bob Hawkins, retiree, former manager regulatory affairs

"We were down there sandbagging when a school bus came up with 'Parchman' on the side of it. The prisoners were very helpful that day. One of them was working right beside me and I had a brand new green cap on from Grand Gulf that I really liked. The guy beside me from Parchman said 'I sure would like to have a cap like that'. I immediately said 'It's yours!' and gave it to him as a thank you." – Ken Coleman, retiree, an employee in right of way and payroll departments
From our archives, employees, volunteers and prisoners sandbagging the levee (left) and the East Jackson substation on Jefferson St. endangered by the floodwaters (right).
The company's board of directors acknowledged the community collaboration in a resolution:
The fight was won by skillful planning, great use of manpower and machines, tireless work over long hours day and night, and splendid cooperation of a wide range of individuals in public and private portions.

The Easter Flood of 1979 was supposed to be a "200-year flood" – one we hope never repeats. Rest assured the lessons we learned then, along with all our other restoration efforts, have helped us prepare for weather events of all kinds today. Whether it's a flood, hurricane, thunderstorm, tornado or extreme winter weather, we stay storm ready.
This 2010 video from WLBT takes a look back at the flood and its community impact.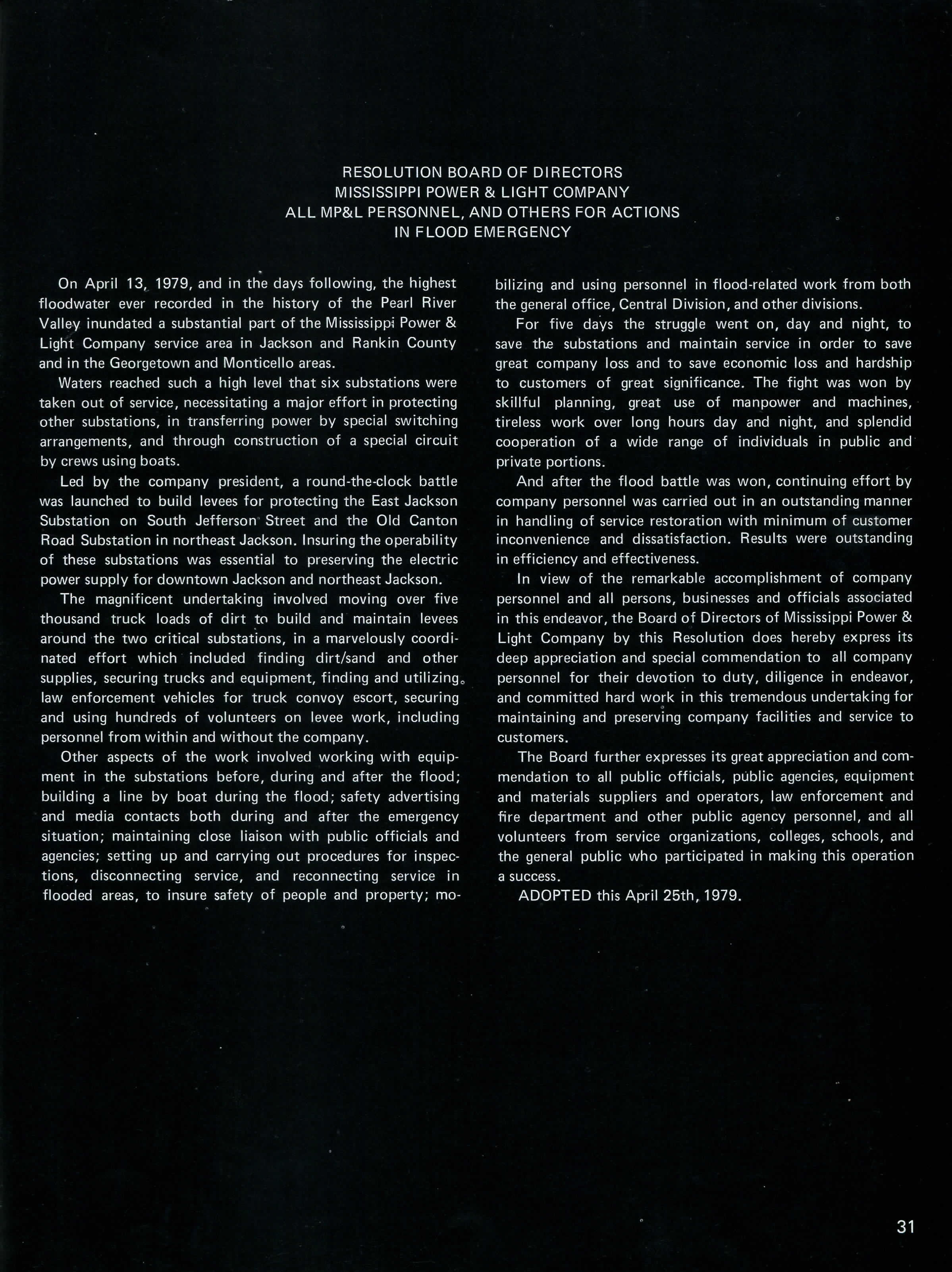 As published in the June 1979 MP&L News, an internal publication for then-Mississippi Power & Light, this resolution commended employees, public officials, suppliers, volunteers and the community for their response during the crisis.
---