Insights > Resiliency in Rolling Fork
Resiliency in Rolling Fork
04/25/2023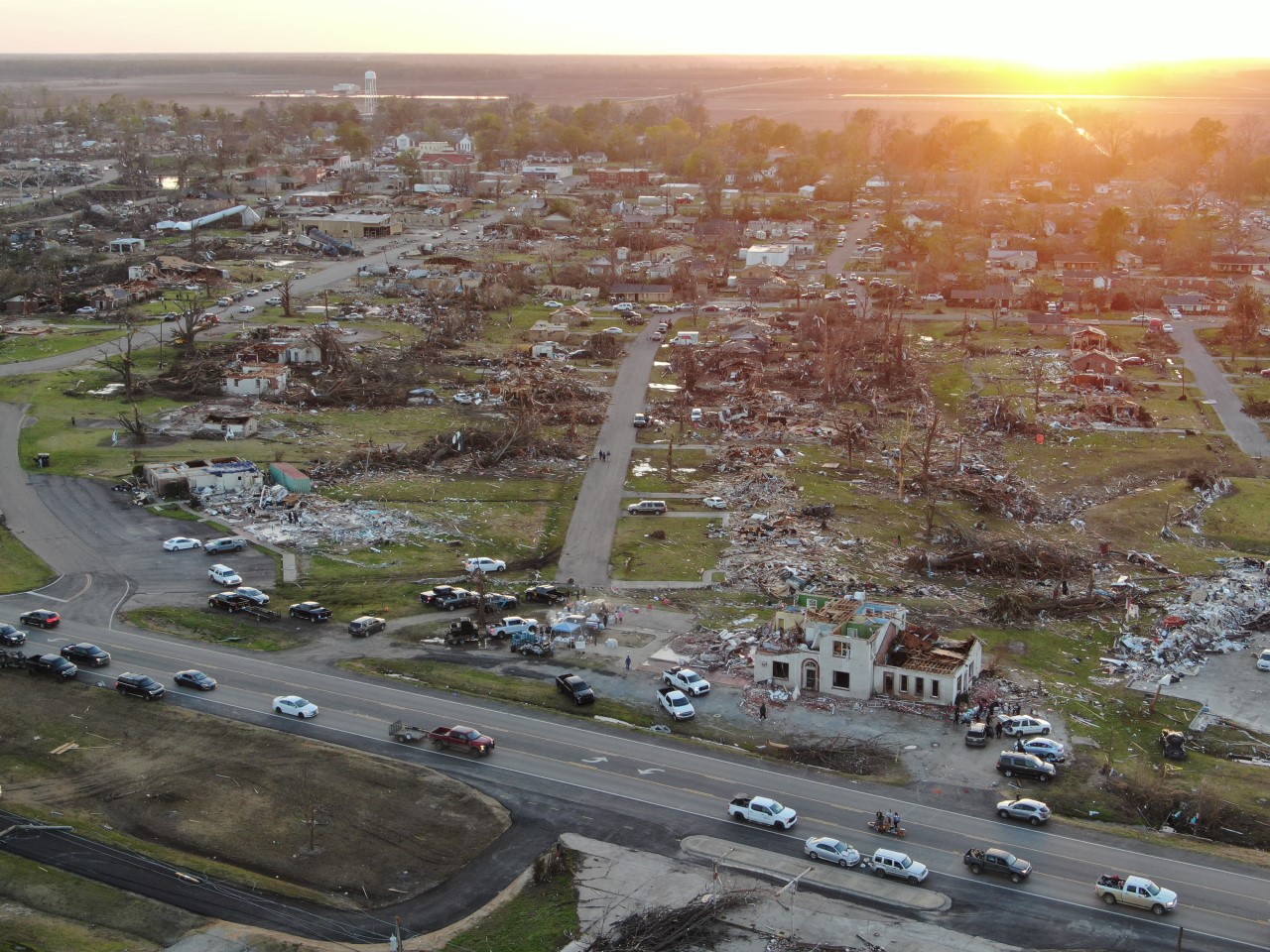 The March 24 tornadoes that flattened parts of the Mississippi Delta changed the community forever. Responding to the storm's aftermath also presented Entergy Mississippi crews with unique challenges and opportunities in the small city of Rolling Fork. The EF-4 tornado destroyed nearly 300 homes that Friday night, and more than 700 service and secondary poles. Like many mobile homes in the city, poles were swept away leaving behind little to no evidence of their existence and requiring a total rebuild.
Despite the extensive damage, crews were able to restore power to all customers who could receive it within a week of the storm. Engineers and construction forces collaborated to closely identify opportunities to strengthen the grid and prepare Rolling Fork for greater resiliency during future storms.
Rerouting for a rebuild
When line supervisor Michael "Mickey" Bailey traveled to Rolling Fork Saturday afternoon, it took him nearly 45 minutes to get through a quarter of a mile of traffic. Highway 61, the main road that runs norh and south of Rolling Fork, was packed with carloads of people coming to view damage, search and rescue teams, and volunteers.
Congestion throughout the town proved to be the first challenge for teams to overcome. The tornado curved trough the center of town, essentially cutting Rolling Fork in half and blocking main streets. While Entergy crews were out accessing equipment damage, so were other utility companies and emergency responders.
"We already had about four or five crews dispersed Saturday morning. But once I saw how bad the traffic and debris were, we decided to get a drone up to help survey the area. There were piles of debris blocking roads, and we needed to get an idea of the condition of our equipment as safely and quickly as possible," said Bailey.
While Entergy has used drone footage for storm support in the past, it's typically to view a specific single line section, not wide area damage. The drone assisted teams during a crucial first stage of the storm restoration process.
As scouts assessed damage, it was clear that teams would need a significant amount of poles, wire and other materials, and somewhere to store it. That's where operations coordinator Douglas Buckles shined, by procuring land for a temporary laydown yard at the edge of town.
"The closest laydown yards are in Greenville and Vicksburg, and it became time consuming to go back and forth. I was impressed by how quickly the team got the temporary yard in operation. Nearly 200 trucks needed to haul material throughout the city, and we didn't have space at the substation," said Bailey.
Once crews were able to carve paths through the destruction to replace poles, they found in many instances that debris prevented enough room for a right of way. Some crews were accompanied by a small excavator, which helped gained the proper easement for safe pole installation.
Seizing opportunities for a rebuild
Early in any storm restoration process, it's important to work with city officials and emergency management to identify critical customers, and which essential lines should be replaced first. In this storm, the lines serving the local hospital and water tower were priority for crews. And since the National Guard Armory quickly became a hub for now homeless citizens, emergency responders and volunteers, Entergy provided a generator while damage assessment was ongoing. By March 29, crews began installing LED streetlights, a sign of hope in a dark time for the city.
The storm's broad impact in the small town presented an opportunity to reevaluate former wire configurations and rebuild stronger ones for future outages. A few lines were moved closer towards Highway 61 for better accessibility, and in some instances, crews built better ties so the town could be served from new feeders.
"Most of the customers were solely fed from the substation on the south end of town. But there's a substation past the north end in Hollandale that ties with a feeder in Rolling Fork, and it serves a very limited number of customers when Rolling Fork's substation is down. This was the perfect moment for us to beef up that tie with more capacity to serve more Rolling Fork customers should we need to," said Philip Ozier, senior manager, engineering. 
The rebuild strategy wasn't typical, but neither was the storm, and the magnitude was felt throughout the community. "I never once heard anyone complain or had to tell somebody they were doing something wrong. Nor did I ever hear from a customer 'when are my lights coming on.' My guys were fed well by the people there in the community, and we were humbled to be out there with them," Bailey said.
---