Insights > Restoration Work Continues in Calcasieu, Cameron Parishes
Restoration Work Continues in Calcasieu, Cameron Parishes
09/13/2020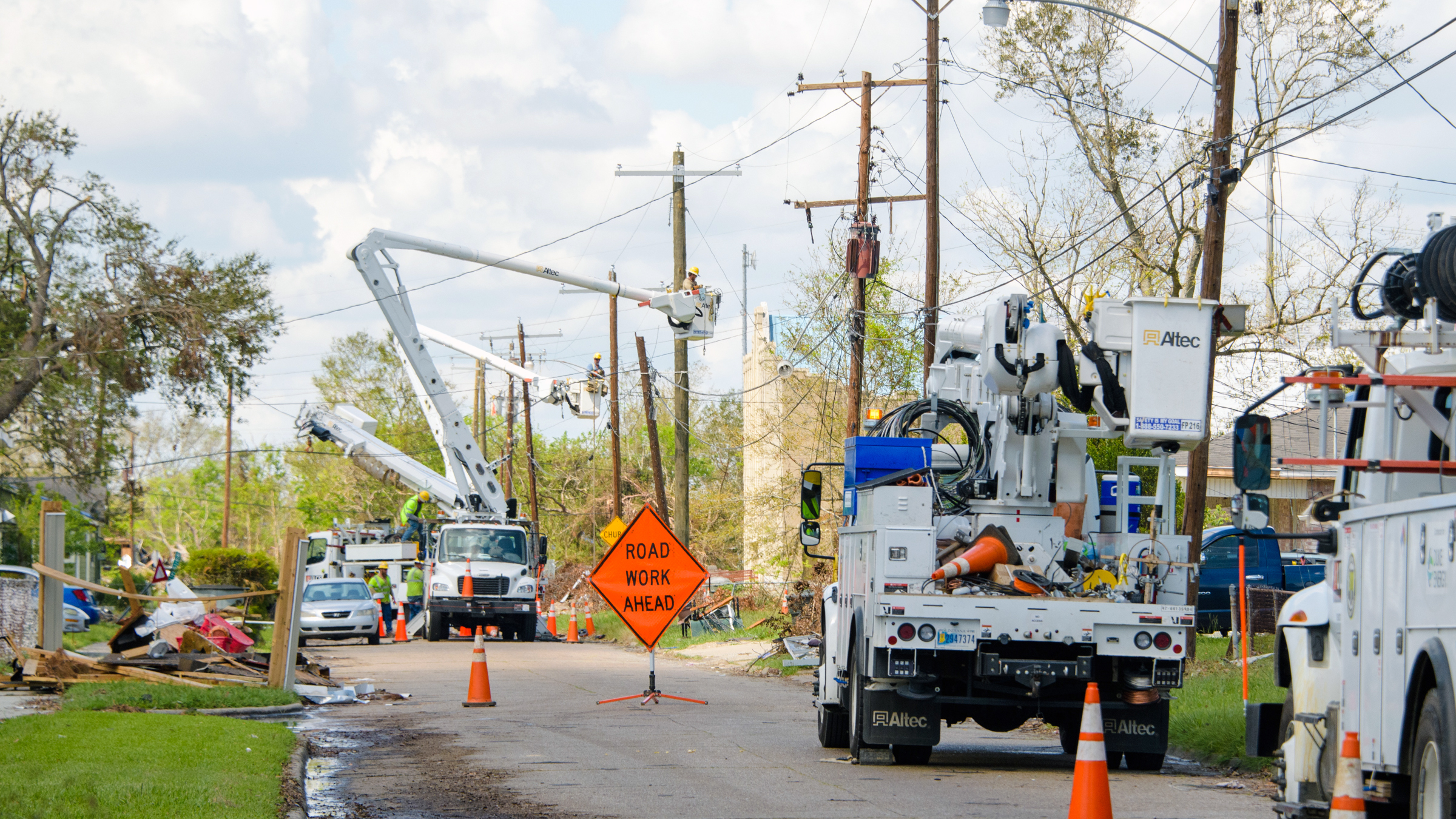 Preparations continue as Tropical Storm Sally heads toward southeast Louisiana
Crews continued restoring power to customers in Calcasieu and Cameron parishes, the areas struck hardest by Hurricane Laura.
As of 8 p.m. Sunday, crews have restored power to nearly 46,000 customers in the two parishes. A total of 223,900 of the 270,900 customers who lost power at the peak of Laura have now had their power restored. Over the course of the storm and restoration, the company has restored 402,792 individual outages in Louisiana as of 7 p.m. Sunday.
As Entergy neared another milestone in its restoration efforts in Southwest Louisiana Sunday, its Louisiana utilities were continuing preparations for Tropical Storm Sally, which is currently forecast to make landfall as a hurricane in southeast Louisiana early Tuesday.
The storm is expected to bring high winds, torrential rains, high tides, and coastal flooding to portions of southeast Louisiana, and power outages could occur. Entergy Louisiana and Entergy New Orleans crews and contractors are on alert and ready to restore power where it is safe to do so. While some work to restore power can be done on the ground, work in the air from bucket trucks can't be performed in wind conditions of 30 mph or greater.
As restoration work continues in Southwest Louisiana, View Outage map numbers may fluctuate depending on weather conditions that could bring additional outages or the need for temporary outages to make repairs.
Statewide, crews have replaced about 10,600 poles, 2,780 transformers and 22,650 spans of wire. Teams are also working around the clock to repair or rebuild approximately 1,600 transmission structures that were damaged or destroyed by Laura.
Extreme damage to Entergy's transmission and distribution systems in Southwest Louisiana has resulted in extended outages for customers in Calcasieu and Cameron parishes. Once the transmission lines are flowing electricity into the region's substations, power can flow through the distribution lines to homes and businesses that can safely accept power. Increasing generation and brining more transmission facilities online should help improve our ability to finalize restoration efforts.
Along with standard storm procedures, Entergy employees are navigating the COVID-19 pandemic by taking additional steps. Due to the added measures crews must take, restoration may take longer, especially where there are widespread outages.  Also, crews will continue to practice social distancing, and we ask that customers do the same.  For their safety and yours, please stay away from work zones.
Crews are focusing on restoring emergency services first and then will prioritize work to restore the greatest number of customers. 
As we continue to restore power in Southwest Louisiana, we want to ensure that you can accept power when it becomes available.  Check for damage to the electrical equipment attached to your home or business and contact an electrician to make any needed repairs. For information on your home's electrical equipment, visit https://www.entergy.com/hurricanelaura/home-repairs/. If damage has been repaired by a qualified electrician, please call 1-800-ENTERGY to generate a service reconnection work order.
STORM RESTORATION PROCESS
Following a storm, we deploy scouts to assess damage. Our scouts work as quickly and safely as possible in sometimes very dangerous conditions. As damages are assessed, we will communicate with you the conditions found along with an estimated restoration time and our progress toward restoring your power. We ask for your patience, and please know restoring your power safely and quickly is our top priority.
As we assess the damage, we will begin restoring service where it is safe to do so.
Your preparation is essential too:
Above all, stay safe. A personal plan for you and your family is the best way to stay safe and be storm ready.
Visit the Entergy Storm Center website for planning tools that can help guide you through the decisions you need to make.
Whether you shelter in place or evacuate, you should make preparations to protect your home.

Decide to stay or go well before the storm strikes.
Basic emergency supplies and a first aid kit are key items to keep on hand during severe weather.
Visit the Entergy Storm Center website in advance for details on how to prepare for hurricanes and other types of storms.
KEEP SAFETY TOP PRIORTY
There is no way to know if a downed line is energized or not, so if you see one, keep your distance and call 1-800-9OUTAGE (800-968-8243).
Stay safe and away from downed power lines and flooded areas. Do not walk in standing water and do not venture into areas of debris, since energized and dangerous power lines may not be visible.
Customers choosing to use portable electric generators should do so in accordance with the manufacturer's instructions. Customers must never connect a generator directly to a building's wiring without a licensed electrician disconnecting the house wiring from Entergy's service. Otherwise, it can create a safety hazard for the customer or our linemen working to restore power. And it may damage the generator or the house wiring.
For the latest details, visit our new Hurricane Laura information hub at entergy.com/hurricanelaura. If the electric equipment appears undamaged, report the outage by texting REG to 36778 or by calling 1-800-9OUTAGE
We continuously keep our communities informed throughout a storm using the following channels:
Download our free app for your smartphone at entergy.com/app.
Sign up for text alerts. From your cellphone text REG to 36778.
Visit the Entergy Storm Center website and our View Outages page.
Follow us on Twitter.com/entergyla or Facebook.com/entergyla.
Call us at 800-9OUTAGE (800-968-8243).
Follow updates in your local news media like radio television and newspapers
---