Insights > Restoration Efforts Progress, Even on Labor Day
Restoration Efforts Progress, Even on Labor Day
09/07/2020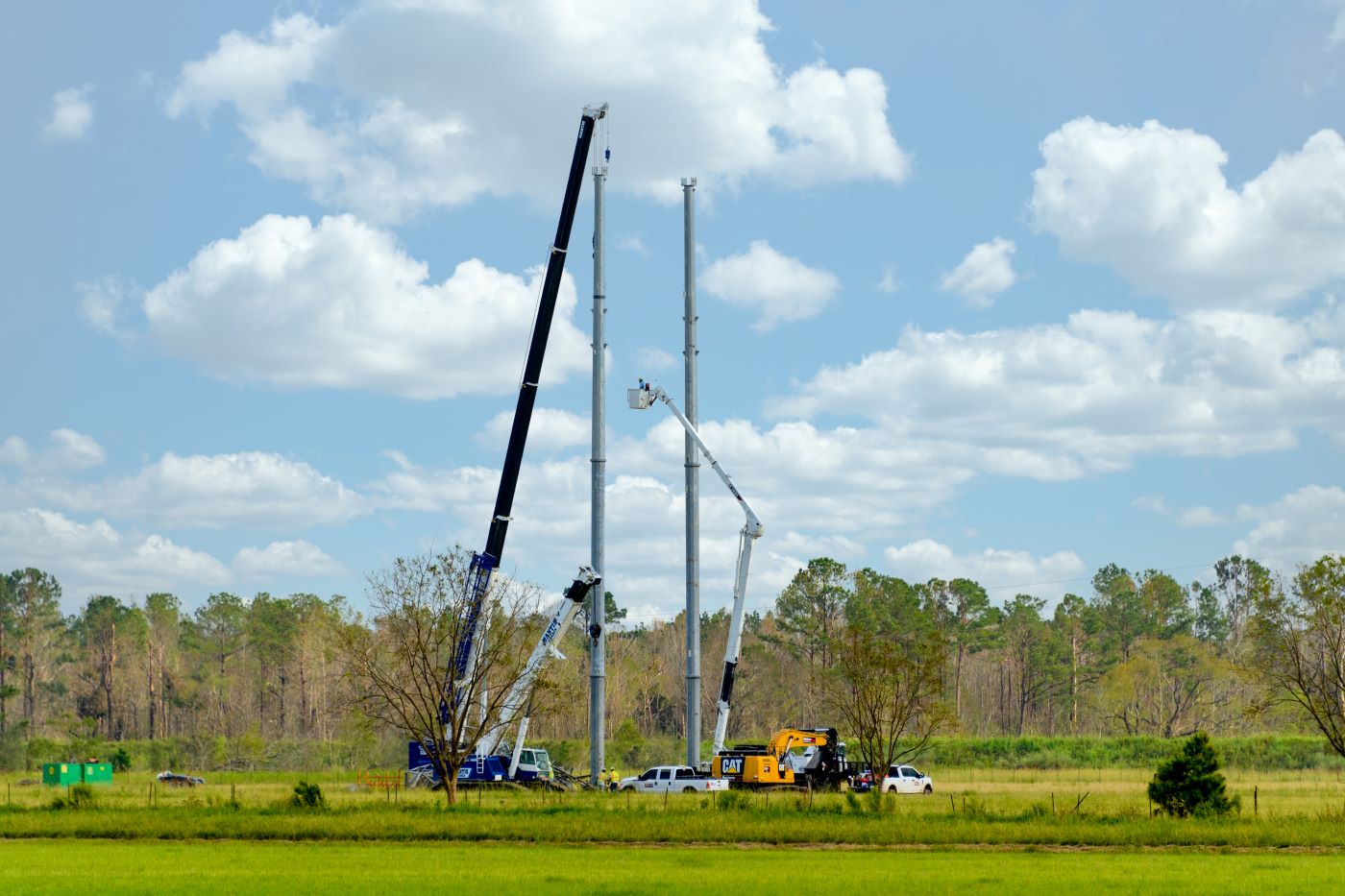 The reason for celebrating Labor Day and the accomplishments of American workers was never clearer as crews headed into the field today to set poles, hang wire and install equipment. The numbers, to date, speak for themselves: Significant progress has been made in restoring and rebuilding the power grid in Calcasieu and Cameron parishes.
In just 10 days since Hurricane Laura made landfall, crews have replaced approximately 6,600 distribution poles, 2,900 transformers and more than 300 miles of power lines. Adding to that progress was the replacement of 74 large transmission structures through Sunday night.
To put some of the data into perspective, crews have replaced enough wire to stretch from Lake Charles to Mobile, Ala. Meanwhile, a large transmission structure that supports a 500,000-volt line weighs roughly 40,000 pounds and it takes three 18-wheeler trucks to transport just one.
Work on the transmission and distribution systems is occurring simultaneously, with both requiring specialized equipment in certain scenarios. While significant progress has been made, we understand that any time without power is too long.
"Our storm team is giving it their all to get the lights back on for our customers in Calcasieu and Cameron parishes," said John Hawkins, vice president of distribution operations for Entergy in Louisiana. "The progress being made is nothing short of inspiring and shows why we are among the best in the business at storm response."
Entergy's electric system took an extraordinary blow after Laura made landfall at Cameron and the hurricane's eye passed over Lake Charles, bringing 150 mph winds that snapped trees and distribution poles and bent steel transmission towers to the ground that once pointing toward the sky.
As assessment reports began rolling in and the damage count piled up, it was clear the company had a long road ahead. The task of rebuilding the electric system would be as arduous as it would be complex. Not only was the system severely damaged near neighborhoods, homes and businesses, but it was also severely damaged in hard-to-access locations like swamps, rivers, woods and even backyards.
Despite the challenges, those involved in the restoration are unified by a common goal: Get the lights back on as safely and quickly as possible.
"Thank you to the men and women who are working tirelessly through this holiday weekend to restore power to our communities," said Willie Wilson, Entergy system storm incident commander. "Laura is an unprecedented storm that has required an unprecedented response, and I thank each of you for your dedication and commitment to safety."
For the latest details on our restoration efforts as well as informative articles about the electric system and how it works, please visit our Hurricane Laura page at entergy.com/hurricanelaura.
###
---