Insights > Safety Spotlight: Zachary Young
Safety Spotlight: Zachary Young
07/07/2020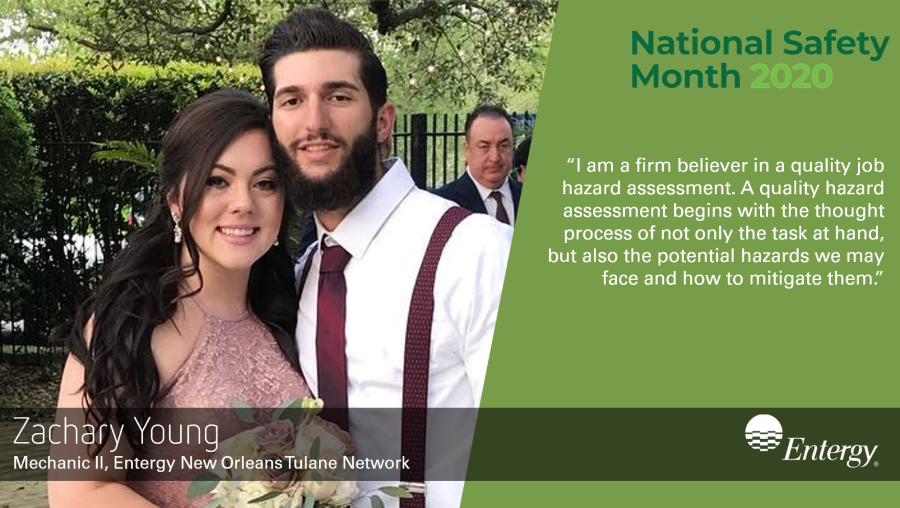 In June, the National Safety Council celebrated National Safety Month by publishing materials on various topics focusing on saving lives and preventing injuries, from the workplace to anyplace. This year, the NCS has focused its efforts on relevant topics for keeping workers safe in the new normal.
Zachary Young, a mechanic for the Entergy New Orleans Tulane network explains how safety and ergonomics help him on the job.
What does our value of living a safe and happy life mean to you?
It means that my teammates and I can come home safely to our families after work. It is important to me because they are my extended family and we care about each other.
At Entergy we focus on ergonomics to prevent muscle and joint injuries, how have you designed your workspace or job tasks to fit you and reduce the risk of injury?
Today, we are fortunate enough to have the right tools for the right job. For example, a battery press used today prevents shoulder injuries, unlike a manual crimping tool of the past. Long term use of a manual crimping tool leads to rotator cuff issues down the road. It is important to use the right tools and to not cut corners, because it can affect your body later in life.
Who is that coworker on your team or at your site that best demonstrates what it means to live safe?
Since my first day at the Tulane Network, I have witnessed multiple peer checks a day. My brothers and I hold each other to the highest level of safety, so it is difficult to choose one. I am grateful to be a part of a team that takes all of our safety so seriously.
What is the best safety related advice that you have ever been given?
A respected gentleman once told me, "your goal on retirement day should be to leave here with all of your fingers and toes." I interpreted that as I should leave here the same way I arrived, only much older. In order to do that, I know I must follow all safety protocols.
What safety tool do you use most often in your daily tasks?
I am a firm believer in a quality job hazard assessment and proper care for personal protective equipment. A quality hazard assessment begins with the thought process of not only the task at hand, but also the potential hazards we may face and how to mitigate them. We also use rubber protective equipment as our last line of defense when in contact with electricity. That's why it's always important to me to air test my rubber gloves before each use.
---