Insights > Safety Training Saves Lives
Safety Training Saves Lives
07/10/2015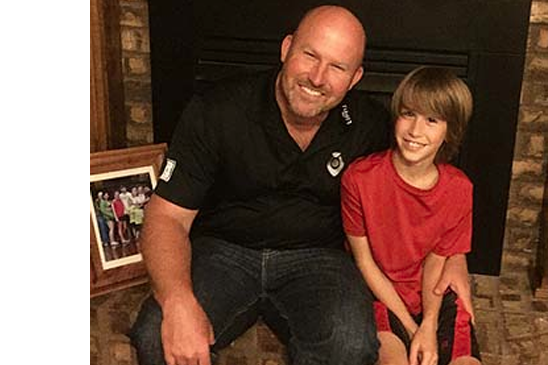 It was a warm spring night in West Monroe, Louisiana. Entergy employee Ronnie Sanderson and his son, Tyler, were getting ready for some father-son time. They'd registered to participate in a fishing tournament, set to begin the following morning.
Participants were attending an evening meeting to prepare for the event, with speakers, food and fellowship. Tyler, a sandy-haired 11-year-old who loves horses and motorcycles, was sitting next to his father after supper.
As Sanderson listened to the speaker, Tyler pulled at his arm. The boy's bright brown eyes were wide with fear.
"He was pointing toward his throat," said Sanderson. "He was hitting at my arm. People were yelling that he was choking on something. The speaker at the front of the room just stopped talking."
Several other Entergy employees were also participating in the tournament. They began making their way to Tyler in order to help. Thinking quickly, Sanderson turned Tyler around and made a fist under his ribcage. After two quick abdominal thrusts, a large piece of ice dislodged from Tyler's throat.
"I know we've changed techniques recently, but the Heimlich maneuver was the first thing that came to mind," said Sanderson. "And I'm very thankful that it did. I thank God that it worked, and that I was there to do it."
(The American Red Cross recently changed its recommendations for treating conscious choking. Read the organization's new guidelines.)
Tyler breathed easy again, his slight frame shaking a bit from excitement. Sanderson credits his Entergy safety training for preparing him to act quickly.
"It was one of my worst nightmares, and I hope I never have to do it again," Sanderson added. "We have this training every year, and some think it's too much. But if that's what it takes to remember, then that's what we need to do. Thanks to our safety trainers, I was able to save my son's life."
---