Insights > Tips and Tricks to Help Manage Winter Energy Usage
Tips and Tricks to Help Manage Winter Energy Usage
02/01/2018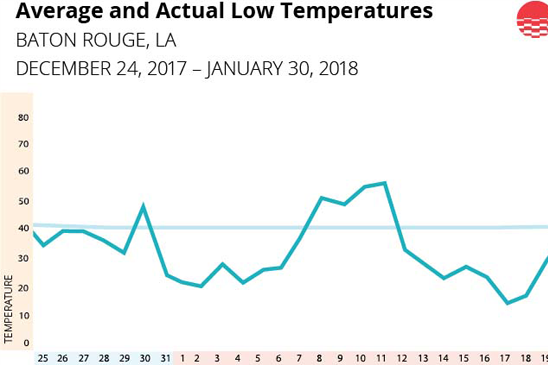 Louisiana's normally mild winters don't typically result in high energy bills. However, in parts of Entergy's service area, temperatures recently reached 20 to 30 degrees below average. In fact, temperatures in our region were consistently lower than normal during the past month.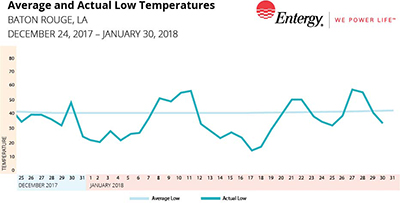 Those long stretches of low temperatures mean cranked-up furnaces and heaters for Entergy customers. That means increased energy usage, which can crank up energy bills, too.
"Weather is an important factor in determining how high or low an energy bill may be," said Melonie Stewart, vice president of customer service for Entergy in Louisiana. "We've come to expect higher bills in summer when we run our air conditioners 24/7. But with the cold weather we've experienced recently, it's important to remember that turning up the heat impacts bills, too."
If your energy bill was higher than usual this month, here are some ideas:
Find out why. You can dig deeper into your bill with Entergy's Analyze My Bill. This interactive tool allows customers to compare their energy usage (and the temperatures in their area) over time and learn more about fuel costs. With this knowledge, customers can pinpoint the best ways to save money. Check it out here: http://entergy.com/analyzemybill.
Request more time. Qualifying customers who need additional time to pay their bill can call our automated answering system at 1-800-ENTERGY (1-800-368-3749) to request an extension or request an extension through myAccount at http://entergy.com/extension.
Get assistance. There are times when everyone needs a little help. When your income won't stretch any further, we have programs available for both emergency bill payment assistance and long-term relief. Learn more: http://www.entergy.com/our_community/bill_help.aspx.
With several more weeks of winter ahead, future cold snaps are likely. These tips will help you manage billing and usage, so you can stay comfortable without breaking the bank:
Make your bill more predictable. Level billing can help you with your monthly budget. With level billing, your energy bills are averaged over a rolling 12-month period, making them about the same amount each month. Sign up here: http://entergy.com/features/levelbill.aspx.
---