Insights > Twice as Nice: Entergy Named IEEE's Outstanding Large Company of the Year
Twice as Nice: Entergy Named IEEE's Outstanding Large Company of the Year
04/21/2016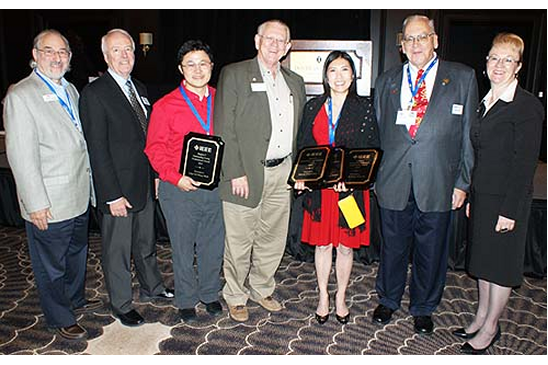 Employee development, leadership opportunities recognized second year in a row
In April, Entergy was presented with the Outstanding Large Company of the Year Award by region five of the Institute of Electrical and Electronics Engineers. The award, which Entergy has now won two years running, recognizes the company's support of its employees' professional development, networking and participation in the organization.
"Entergy has been extremely supportive of employee involvement with IEEE," said Tammy Lapeyrouse, director of project management for capital project management and construction. "Engaged participation benefits our employees in many ways. They develop professionally through work with technical committees and hone their presentation skills at conferences. IEEE also provides opportunities for our employees to network with other technical professionals and share best practices. It's a wonderful way employees can have leadership experiences outside the company. I'm proud Entergy supports IEEE involvement and is deserving of this honor."
In addition to the companywide award, IEEE honored Entergy employee Dr. Chan Wong with the region's Outstanding Young Professional Award. Wong serves as a senior engineer in transmission design basis.
​"I feel honored and fortunate to be granted the Outstanding Young Professional Award and would like to thank all the people and organizations who helped me achieve this," said Wong.
"I'd also like to thank Entergy for supporting employee contribution and involvement in professional organizations. That support has allowed me to actively participate in leadership roles in the energy sector. I hope to encourage more young engineers to be active and keep challenging ourselves to make positive impacts on our company and industry," Wong added.
Entergy encourages employee participation in IEEE by reimbursing employees for dues, society memberships and publications fees. Company leadership also supports employee attendance at industry technical meetings and conferences. Employees often take leadership roles at these events, submitting and presenting technical papers. Entergy employees are also very involved in IEEE Young Professional and student chapters at local universities, serving as technical speakers at student IEEE functions.
IEEE is the world's largest professional association dedicated to advancing technological innovation and excellence for the benefit of humanity. IEEE and its members inspire a global community through publications, conferences, technology standards and professional and educational activities.
---