Insights > What drives innovation? Black Tech NOLA 2022
What drives innovation? Black Tech NOLA 2022
07/25/2022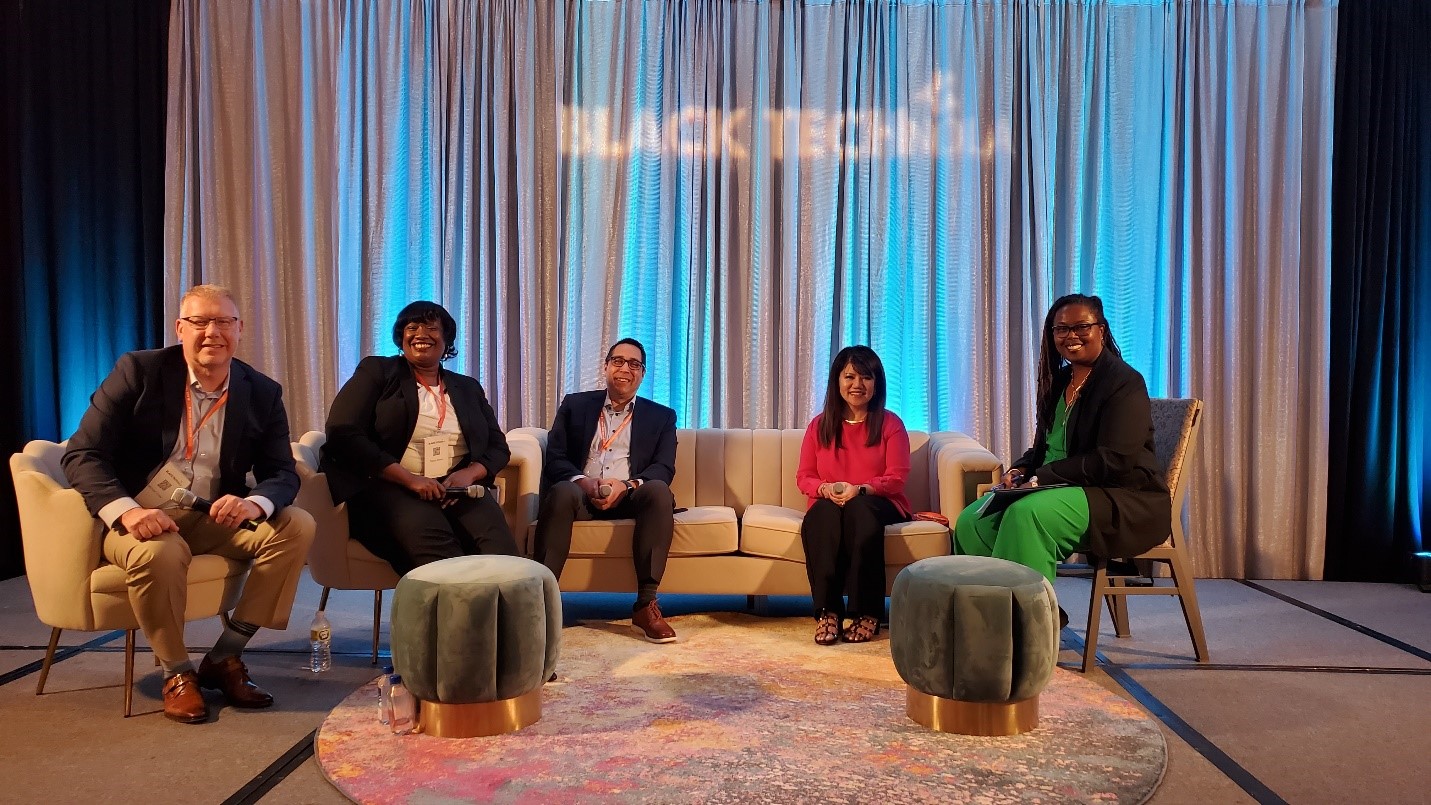 Entergy was proud to sponsor Black Tech NOLA, an annual innovation conference created to raise awareness around building an accessible and equitable technology talent pipeline in the New Orleans region. This is the fifth year the event was held in June in downtown New Orleans, coinciding with the annual Essence Music Festival. The three-day event hosted hundreds of industry leaders and global brands together to focus on jobs and career pathways in media, film, gaming, design and music in the technology industry.
Entergy employees volunteered in-person and online, providing conference attendees with helpful information about job opportunities at the company. Entergy technology and inclusion leaders participated in a panel discussion, while another group of employees hosted a digital tech demonstration.
During the panel discussion, "What Drives Innovation?" Entergy leaders discussed how inclusion enables innovation; how working remotely impacts innovation and collaboration; what obstacles they personally had to overcome to become the leaders they are today; how diverse perspectives and backgrounds can benefit teams; and much more. The leaders included Michael Cross, vice president, innovation; Taiwan Brown, vice president, diversity and workforce strategies; Michael Rhymes, vice president, chief information officer; and Ann Delenela, vice president, information security officer. The moderator for the panel discussion was Michelle Delery, director, customer, employee and communication services.
Michael Rhymes, vice president and chief information officer, shared his thoughts on working remotely, saying Entergy's employees and teams take great pride in setting a standard of excellence. "The question in the way ahead is how do we sustain that? We must be intentional in our expectations as leaders. The need to feel included, the need to feel a part of something, the need to understand our co-workers and have open and honest dialogue. That's the key. We have to be intentional in taking that feedback and coming up with different and better ways to get to know our customers and employees to keep a positive, fluid and sustainable environment."
​​​​​​​During a live demonstration breakout session, the company's intelligent automation development and operations team within the continuous improvement organization broke down a few ins and outs of intelligent automation. The discussion covered the use of the primary tool Automation Anywhere; supporting over 200 production automations at Entergy; and how automation support spans across the enterprise, including supply chain, finance, nuclear and utility services.
Wade Rivero, intelligent automation analyst, discussed the different types of automation support bots the team creates. Emphasizing the importance of intelligent automation in advancing continuous improvement, he said Entergy has developed approximately 200 automation support bots. "By doing this, we can positively impact productivity by decreasing the number of different systems needed to get the information separately, saving our customers thousands of hours to complete the same project, while also increasing the accuracy of the data."
During the closing of Black Tech NOLA, founder and CEO Sabrina N. Short, recognized Entergy for its support of the conference.
---