News Center > 2018 Beat the Heat Fan Drive Giveaway Tops 20,000 Fans
For Immediate Release
2018 Beat the Heat Fan Drive Giveaway Tops 20,000 Fans
06/20/2018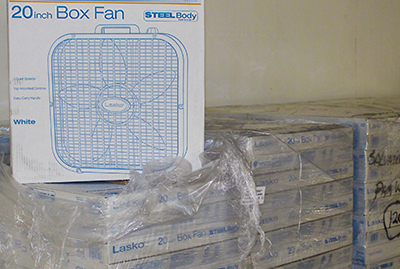 Summer started early this year for Southeast Texas, and there is no sign of the heat letting up anytime soon! To help customers keep their cool, Entergy Texas, Inc. is donating 1,300 fans this year to those in need.
"This year's fan drive brings the total number of fans donated by Entergy Texas to more than 20,000 since the program started 18 years ago," said Stuart Barrett, interim vice president of customer service. "Fans can make a big difference in customers' electric bills. By placing them strategically throughout a room, the fans can help supplement the use of air conditioning and help the room feel several degrees cooler."
The 18th Annual Beat the Heat Fan Program brings the total of fans distributed to qualified customers to 20,600.  The fans are being delivered to 30 locations throughout the company's service region this week, including:
Cities of Dayton and Daisetta, 50 fans
Beaumont (Salvation Army, Some Other Place, Rainbow Room), 170 fans
Orange (Salvation Army), 110 fans
Vidor (United Christian Care Center), 30 fans
Winnie (St. Vincent de Paul), 60 fans
Port Arthur (Salvation Army, Community Care Prayer Outreach), 170 fans
Sour Lake (Christian Caring Sharing), 25 fans
Silsbee (Christian Care Center, Hardin County United Appeals, Tri-County CAP, Inc), 75 fans
Huntsville (Good Shephard Mission), 55 fans.
City of Trinity, 40 fans.
Madisonville (Son Shine Center), 20 fans.
City of Midway, 10 fans.
City of Normangee, 10 fans.
Navasota area, including the cities of Navasota, Somerville, Calvert, Bremond, Kosse and Franklin, 90 fans.
Conroe (Crisis Assistance Center, Fans for Friends), 170 fans.
The Woodlands (Interfaith of The Woodlands), 55 fans.
New Caney area (including The Mission in New Caney, the Cleveland Senior Center, Corrigan City Hall, Covenant for Christ and Shepherd Senior Center), 160 fans.
When using fans, remember to turn them off when you do not need them. They still use electricity whether you are in the room to enjoy them or not. Besides fans, consider the following tips to save energy and keep your costs lower without sacrificing comfort:
Set your thermostat at 78 degrees (or more).
Get your A/C inspected to ensure the system is leak-free and operating efficiently.
Change air filters regularly. Some units require monthly cleaning or replacing.
Use a programmable thermostat.
Close blinds, shades and curtains to keep the sun out and the cool air in.
Close air conditioning vents in rooms that are not in use.
Seal cracks and holes around doors, windows and duct work.
Use weather stripping and caulk to keep the heat from seeping inside.
Turn down water heaters to 120 degrees.
Wash clothes with cold water when possible.
Use toaster ovens or crock pots to prevent heating up your house with an oven.
Use lower wattage bulbs or LED bulbs to save energy.
For more information on how to save money and keep your cool this summer, visit www.entergytexas.com/savemoney.
Entergy Texas, Inc. provides electricity to approximately 450,000 customers in 27 counties. Entergy Corporation is an integrated energy company engaged primarily in electric power production and retail distribution operations. Entergy owns and operates power plants with approximately 30,000 megawatts of electric generating capacity, including nearly 9,000 megawatts of nuclear power. Entergy delivers electricity to 2.9 million utility customers in Arkansas, Louisiana, Mississippi and Texas. Entergy has annual revenues of approximately $11 billion and more than 13,000 employees.
-30-
entergytexas.com
Twitter: @EntergyTX
Facebook: Facebook.com/EntergyTX
---