News Release > Arkansas Nuclear One begins 29th Unit 2 refueling outage
For Immediate Release
Arkansas Nuclear One begins 29th Unit 2 refueling outage
04/17/2023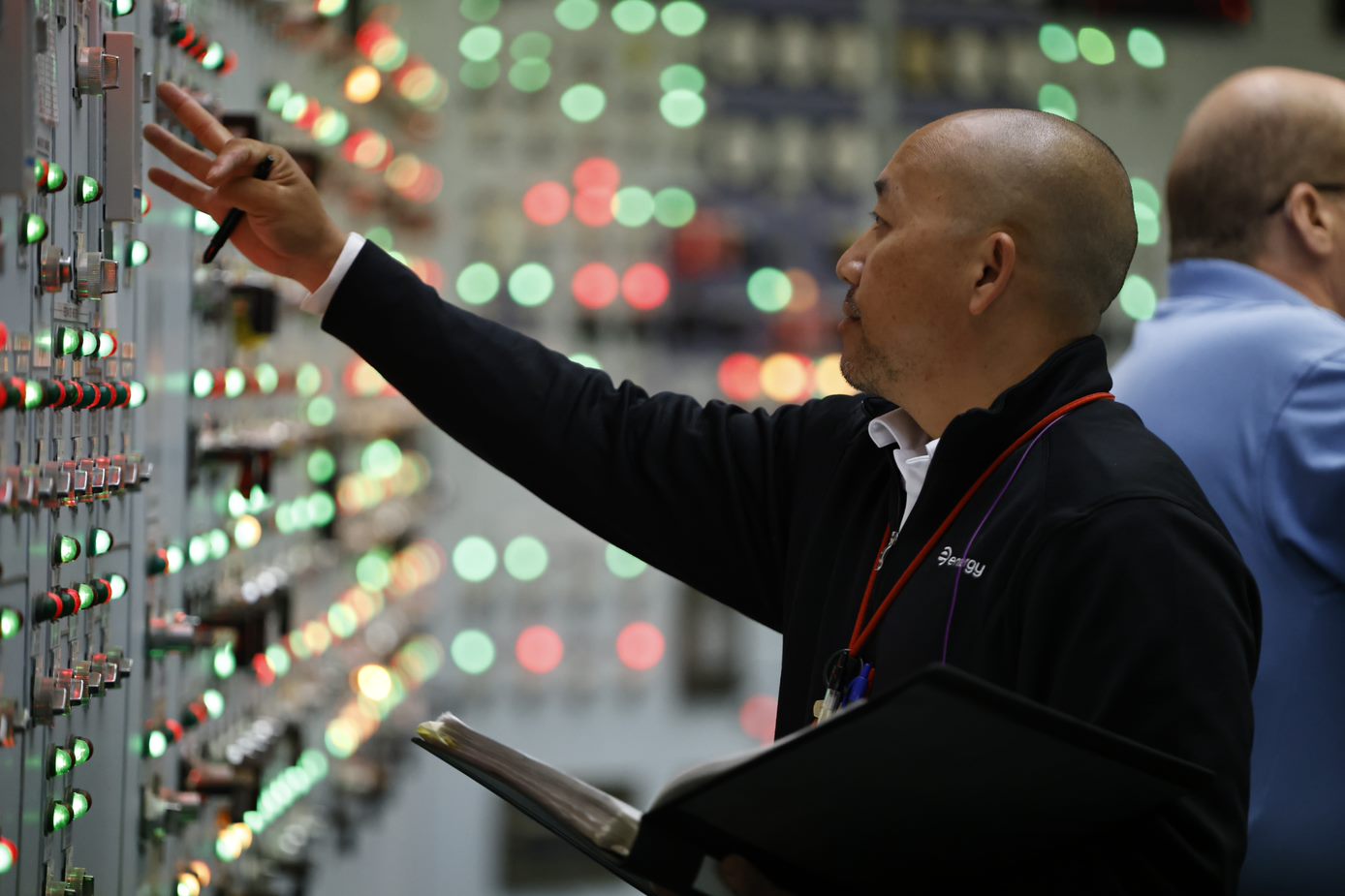 Contract workers boost local economy; work ensures continuation of clean, reliable energy
RUSSELVILLE, Ark. – Control room operators removed Arkansas Nuclear One's Unit 2 from service April 15 to begin a scheduled refueling and maintenance outage. This ended a 501 consecutive day run for ANO 2 of safe, secure and reliable operation, the second longest continuous run in the unit's history. During the outage, station and supplemental workers will perform maintenance and testing activities to prepare the station for its next operating cycle.
"ANO is proud to be conducting this essential work, which will include both refueling and regular maintenance that will allow us to remain a safe and reliable source of clean energy for the River Valley and the state of Arkansas" said Joe Sullivan, Arkansas Nuclear One site vice president. "We are welcoming a host of contract workers who will help us throughout the outage, and we expect their partnership to create an economic boost to our community as well."
More than 1,100 contract workers, many from outside of the area, will help with the refueling outage, bringing economic opportunities for dozens of vendors and local businesses, including restaurants, hotels and stores.
Work will be completed by full-time ANO employees and supported by Entergy employees from its other nuclear plants and contract workers, including pipefitters, millwrights, ironworkers, carpenters, boilermakers, electricians, laborers, valve technicians, engineers, operating engineers and radiation protection technicians.
ANO is a dual unit site, housing two nuclear reactors. Unit 1 will continue operating during the Unit 2 refuel.
When plant operators take the unit offline, nuclear professionals remove a portion of the fuel from the reactor, organize current fuel rods and replace the old fuel with new fuel.
During the refueling, the team will also complete maintenance work and other projects to improve reliability. Every detail of a refueling outage is meticulously planned and every ANO worker plays an important role.
ANO is licensed to operate through 2034 and 2038, respectively. As a clean, carbon-free energy source, ANO is an important contributor to helping Entergy meet its commitment to achieve net-zero greenhouse gas emissions by 2050. Entergy Nuclear, which operates nuclear generating stations in Arkansas, Louisiana and Mississippi, is headquartered in Jackson, Mississippi.
About Entergy
Entergy Nuclear, headquartered in Jackson, Mississippi, is a subsidiary of Entergy Corporation. Entergy Nuclear owns, operates and supports a fleet of five reactors in four locations, generating enough clean, carbon-free electricity to power millions of homes. Entergy (NYSE: ETR) is a Fortune 500 company that powers life for 3 million customers through our operating companies in Arkansas, Louisiana, Mississippi and Texas. We're investing in the reliability and resilience of the energy system while helping our region transition to cleaner, more efficient energy solutions. With roots in our communities for more than 100 years, Entergy is a nationally recognized leader in sustainability and corporate citizenship. Since 2018, we have delivered more than $100 million in economic benefits each year to local communities through philanthropy, volunteerism and advocacy. Entergy is headquartered in New Orleans, Louisiana, and has approximately 12,000 employees. Learn more at entergy.com and follow @Entergy on social media. #WePowerLife
---