News Center > Blue Cross, Entergy and Healthy Blue pack more than 214,000 meals for Louisiana food banks
For Immediate Release
Blue Cross, Entergy and Healthy Blue pack more than 214,000 meals for Louisiana food banks
02/23/2023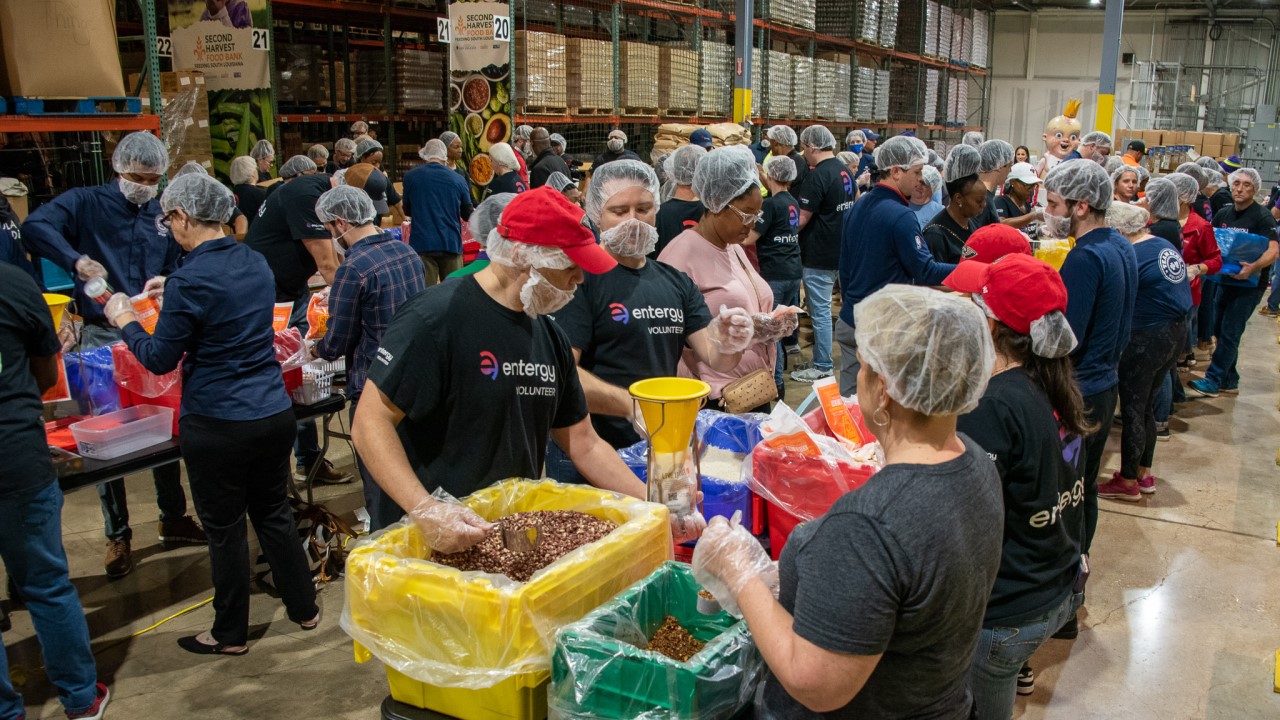 More than 600 employee volunteers served their communities in extended observance of Martin Luther King Jr. Day
BATON ROUGE, La. – In observance of Martin Luther King Jr. Day, 600 employee volunteers from leading Louisiana companies gathered at sites across the state to pack meals for local food banks. Over the course of a week, volunteers packed 214,713 meals that will be donated through food banks to Louisiana families facing food insecurity.
Volunteers represented three Louisiana companies — Blue Cross and Blue Shield of Louisiana, Entergy and Healthy Blue. Each company was recognized on Points of Light's 2022 Civic 50 list for its commitment to community and civic support. Their employees join millions of others who observe MLK Day as a "day on" of service, rather than a "day off." Originally committing to sponsor 200,000 meals, the organizations exceeded their goal.
"Louisiana's food banks alleviate hunger and help strengthen families experiencing food insecurity — and food is perhaps the most important influence on a person's health and well-being," said Michael Tipton, head of Community Relations for Blue Cross and president of the Blue Cross Foundation. "Our mission is to improve the health and lives of Louisianians, and our partners at Entergy and Healthy Blue have similar drives. Together, we'd like to see an end to hunger in Louisiana, and food banks offering volunteer opportunities like this are one way anyone can help realize that goal."
Through Feeding Louisiana and The Pack Shack's "Feed the Funnel" program, volunteers prepared and distributed meals through Greater Baton Rouge Food Bank, Second Harvest Food Banks of New Orleans (along with New Orleans Pelicans volunteers), Lafayette and Lake Charles, Good Samaritan Food Bank of Thibodaux, Food Bank of Northwest Louisiana, Food Bank of Northeast Louisiana and other organizations addressing hunger in Louisiana.
See footage and interviews with Blue Cross, Healthy Blue, Entergy and food bank representatives from the Baton Rouge (9:38) and Monroe (5:20) food-packing parties in these video news releases from Hometown Productions.
"Volunteering is an integral part of Entergy's mission," said Patty Riddlebarger, vice president of corporate social responsibility for Entergy. "Our participation in volunteer events like the Day of Service is one of many reasons why Blue Cross and Blue Shield of Louisiana and Entergy have both been nationally recognized as one of 50 most community-minded organizations in the country. We are dedicated to ensuring children and families have the support they need to build a better future. Volunteering at Louisiana food banks make a real and measurable difference in the communities we serve."
"Healthy Blue is deeply rooted in the communities we serve, and that shines through the passion of our volunteers as well as through the initiatives we drive," said Dr. Christy Valentine Theard, president of Healthy Blue Louisiana. "We are proud of the progress already made to achieve health equity by addressing food insecurity across our state, and we look forward to continuing efforts that meaningfully enhance the lives of our residents."
Since 2018, Blue Cross Team Blue volunteers have packed more than 750,000 meals statewide – that's more than 450 tons of food. One in six Louisiana families experiences food insecurity each year. Nationwide, 53 million Americans rely on food banks for nutrition.
"We are so proud of the work of these caring volunteers," said Pat Van Burkleo, Feeding Louisiana executive director. "Not only did their hands help pack the food bags, but their hearts also touched more than half a million people across the state. Good things happen when people care."
Follow Blue Cross on social media @BCBSLA for updates on 2023 meal sponsorships and plans for future food-packing events. Blue Cross posts regularly on Facebook, Twitter, LinkedIn, Instagram and TikTok. Visit the Blue Cross and Blue Shield of Louisiana YouTube channel to see short videos on health and wellness topics. Subscribe to know when new videos are added.
About Blue Cross and Blue Shield of Louisiana
Blue Cross and Blue Shield of Louisiana is committed to our mission to improve the health and lives of Louisianians. Founded in New Orleans in 1934, we are a tax-paying nonprofit health insurer with offices in every major region to serve our customers. We have been recognized for the past four years as an honoree of The Civic 50, named by Points of Light as one of the 50 most community-minded companies in the United States.
Blue Cross and Blue Shield of Louisiana is an independent licensee of the Blue Cross and Blue Shield Association. We are a private mutual company, owned by our policyholders, with an independent Louisiana Board of Directors and no shareholders. We invite all Louisianians to visit our website at www.bcbsla.com or talk to us on social media @BCBSLA.
About Healthy Blue
Healthy Blue is a managed healthcare provider that has been serving the state since 2012, and currently serves the state's Medicaid, Medicaid Expansion and LaCHIP programs. Healthy Blue, a joint venture between Blue Cross and Blue Shield of Louisiana and Anthem Partnership Holding Company, LLC (parent company, Anthem, Inc.), recognizes the challenges low-income and underserved individuals face, and tailors its programs such that health plan members are assured care that is not only accessible, but also accountable, comprehensive, integrated and patient-centered. Healthy Blue provides ongoing community relations and outreach to encourage members to become active participants in their healthcare. Also, through health education programs, members are empowered to choose and sustain healthy lifestyles. To learn more about Healthy Blue, visit www.myhealthybluela.com and follow the company on Facebook and Twitter @HealthyBlueLA and LinkedIn @healthy-blue-louisiana.
About Entergy
Entergy, a Fortune 500 company headquartered in New Orleans, powers life for 3 million customers through its operating companies across Arkansas, Louisiana, Mississippi and Texas. Entergy is creating a cleaner, more resilient energy future for everyone with our diverse power generation portfolio, including increasingly carbon-free energy sources. With roots in the Gulf South region for more than a century, Entergy is a recognized leader in corporate citizenship, delivering more than $100 million in economic benefits to local communities through philanthropy and advocacy efforts annually over the last several years. Our approximately 12,000 employees are dedicated to powering life today and for future generations. Learn more at entergy.com and follow @Entergy on social media. #WePowerLife
---