News Release > City, Entergy New Orleans complete final installation of Level 2 public EV charging program
For Immediate Release
City, Entergy New Orleans complete final installation of Level 2 public EV charging program
10/05/2023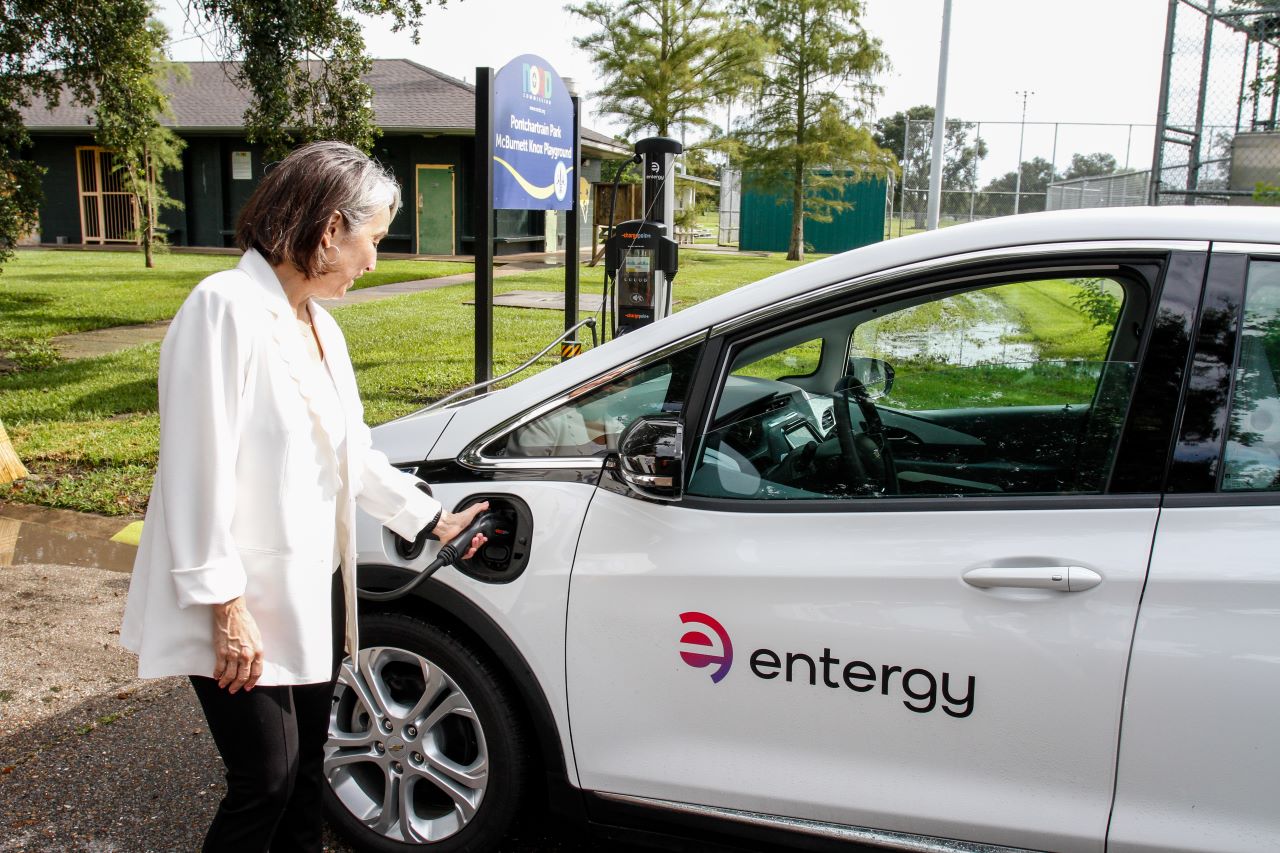 A total of 25 sites now have EV charging stations which are free to use and available to the public across the metro area
NEW ORLEANS – Entergy New Orleans, in partnership with the City of New Orleans, has installed 30 charging stations at 25 locations across the city to complete the state's first utility-owned public electric vehicle charging program.
The last completed station in front of New Orleans City Hall is now live, joining additional sites including Pontchartrain Park, East NOLA Regional Library, Audubon Zoo, Audubon Fly, Lafitte Greenway, and Coliseum Square.
"Our team and the City have done an outstanding job of collaborating and completing installation of all 30 charging stations over the course of the last year," said Deanna Rodriguez, President and CEO of Entergy New Orleans. "Not only will these new chargers provide equitable access to free EV charging across New Orleans, but it shows that our city is ready to walk the walk when it comes to building a cleaner energy future."
"Today, we celebrate a major accomplishment in our City's commitment to sustainable transportation and reducing our carbon emissions as outlined in our Climate Action Plan," said Mayor LaToya Cantrell. "The installation of these 25 publicly accessible electric vehicle (EV) charging stations across the city is an excellent step towards an equitable clean energy future that benefits both our residents and environment. This initiative has demonstrated how effective public-private partnerships are to building up our communities, and I thank Entergy for working with the City to make these EV chargers a reality for our people. As we work to adapt to our changing climate, New Orleans is positioned to be one of the most sustainable cities in our nation as we continue making critical infrastructure investments."
"This is just the beginning of our efforts to catalyze the energy transition in New Orleans. The Council authorized and directed the construction of these free EV charging stations to jumpstart access and equity for New Orleanians anxious to switch to zero-emission vehicles. These 25 charging stations are a good start, and I'm excited to keep working to build new infrastructure to support a cleaner, more equitable New Orleans," said Helena Moreno, Council Vice President and Chair of the Climate Change and Sustainability Committee.

Every electric vehicle charging station in the program is open to the public and free to use. They are primarily located at NORD facilities, libraries, and public parks, which were determined based on public input from an online survey completed in 2021.

To find the nearest EV charger, download the ChargePoint App on your mobile device and create an account. More information about EV chargers, and the EV charging program, can be found here: Transportation - Electric Vehicles - City of New Orleans (nola.gov).
About Entergy New Orleans 
Entergy New Orleans, LLC provides electricity to approximately 211,000 customers and natural gas to approximately 109,000 customers in Orleans Parish, Louisiana. Entergy New Orleans is a subsidiary of Entergy Corporation, a Fortune 500 electric company. Entergy powers life for 3 million customers through our operating companies in Arkansas, Louisiana, Mississippi and Texas. We're investing in the reliability and resilience of the energy system while helping our region transition to cleaner, more efficient energy solutions. With roots in our communities for more than 100 years, Entergy is a nationally recognized leader in sustainability and corporate citizenship. Since 2018, we have delivered more than $100 million in economic benefits each year to local communities through philanthropy, volunteerism and advocacy. Entergy is headquartered in New Orleans, Louisiana, and has approximately 12,000 employees. For the latest news from Entergy, visit the Newsroom.
---