News Release > City, Entergy New Orleans Complete First Installation of Public Electric Vehicle Chargers
For Immediate Release
City, Entergy New Orleans Complete First Installation of Public Electric Vehicle Chargers
08/25/2022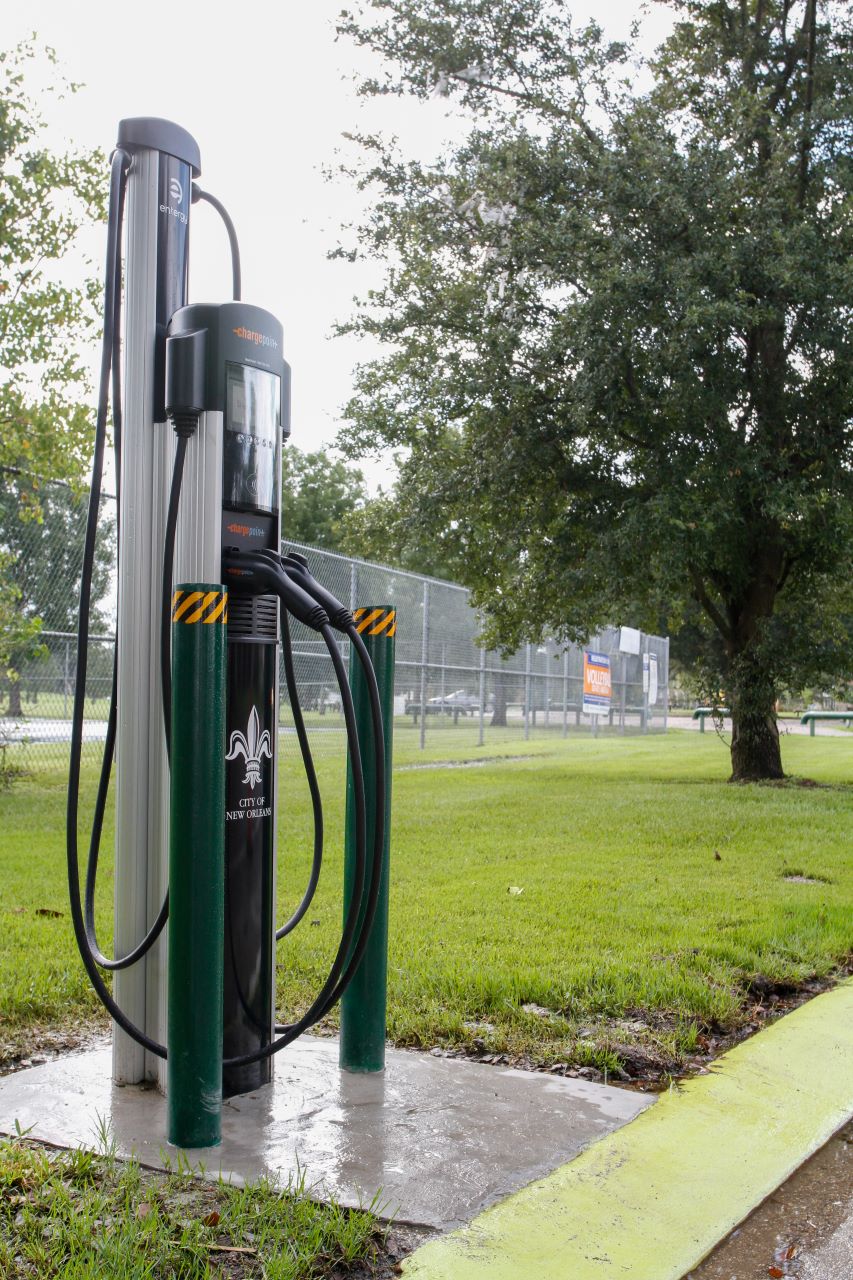 NEW ORLEANS – The City of New Orleans, in partnership with Entergy New Orleans, today announced the launch of the Electric Vehicle (EV) Charger Program, featuring free stations for public use that will be installed across the city.
The first completed station is located in Pontchartrain Park, adjacent to the New Orleans Recreation Development (NORD) Commission McBurnett Knox Playground. As of today, this charging station is available for public use.
"The launch of EV charging stations demonstrates how partnerships between City government and our local energy utility provider, Entergy New Orleans, can come together to create resilient and more efficient transportation opportunities for our residents," said Mayor LaToya Cantrell. "Climate change is a real threat to us, and the City of New Orleans is ahead of the curve and will continue to focus on reducing our carbon footprint. We are positioned to be one of the most resilient cities in our nation as we continue making critical infrastructure investments and improvements wisely, efficiently and innovatively to ensure that we are able to live here for years to come."
"Accelerating the energy transition not only protects the people of New Orleans from climate risk, it prepares our city to thrive in a new energy economy," said City Council President and Climate Committee Chair Helena Moreno. "Public, free and equitable EV charging were the goals of the City Council when we ordered these installations in 2019 and through partnership with the City, Entergy, and our local contractors, it's a reality today."
In total, Entergy New Orleans will provide 30 charging stations at 25 locations across New Orleans, primarily located at NORD facilities, libraries and public parks. These locations were determined by an online survey soliciting public input between January and March 2021. The New Orleans Electric Vehicle Steering Committee also evaluated the sites proposed to determine the final charging station locations. This program is a result of the 2018 Entergy rate case, in which the New Orleans City Council approved a partnership between the City and Entergy New Orleans to develop the public charging initiative.
"It is so important to our environment and to the fortunes of our fellow human beings that we be deliberate in taking action to protect and enhance our environment," said Councilmember for District D Eugene Green. "That the Mayor, the City Council and Entergy New Orleans have worked together to create this opportunity for citizens to charge electric vehicles free of charge makes a strong statement relative to our shared commitment to enhancing over the long run the quality of life for all of our fellow people. I am also so motivated to celebrate because this first of many such charging stations to serve the future needs of people was built in this beautiful, historic Pontchartrain Park community."
"Close collaboration with Mayor Cantrell and the New Orleans City Council on projects such as the installation of EV charging stations will help move the City forward as we accelerate our commitments to a clean energy future," said Deanna Rodriguez, President and CEO of Entergy New Orleans. "Entergy New Orleans is eager to continue investing in additional clean-energy infrastructure."
As further evidence of Entergy's commitment to electrifying transportation, starting in 2023, Entergy's fleet plan includes transitioning to purchasing all-electric new passenger vehicles and necessary equipment, which are all readily available from manufacturers. Also, 80 percent of the company's aerial drone units used to inspect facilities will be powered by electricity by 2031. In addition, the company's E-Tech program offers customers an incentive for purchasing electric vehicle charging infrastructure. Additional information can be found by visiting entergyetech.com/electric-vehicles.
According to the Alternative Fuels Data Center, EVs are expected to decrease annual greenhouse gas emissions per vehicle by approximately 64 percent. As New Orleans transitions to cleaner energy sources, there will be additional emissions reductions realized as well.
The United States Congress is also taking steps to reduce the cost to purchase EVs. On Aug. 16, President Joe Biden signed the Inflation Reduction Act, which includes tax credits for qualifying electric vehicles and plug-in hybrids that are assembled in the United States. This expanded tax credit would start in 2023 and is available up to $7,500 for new vehicles and $4,000 for used EVs.
More information about EV chargers and the EV charging program with Entergy can be found at Transportation - Electric Vehicles - City of New Orleans (nola.gov).
---