News Release > City Year Honors Entergy Corporation as 'Champions of Student Success'
For Immediate Release
City Year Honors Entergy Corporation as 'Champions of Student Success'
05/19/2015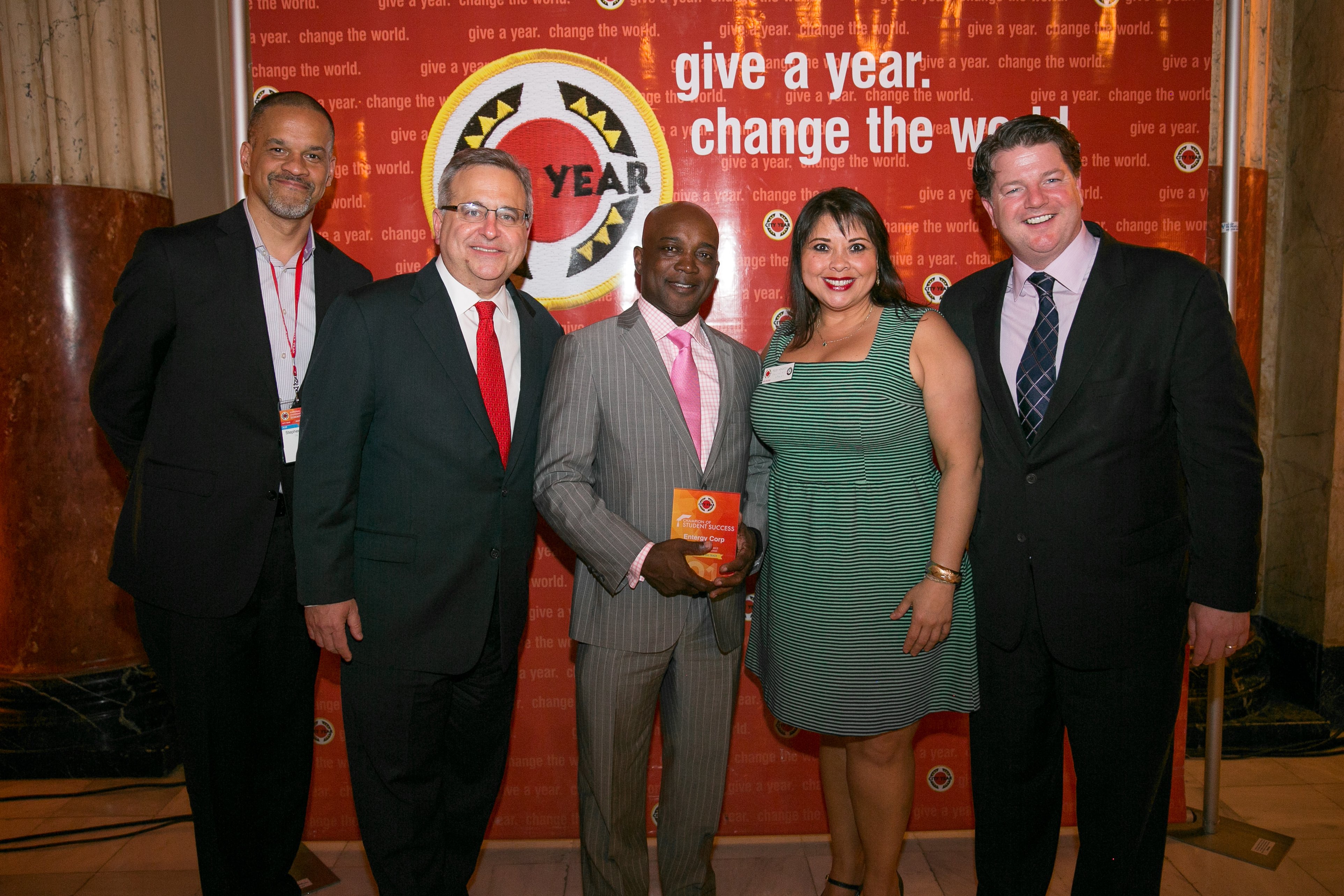 PICTURED: Entergy New Orleans President and CEO Charles Rice, center, receives City Year's "Champions of Student Success" award from, from left to right, Stephen Spaloss, City Year senior vice president of the Southern Region, Michael Brown, City Year CEO, Peggy Mendoza, executive director and vice president of City Year New Orleans, and Jim Balfanz, president of City Year Inc.
2015 Award Presented at Congressional Awards Dinner in Nation's Capital
NEW ORLEANS – Entergy Corporation recently received from City Year, a national educational organization, the "Champions of Student Success" award for its commitment to helping students and schools succeed. The congressional dinner and awards ceremony drew city leaders, local stakeholders and congressional leadership to celebrate partnerships and demonstrate the impact of City Year corps members.
"Across the country, citizen leaders are stepping forward to help students succeed," said Michael Brown, the national CEO and co-founder of City Year. "City Year is honored to partner with them, and to recognize these remarkable advocates for student success in the nation's capital at our national leadership summit. Because of their commitment, more students are on a path to graduate from high school and be prepared for college and career success."
City Year presented the award to Entergy New Orleans President and CEO Charles Rice.
"We are honored to have the continued support of Entergy to City Year, New Orleans and the students we have served for five years. Entergy's dedication to improving our city and education is commendable," said Peggy Mendoza, vice president and executive director of City Year New Orleans.
"We improve the future by investing in our students and the many organizations whose mission is to enhance education," Rice said. "With City Year's help, the future is very bright."
The Champions of Student Success Award, presented for the first time this year during City Year's national leadership summit in April, is designed to formally recognize the extraordinary efforts of champions and partners who have generated transformative impact for the schools and students City Year serves. The award will be an annual event. Nominated by the executive director at each City Year site, champions may be teachers, principals, district leaders, local officials, City Year board members, corporate partners or any individual or organization whose commitment to students has significantly enhanced City Year's goals.
Entergy Corporation is an integrated energy company engaged primarily in electric power production and retail distribution operations. Entergy owns and operates power plants with approximately 30,000 megawatts of electric generating capacity, including 10,000 megawatts of nuclear power, making it one of the nation's leading nuclear generators. Entergy delivers electricity to 2.8 million utility customers in Arkansas, Louisiana, Mississippi and Texas. Entergy has annual revenues of more than $12 billion and approximately 13,000 employees.
-30-
www.entergy.com
Twitter: @entergy
Facebook: www.facebook.com/entergy
---