News Center > Crews Continuing Assessing Damage, Restoring Power Following Winter Storm
For Immediate Release
Crews Continuing Assessing Damage, Restoring Power Following Winter Storm
02/16/2021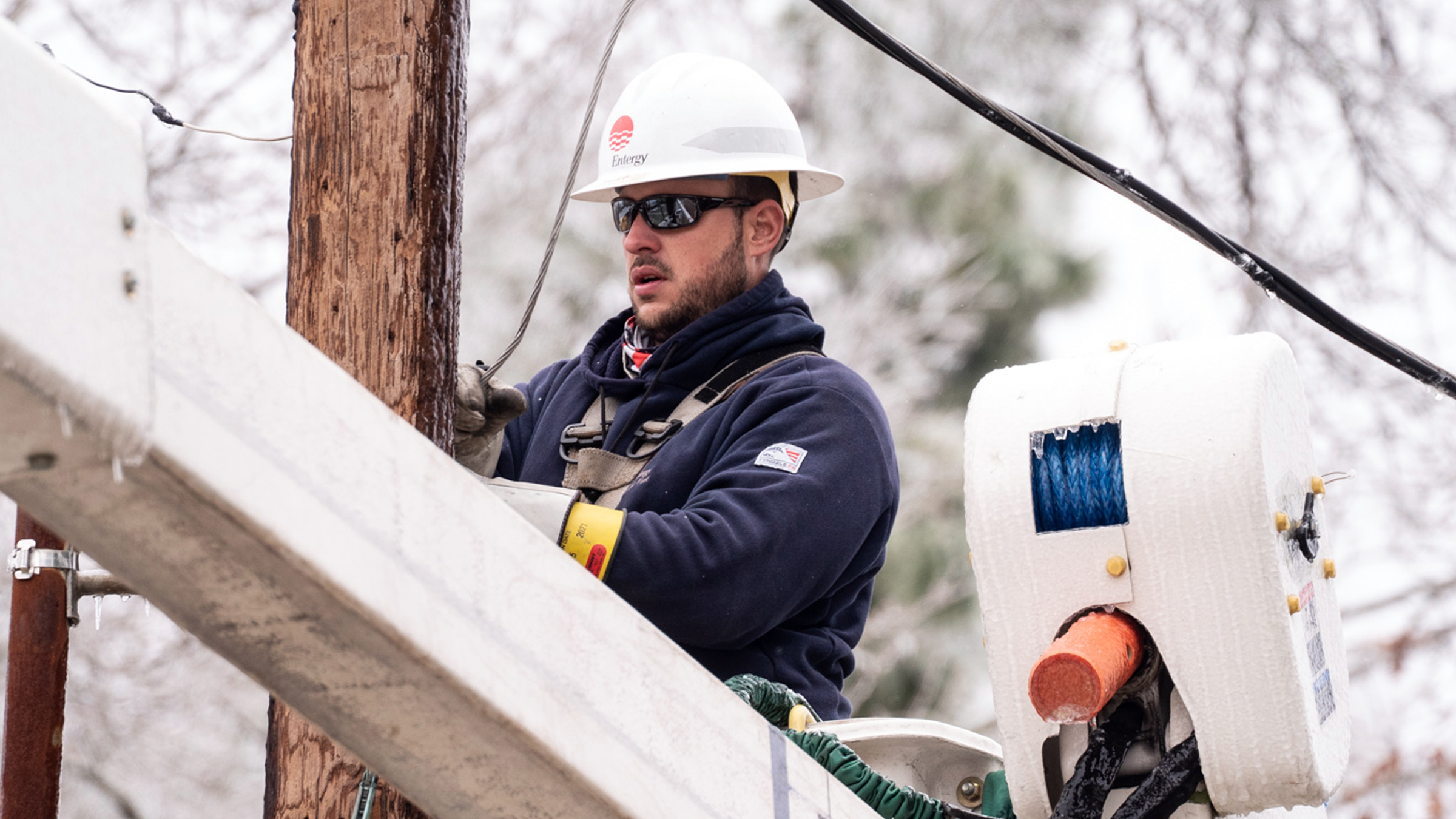 Company also monitoring second winter storm expected to impact central, north Louisiana

NEW ORLEANS – Entergy's Louisiana storm crews are continuing to assess damage and restore power where it is safe to do so after a winter storm brought extremely cold temperatures, freezing rain and large amounts of ice accumulations to the state Sunday and throughout Monday.
Entergy's Louisiana utilities also are monitoring the potential impacts from a second winter storm that is expected to bring wintry precipitation. Freezing rain and ice could affect central and north Louisiana on Wednesday night and into Thursday, which could lead to additional power outages.
"Extremely cold temperatures continue to impact all of Louisiana today leading to increased power demand. We are asking customers to continue to conserve energy," said John Hawkins, Entergy's vice president of distribution operations in Louisiana. "Our crews are working to restore power as safely and quickly as possible. Please keep your distance from downed power lines and know that we're working to provide you with latest information so that you can plan accordingly."
As of 1 p.m., approximately 62,000 customers in Louisiana were without power, with portions of southwest Louisiana, Greater Baton Rouge and Northshore areas being hardest hit. Approximately 200 customers were without power in Orleans Parish. In southwest Louisiana, Entergy Louisiana initiated power outages for some customers as directed by the company's reliability coordinator, Midcontinent Independent System Operator. This was done as a last resort to prevent more extensive, prolonged power outages that could severely affect the reliability of the power grid. The directive from MISO has since been lifted and crews have begun the process of restoring power to customers in southwest Louisiana. In other regions of the state, extremely cold temperatures have caused ice to build up and remain on the electric system as well as on trees and limbs. The added weight has knocked down power lines and has caused trees and limbs to fall into electric equipment.
A storm team of approximately 2,300 and growing is inspecting damages to the electric system in Louisiana, reporting their findings and restoring power where safely possible. The latest estimated times of restoration by parish can be found on the Entergy Storm Center.
Road closures due to icy conditions and other accessibility challenges may affect the ability of crews to reach some areas and could delay restoration in those communities. Also, crews will continue to take extra safety precautions and practice social distancing due to the COVID-19 pandemic, which could slow restoration as well.
Customers who have lost power can help crews by unplugging electric heating and appliances and turning them back on gradually after power is restored. Taking this step will help avoid damaging the electric system through increased instantaneous demand when power is restored to homes and businesses.
While crews focus first on restoring power to critical infrastructure and bringing the greatest number of customers on at the same time, crews often have to restore customers in phases during extremely cold weather, another step that is taken to avoid damaging the electric system through increased instantaneous demand.
Stay Informed
Keeping you informed is important to us. Here are the ways customers can stay updated through the event:
Download the Entergy App at entergy.com/app. Customers can use the app to report outages or check on the status of power at their home or business.
Sign up for text messages by texting REG to 36778.
The Entergy Storm Center website has storm safety, preparation and restoration information that is updated throughout the day.
Operation: Storm Ready Guide is a free downloadable guide that helps customers plan and prepare for weather emergencies.
Follow us on Social Media
Social media plays an important role in keeping customers informed, and the companies place a high priority on updating their social media channels throughout an event. Customers can follow Entergy Louisiana on Facebook and Twitter and follow Entergy New Orleans on Facebook and Twitter.
Entergy New Orleans, LLC is an electric and gas utility that serves Louisiana's Orleans Parish. The company provides electricity to more than 200,000 customers and natural gas to more than 108,000 customers.
Entergy Louisiana, LLC provides electric service to more than 1 million customers and natural gas service to more than 93,000 customers in the greater Baton Rouge area. It has operations in southern, central and northern Louisiana. Both companies are subsidiaries of Entergy Corporation.
Entergy Corporation is an integrated energy company engaged primarily in electric power production and retail distribution operations. Entergy owns and operates power plants with approximately 30,000 megawatts of electric generating capacity, including 8,000 megawatts of nuclear power. Entergy delivers electricity to 2.9 million utility customers in Arkansas, Louisiana, Mississippi and Texas. Entergy has annual revenues of $11 billion and approximately 13,600 employees.
-30-
entergylouisiana.com
facebook.com/EntergyLA
Twitter: @EntergyLA
entergyneworleans.com
facebook.com/EntergyNOLA
Twitter: @EntergyNOLA
---