News Center > Entergy Arkansas Awards $20,000 to Give Students a Jump on Academic Success
For Immediate Release
Entergy Arkansas Awards $20,000 to Give Students a Jump on Academic Success
06/04/2018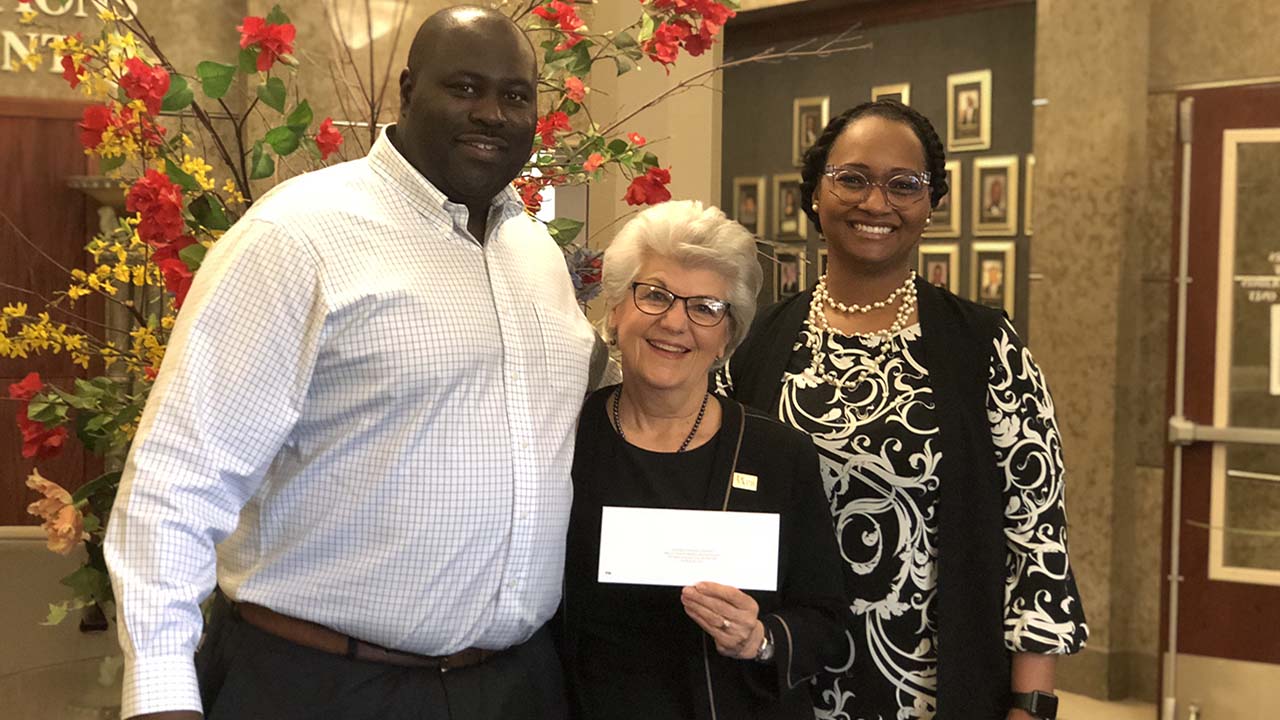 PINE BLUFF, Ark. – Entergy Arkansas recently awarded $20,000 to the University of Arkansas Foundation, Inc.  The grant will help fund this year's Learning Institute and Opportunities for New Students (LIONS) program at the University of Arkansas at Pine Bluff.
"Education is the heart of our vibrant communities," said Chan Tucker, senior customer service manager for Entergy Arkansas, Inc. "We are proud to invest in programs in the communities where we live and work."
The Learning Institute and Opportunities for New Students (LIONS) program significantly contributes to UAPB's enrollment, student academic success, and persistence to graduation. The program provides support to students transitioning from high school into college through a five-week residential summer academic and co-curricular enrichment program. The goal is to reduce the level of remediation in English and math by providing support for students new to the college experience.
Solonica Hunter participated in the LIONS program the summer before her freshman year at UAPB. The Monticello native credits the program with her success transitioning from high school to college and making her successful in her years at UAPB.
"The people who went through the LIONS program were less 'shocked' about college life," said Hunter. "It helped me build a study system to manage my time. We were all prepared to do well by making early connections with our peers and our academic and residential advisors. We were ready to be mentored by the time fall classes started."
Hunter graduated in May with a BA in mass communications. She begins her graduate work in the fall at the University of Florida in Gainesville.
Entergy's philanthropic efforts support programs to boost education, expand environmental programs, promote cultural activities and help create poverty solutions. We believe that educated, critically-thinking citizens make the community more powerful.  Thriving communities depend on self-sufficient, productive citizens.
The University of Arkansas at Pine Bluff (UAPB) mission promotes academic excellence through programs by integrating quality instruction, research, and student learning that is responsive to the needs of a racially, culturally, and economically diverse population. The University provides access to educational opportunity and produces students who graduate and excel in careers and leadership in the 21st century.
Entergy Arkansas provides electricity to approximately 700,000 customers in 63 counties. Entergy Corporation is an integrated energy company engaged primarily in electric power production and retail distribution operations. Entergy owns and operates power plants with approximately 30,000 megawatts of electric generating capacity, including nearly 9,000 megawatts of nuclear power. Entergy delivers electricity to 2.9 million utility customers in Arkansas, Louisiana, Mississippi and Texas. Entergy has annual revenues of approximately $11 billion and more than 13,000 employees.
---