News Release > Entergy Arkansas crews working to restore power quickly, safely
For Immediate Release
Entergy Arkansas crews working to restore power quickly, safely
06/26/2023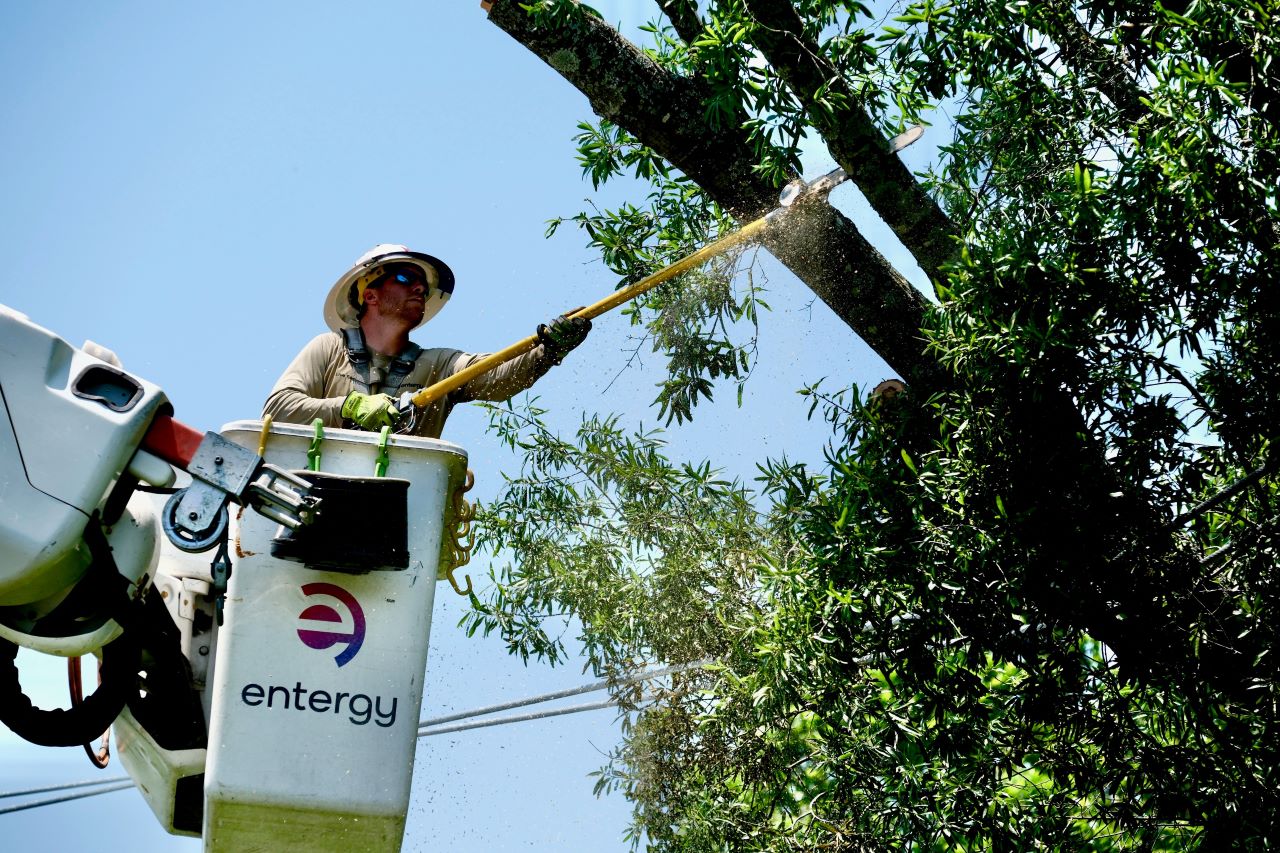 More than 2,000 employees working to restore power in hardest-hit areas of the state
Little Rock, Ark. – A line of storms Sunday evening brought lightning strikes and damaging winds into the state and interrupted service to over 62,000 customers in several Entergy Arkansas communities -- locations that were battered just last week, as well as other more widespread areas. Since that time, more than 30,000 customers have been restored, and many are expected to have power by 10 p.m. tonight.
Gusts of over 70 miles per hour were measured in some areas where transmission and distribution lines, poles, transformers and substations sustained damages from the storms themselves, but mainly from trees falling into power lines.
Crews have been on the ground and in the air since dawn assessing damages and making major repairs to energize the greatest number of customers. About 2,000 workers have been activated for storm duty, and we have requested additional resources and equipment from neighboring states to assist with restoring power as quickly and safely as possible. However, some areas with more severe or hard to access damage from the extreme weather conditions may not be restored for several days and we will continue to update estimated restoration times as damages become known.
According to Entergy's weather experts, the presence of vastly different pressure systems has resulted in an unusually strong and persistent weather pattern over the southern United States this spring. These types of patterns occur from time to time when contradicting pressures – in this case cold from the Pacific Ocean and warm from the Gulf of Mexico – happen at the same time. Currently, the pattern is "locked" over our area, causing frequent severe storms as well as the intense heat wave forecast for this week.
Wind reports to the National Weather Service on Sunday measured as much as 76 mph in Lonoke, 70 mph in the North Little Rock area and 60 mph near Jonesboro, similar to an F0-F1 tornado. Damages in some areas are extensive and estimated restoration times may change as crews assess the damage and work to restore power safely. Estimated restoration times for each service area are listed below.
| | |
| --- | --- |
| Service Area | Restoration Estimate |
| McGehee | 6/26/2023 10:00:00 PM |
| Searcy | 6/26/2023 10:00:00 PM |
| Harrisburg | 6/27/2023 12:00:00 PM |
| Hot Springs | 6/27/2023 12:00:00 PM |
| Pine Bluff | 6/27/2023 12:00:00 PM |
| Baseline | 6/27/2023 10:00:00 PM |
| Batesville | 6/27/2023 10:00:00 PM |
| Blytheville | 6/27/2023 10:00:00 PM |
| Helena | 6/27/2023 10:00:00 PM |
| Marion | 6/27/2023 10:00:00 PM |
| Warren | 6/27/2023 10:00:00 PM |
| West Markham | 6/27/2023 10:00:00 PM |
| Conway | 6/28/2023 10:00:00 PM |
| Mt. View | 6/28/2023 10:00:00 PM |
| Russellville | 6/28/2023 10:00:00 PM |
| Stuttgart | 6/28/2023 10:00:00 PM |
| Jacksonville | 6/29/2023 12:00:00 PM |
Given the extreme temperatures across the region, Entergy Arkansas encourages customers to keep the following tips in mind:
Drink fluids, even if you don't feel thirsty.
Wear loose, lightweight clothing and a hat.
Wear sunscreen: sunburn affects the body's ability to cool itself.
Replace salt lost from sweating by drinking fruit juice or sports drinks.
If you are using a generator, be sure to follow all manufacturer's instructions.
Avoid spending time outdoors during the hottest part of the day, from 11 a.m. to 3 p.m.
Be sure to stay informed throughout the restoration process using the following resources:
Download our free Entergy app.
Sign up for text alerts by texting REG to 36778.
Visit the Entergy Storm Center website and our View Outage page
Follow us on Twitter or Facebook.
Call us at 1-800-9OUTAGE (800-968-8243).
Follow your local news media for updates.
Customers should continue to check social media and the myEntergy app for updates, as well as the Storm Center at www.EntergyArkansas.com for the latest news. Estimated restoration times may change as assessments continue across the service territory.
About Entergy Arkansas
Entergy Arkansas, LLC provides electricity to approximately 730,000 customers in 63 counties. Entergy Arkansas is a subsidiary of Entergy Corporation, a Fortune 500 electric company. Entergy powers life for 3 million customers through our operating companies in Arkansas, Louisiana, Mississippi and Texas. We're investing in the reliability and resilience of the energy system while helping our region transition to cleaner, more efficient energy solutions. With roots in our communities for more than 100 years, Entergy is a nationally recognized leader in sustainability and corporate citizenship. Since 2018, we have delivered more than $100 million in economic benefits each year to local communities through philanthropy, volunteerism and advocacy. Entergy is headquartered in New Orleans, Louisiana, and has approximately 12,000 employees. For the latest news from Entergy, visit the Newsroom.
---