News Center > Entergy Arkansas Demolishing Couch Plant in Southwest Arkansas
For Immediate Release
Entergy Arkansas Demolishing Couch Plant in Southwest Arkansas
12/14/2018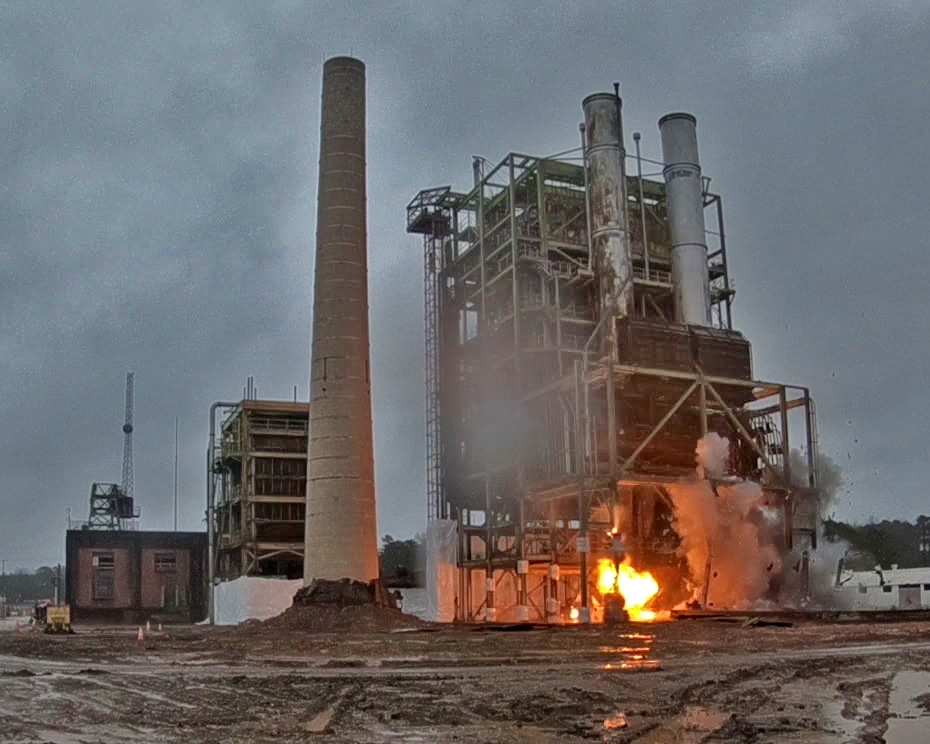 Stamps, Ark. – In another step to modernize its fleet of generating facilities, Entergy Arkansas performed a carefully controlled explosive demolition this morning to bring down three key structures at the Couch Plant near Stamps, which has been retired from service since 2013.
     At 11 a.m., a series of strategically placed charges toppled three major structures – two boilers and a smokestack – onto to their sides. Today's event was part of a 13-month process of demolishing and removing the historic plant.
     The Couch Plant is on Highway 82 East, just east of Stamps in Lafayette County. The plant is the namesake of Harvey C. Couch, who in 1913 founded the company that would eventually become Entergy Arkansas. Couch, an entrepreneurial legend in his day, was born in 1877 and raised in southwest Arkansas. The Couch Plant was dedicated the same year Couch died, 1943. He is buried 18 miles away in Magnolia.
     The plant consists of two units. Unit 1, rated at 30-megawatts, was built in 1942 and retired in 2011. Unit 2, rated at 130 megawatts, was built in 1954 and retired in 2013. Both could burn either fuel oil or natural gas.
     Except for one office building on the property and a still-functioning substation, all structures will be scrapped and removed from the site over the next several months.
     The plant was retired from service as part of modernizing the company's generating portfolio to match ongoing and projected supply needs. In the last five years Entergy Arkansas has retired 15 of its generating units. In the last 12 years, the company has added about 30 percent in generation capacity in modern-technology natural-gas-fired plants. Other new generation resources include an 81-megawatt solar facility in Stuttgart, which came online earlier this year, and a 100-megawatt solar facility in Lake Village, which is currently under construction.
     "It's sad to do away with the plant named after the man who created the company," said Laura Landreaux, president and CEO of Entergy Arkansas, Inc. "But Harvey Couch was all about progress and building for the future, so I know he'd be proud to see that things are moving forward just as they should." She added, "This is just one of the many steps in modernizing our part of the electrical grid and, at the same time, making this space available for something productive."
     Residents near the Couch Plant were notified several days in advance to expect to hear a significant explosion the morning of Dec. 14. To ensure public safety, Entergy Arkansas established and secured a perimeter around the blast area.
           Entergy Arkansas provides electricity to approximately 700,000 customers in 63 counties. Entergy Arkansas is a subsidiary of Entergy Corporation, an integrated energy company engaged primarily in electric power production and retail distribution operations. Entergy owns and operates power plants with approximately 30,000 megawatts of electric generating capacity, including nearly 10,000 megawatts of nuclear power, making it one of the nation's leading nuclear generators. Entergy delivers electricity to 2.8 million utility customers in Arkansas, Louisiana, Mississippi and Texas. Entergy has annual revenues of more than $12 billion and approximately 13,000 employees.
-30-
entergyarkansas.com
facebook.com/EntergyARK
twitter.com/EntergyARK
---