News Release > Entergy Arkansas, Little Rock firefighters distribute coats in LRSD
For Immediate Release
Entergy Arkansas, Little Rock firefighters distribute coats in LRSD
12/21/2022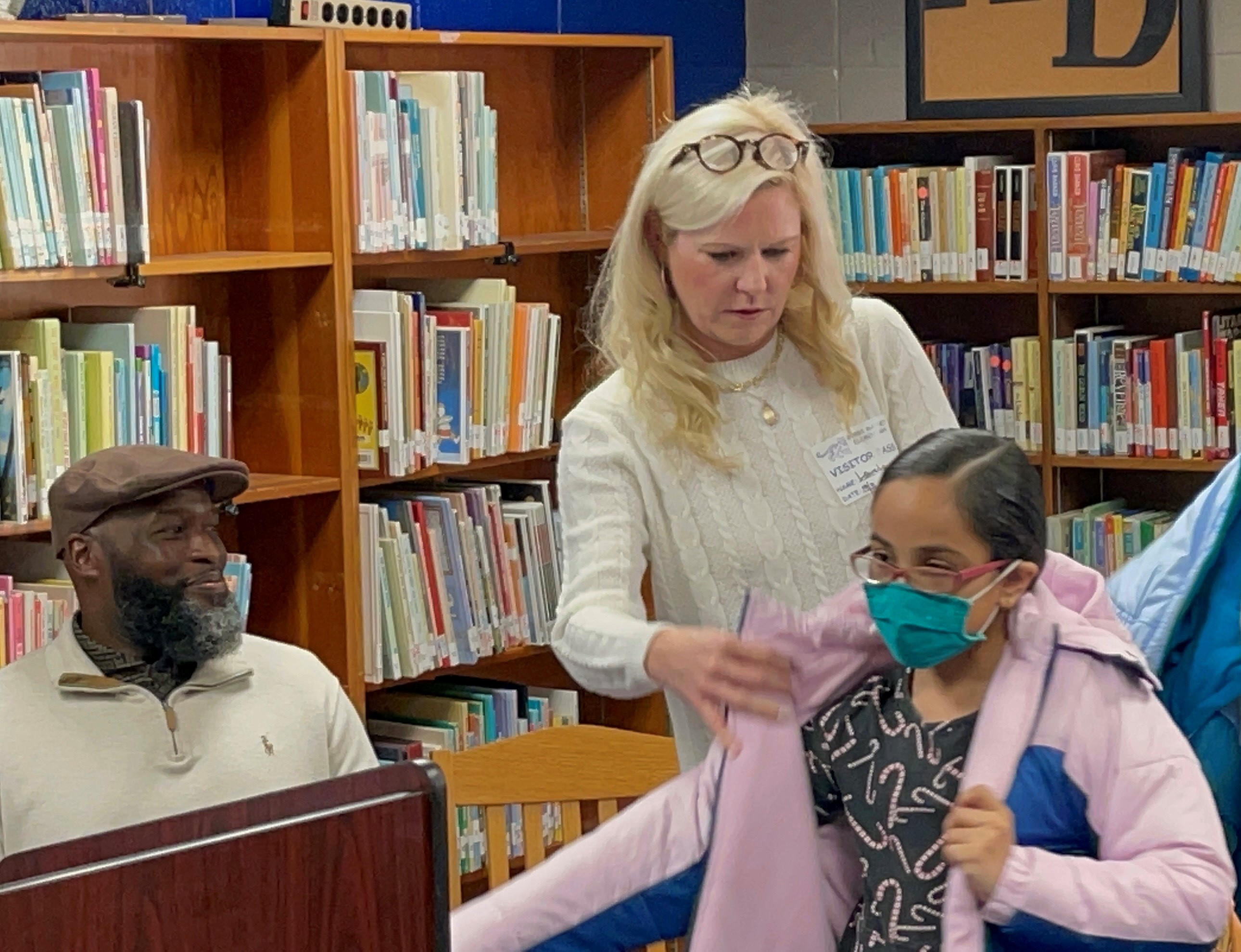 800 students served through 'Operation Warm'
LITTLE ROCK, Ark. – Entergy Arkansas and the Little Rock International Association of Fire Fighters (IAFF) Local 34 partnered again this year to donate "Operation Warm" coats to hundreds of students in the Little Rock School District Wednesday, just as a cold front starts making its way into the company's service territory and the students' winter break begins.
Operation Warm is a national nonprofit that manufactures high-quality coats and shoes for children in need. The coats are designed and manufactured by the nonprofit to be long-wearing, water repellent and machine washable, with a warm fleece lining, deep pockets to keep little hands warm even without gloves, and detachable hoods. They come in sizes 2T to adult. Since 1998, the organization has provided 5 million coats to kids in need across the United States.
The IAFF Union 34 began working with the national nonprofit several years ago after seeing a group of young children shivering at a school bus stop near their firehouse.
"Helping people during times of trouble is our job, but it's also part of who we are," said IAFF Union 34 Vice President Matthew Stallings. "We work year-round to support this program, and the last few weeks have been a concerted effort with Entergy and the Little Rock School District to determine the needs of the students and organize the coats for distribution. It's worth any effort, though, to see those smiling faces as we do what we can to help children in our community weather the cold."
With the support of a $10,000 grant from Entergy Arkansas and payroll-deduction contributions from members of IAFF Local 34, firefighters purchased 800 new coats for children at Rockefeller and Romine Early Childhood Centers and Gibbs Magnet Elementary.
"The gift of a coat is more than just providing a garment – it also warms our hearts to know that we have caring partners like the Union 34 firefighters and Entergy who see a need and work to address that need year after year," Supt. Dr. Jermall Wright said. "Since 2015, hundreds of students at schools across the Little Rock School District have benefited from their generosity, and we can't thank them enough for their continued commitment to and investment in our community."
Entergy Arkansas President and CEO Laura Landreaux said, "While Entergy Arkansas supports Operation Warm with funding and volunteers, the Little Rock Fire Fighters Union 314 members make individual donations and spearhead the effort by contacting the schools to determine the number of coats needed, the sizes and gender of the students, ordering the coats and organizing them for delivery.
"Our charitable foundation works with partners year-round and across the state to better our communities through grants and volunteerism, and this event is one of our favorites each year," she continued. "'We Power Life' is more than a tagline about providing electricity – we make it a part of our company's culture to support the communities we serve, which is also where we live, work, raise our families and more. Helping meet the needs of children and showing how much we care about their well-being helps them grow as adults into strong, healthy, community leaders. It's truly an honor and a joy to be part of this effort."
Schools with students who received coats years prior were Washington and Bale (2021), Wakefield and Meadowcliff (2020), Chicot (2019), Stephens (2018), Booker Arts Magnet (2017), Baseline (2016), Geyer Springs Gifted and Talented (2015).
Entergy Arkansas provides electricity to approximately 728,000 customers in 63 counties. Entergy Arkansas is a subsidiary of Entergy Corporation (NYSE: ETR), an integrated energy company engaged in electric power production, transmission and retail distribution operations. Entergy delivers electricity to 3 million utility customers through its operating companies in Arkansas, Louisiana, Mississippi and Texas. Entergy owns and operates one of the cleanest large-scale U.S. power generating fleets with approximately 24,000 megawatts of electric generating capacity, including 5,000 megawatts of nuclear power. Entergy has annual revenues of $10 billion and approximately 12,000 employees.
CUTLINE
Little Rock School District Supt. Dr. Jermall Wright looks on as Entergy Arkansas President and CEO Laura Landreaux helps a Gibbs Magnet Elementary third-grader Guadalupe Isabel Jimenez try on a new coat given as part of Operation Warm, a partnership between the utility and the Little Rock International Association of Fire Fighters Union 34 members to provide free coats to children in the school district.
---