News Center > Entergy Arkansas Partners with Earned Income Tax Coalition for Super Saturday Free Tax Prep
For Immediate Release
Entergy Arkansas Partners with Earned Income Tax Coalition for Super Saturday Free Tax Prep
01/28/2015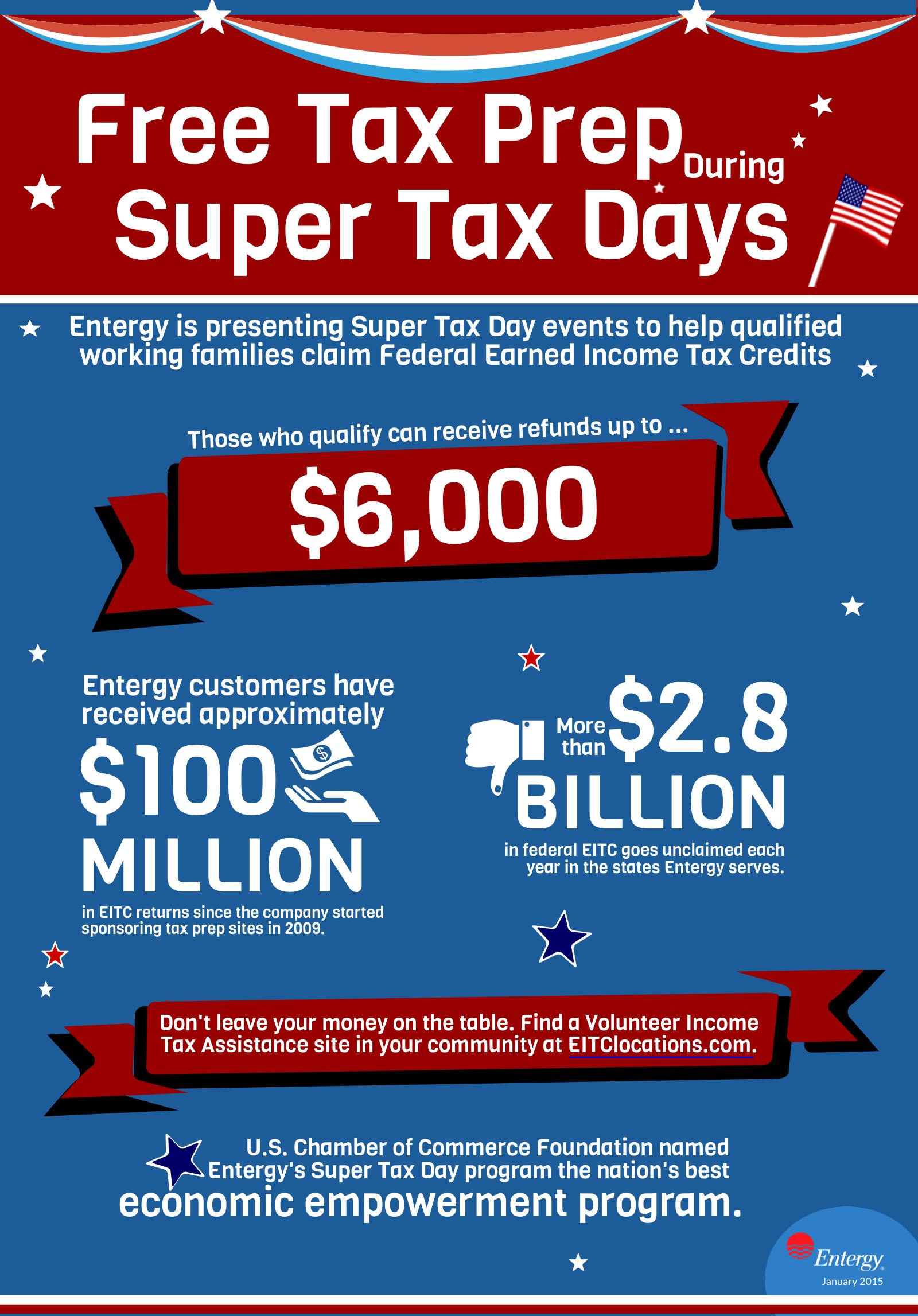 Sally Graham
Entergy Arkansas, Inc.
sgraha3@entergy.com
501-377-4382
LITTLE ROCK, Ark. – Entergy Arkansas and the Central Arkansas EITC Coalition are helping working families who qualify for the federal Earned Income Tax Credit receive average refunds of $2,500 or more through Super Tax Day events presented by Entergy at local Volunteer Income Tax Assistance sites.
On Saturday, Jan. 31, in Little Rock and throughout tax season at local VITA sites, volunteers certified by the Internal Revenue Service will help residents determine if they qualify for EITC and provide free tax preparation. Saturday's Super Tax event will take place from 9:00 a.m. to 3:00 p.m. at the Arts and Crafts building, Arkansas State Fairgrounds, 2600 Howard Street. Call (501) 682-0228 to make an appointment or find out more information. Walk-ins are also welcome.
The EITC tax program benefits families or individuals earning $52,400 or less in 2014. For a list of VITA sites across Arkansas, visit entergy.com/eitc.
While nearly 400,000 Arkansas residents annually qualify for EITC, more than 70,000 eligible people don't claim these federal credits. These unclaimed EITC credits for Arkansas amount to $180,381,675. Based on income and the number of children in the household, qualifying working families can receive as much as $6,000.
Entergy's support to Super Tax Days in the four states the utility serves – Arkansas, Louisiana, Mississippi and Texas – has resulted in approximately 58,000 customers receiving $100 million through the EITC program since 2009. Entergy's Super Tax Day initiative has been recognized by the U.S. Chamber of Commerce Foundation as the nation's best economic empowerment program.
"Through the EITC Coalition, Entergy Arkansas is supporting efforts to help our customers most in need, which in turn helps grow our local economies," said Tom Kennedy, vice president of public affairs, Entergy Arkansas, Inc. "Families tell us they've used the tax credits they've earned for immediate needs like purchasing groceries, medications or paying bills, as well as making long-term investments like education tuition or a down payment on a home."
Residents can also file using the website MyFreeTaxes.com. Learn more about Entergy's support to Super Tax Days, as well as other locations at entergy.com/eitc.
Entergy Arkansas provides electricity to approximately 700,000 customers in 63 counties. Entergy Arkansas is a subsidiary of Entergy Corporation, an integrated energy company engaged primarily in electric power production and retail distribution operations. Entergy owns and operates power plants with approximately 30,000 megawatts of electric generating capacity, including more than 10,000 megawatts of nuclear power, making it one of the nation's leading nuclear generators. Entergy delivers electricity to 2.8 million utility customers in Arkansas, Louisiana, Mississippi and Texas. Entergy has annual revenues of more than $11 billion and approximately 14,000 employees.
-30-
entergyarkansas.com
facebook.com/EntergyARK
twitter.com/EntergyARK
---