News Center > Entergy Arkansas Prepares for Potential Snow and Ice
For Immediate Release
Entergy Arkansas Prepares for Potential Snow and Ice
12/06/2018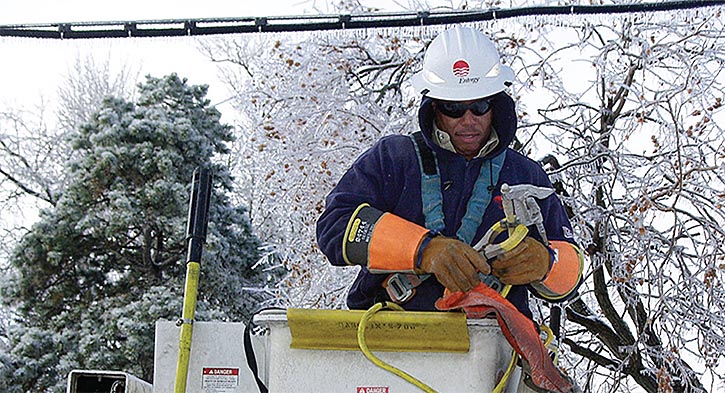 LITTLE ROCK, Arkansas – The potential for wet snow and ice in parts of Arkansas and northern regions of Louisiana and Mississippi has Entergy crews completing winter weather preparations. We encourage our customers to also implement their winter weather family plans.
            While the impact of winter storms can be difficult to predict, forecasts indicate the approaching weather system could be challenging. Entergy is prepared to respond to potential outages through a very detailed, rehearsed plan that has worked well for us during past storm events.
            Should it occur, ice is particularly harmful to electrical lines:
Ice can increase the weight of branches by 30 times.
At 1/8 inch of freezing rain accumulation, small limbs and lines become coated and can cause isolated outages by breaking the weakest limbs that are overhanging services and lines.
At 1/4 inch of freezing rain accumulation, more limbs and lines become coated, causing similar, but somewhat more widespread outages to the distribution system. Younger evergreen trees will start to become so heavy that they may lean into the distribution lines, causing more outages.
A 1/2" accumulation on power lines can add 500 pounds of extra weight.
         As you make your own plans, we will keep you informed throughout about our response. Here is how you can get information:
Download our app for your smartphone at entergy.com/app or visit entergystormcenter.com to stay informed on our restoration progress. Newer-model Android users may have difficulty accessing all of the app's features.
Sign up for text alerts. From your cellphone, text R-E-G to 368374, or visit entergytext.com.
Visit our View Outages page at stormcenter.com.
Follow us on Twitter.com/entergy or Facebook.com/entergy.
Call us at 800-9OUTAGE (800-968-8243).
Follow updates in your local news media, like radio, television and newspapers.
For tips on battling winter's chill, while still keeping a lid on energy bills, go to Entergy's Storm Center.
         Entergy Arkansas provides electricity to approximately 700,000 customers in 63 counties. Entergy Corporation is an integrated energy company engaged primarily in electric power production and retail distribution operations. Entergy owns and operates power plants with approximately 30,000 megawatts of electric generating capacity, including nearly 9,000 megawatts of nuclear power. Entergy delivers electricity to 2.9 million utility customers in Arkansas, Louisiana, Mississippi and Texas. Entergy has annual revenues of approximately $11 billion and more than 13,000 employees.     
- 30 -
---