News Center > Entergy Arkansas Restoration Crews Making Progress
For Immediate Release
Entergy Arkansas Restoration Crews Making Progress
04/14/2020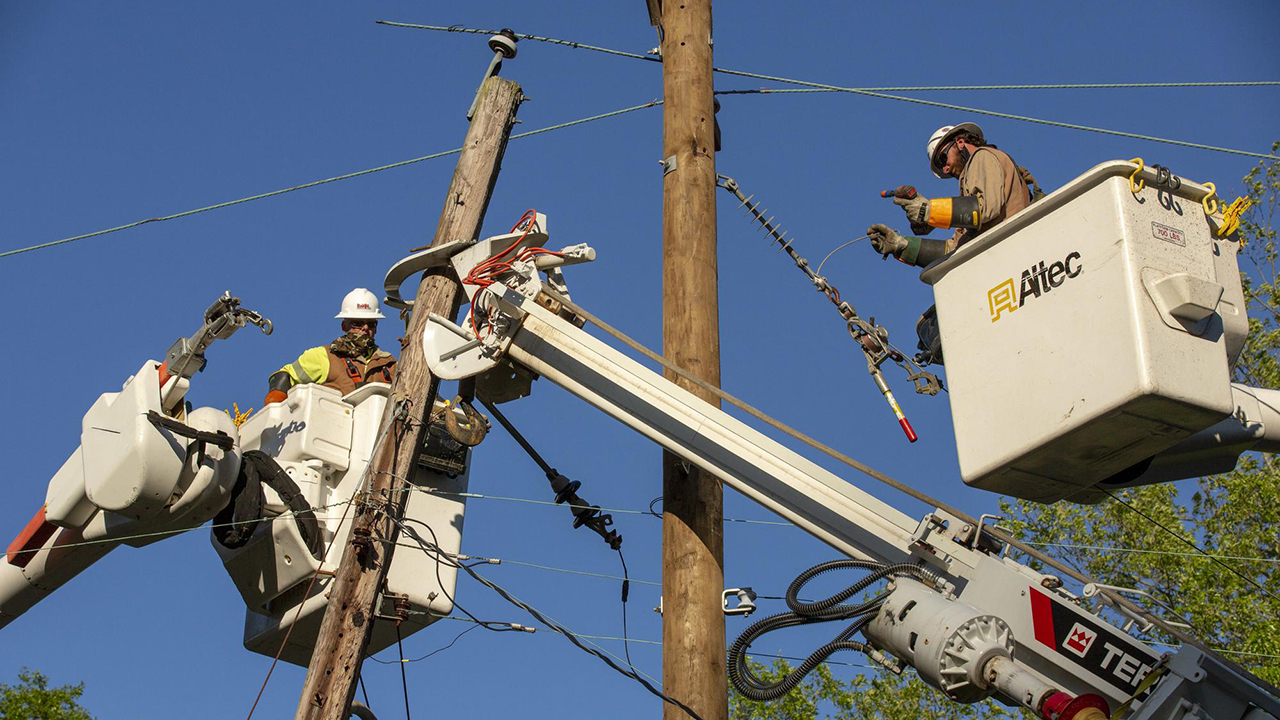 Entergy Arkansas restoration crews and additional resources have restored more than 43,000 outages, down from a peak of 128,000 due to damage from Easter Sunday storms.
Approximately 85,000 outages remained Tuesday afternoon, with 2,250 employees and contractors working to repair some 680 broken poles, 1,050 spans of distribution wire and 117 damaged transformers at about 850 locations.
"Customers are likely already feeling anxiety and stress from COVID-19 constraints placed on families, but please know our crews are working as quickly as they safely can to restore power and return lives back to some sort of normalcy. We ask for your patience as we get through this together," said Entergy Arkansas President and CEO Laura Landreaux.
The damage was primarily caused by straight-line winds as strong as tornadoes. Water-saturated ground and the severe winds caused huge trees to uproot and topple onto power lines and broke utility poles in half. In addition to the poles and wire down, the storms damaged approximately 82 substations and knocked 47 different transmission lines out of service, impacting 837 total miles of transmission line.  In many cases, the transmission work must be completed before service can be restored to homes and businesses.
As restoration workers continue repairing damage, they follow a detailed process to get critical care facilities on first and then the restoration plan takes into consideration how electricity flows into each community. In most cases, our restoration plan aims to get the greatest number of our customers back on as safely and quickly as possible.    
Customers should refrain from approaching utility workers, especially during the public health emergency caused by COVID-19. Entergy Arkansas crews are diligently practicing social distancing from each other as they work. Interruptions slow workers' progress under normal conditions, but the health and safety of both Entergy Arkansas employees and customers can be put in jeopardy with close contact during this time.
For updates and important restoration information, visit entergystormcenter.com to quickly access the outage map and sign up for text messages. Customers can also follow Entergy Arkansas on Facebook and Twitter for timely information.
Commercial customers may have additional challenges due to the COVID-19 pandemic. A special business recovery hub can be found at Entergy.com/arsmbiz with resources available to small businesses during the COVID-19 pandemic. This site includes information on the benefits made available through the federal Coronavirus Aid, Relief and Economic Security (CARES) Act.
Entergy Arkansas provides electricity to approximately 700,000 customers in 63 counties. Entergy Arkansas is a subsidiary of Entergy Corporation (NYSE: ETR), an integrated energy company engaged primarily in electric power production and retail distribution operations. Entergy owns and operates power plants with approximately 30,000 megawatts of electric generating capacity, including nearly 9,000 megawatts of nuclear power. Entergy delivers electricity to 2.9 million utility customers in Arkansas, Louisiana, Mississippi and Texas. Entergy has annual revenues of $11 billion and approximately 13,600 employees.
-30-
entergyarkansas.com
Twitter: @EntergyARK
Facebook.com/EntergyARK
---