News Center > Entergy Arkansas Restores Power to Majority of Customers with Storm-related Outages
For Immediate Release
Entergy Arkansas Restores Power to Majority of Customers with Storm-related Outages
04/16/2020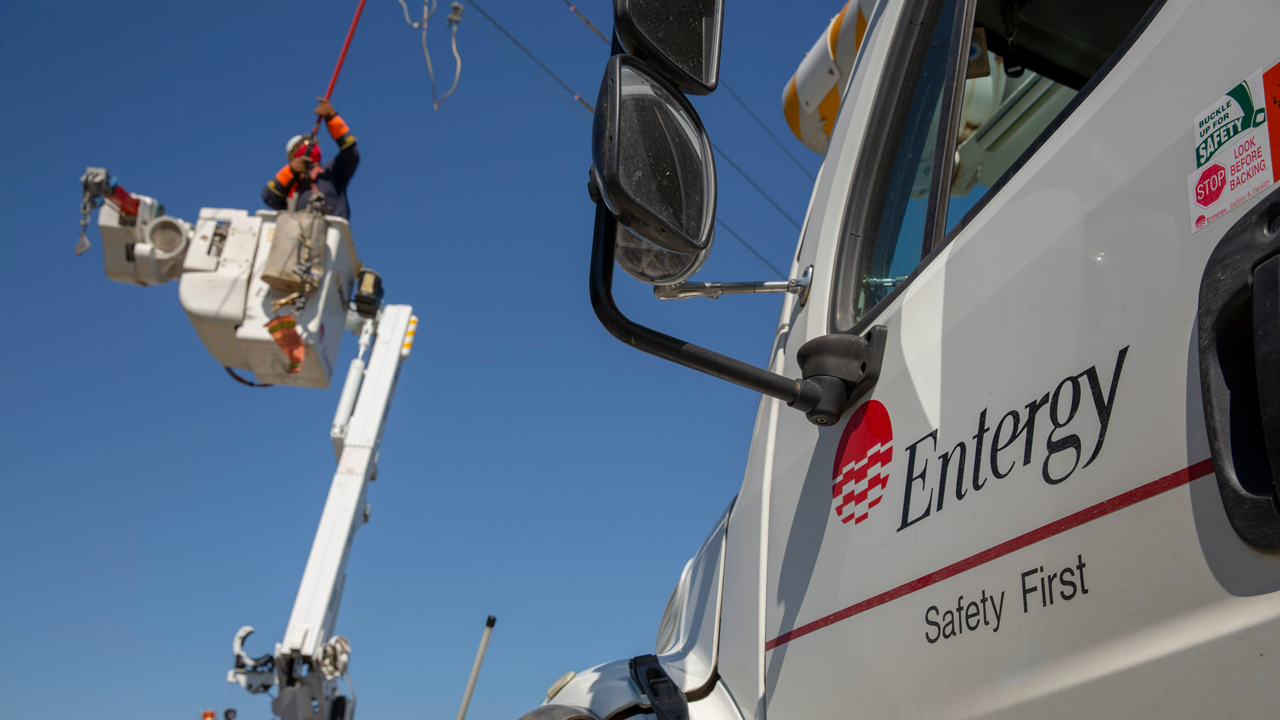 Entergy Arkansas has restored power to nearly 90,000 customers whose service was knocked out after hurricane-force, straight-line winds as high as 90 miles per hour blew across the state. At the peak of the storm Monday morning, 128,000 customers had lost power.
"Restoration for many remaining customers we had hoped to be back on by now has proven more challenging due to access issues for our equipment in hard to reach or flooded areas," said Entergy Arkansas President and CEO Laura Landreaux. "Crews are working hard to bring back power as quickly as they can safely can. Our linemen want customers to know how grateful they are for the well wishes, generosity and support for their safety as they manage through storm damage of historical proportions while also dealing with the challenges created by the COVID-19 pandemic." 
More than 3,300 Entergy employees, contractors and linemen borrowed from other utility companies are working to rebuild the electrical system, which includes replacing 1,375 broken poles, more than 2,000 spans of wire and all the related electrical components. As other areas of our territory are restored, we move workers into areas yet to be restored to assist restoration crews there.  
Customers can get updates on our restoration progress by visiting Entergy's Storm Center and the View Outages map. Other information, such as Entergy Arkansas' response to COVID-19 and other valuable resources can be found on the Entergy website.
In some cases, customers may need to make repairs to customer-owned equipment – the meter base – where electricity enters the structure. If damaged, then repaired, customers may be required to obtain inspections before we are able to safely restore power to these locations. The inspection requirement varies location to location.  
The public is asked to keep their distance from utility workers at job sites. Work zones can be dangerous locations, and interruptions will slow workers' progress. This is especially true regarding social distancing and other aspects of the response to COVID-19.
Entergy Arkansas provides electricity to approximately 700,000 customers in 63 counties. Entergy Arkansas is a subsidiary of Entergy Corporation (NYSE: ETR), an integrated energy company engaged primarily in electric power production and retail distribution operations. Entergy owns and operates power plants with approximately 30,000 megawatts of electric generating capacity, including nearly 9,000 megawatts of nuclear power. Entergy delivers electricity to 2.9 million utility customers in Arkansas, Louisiana, Mississippi and Texas. Entergy has annual revenues of $11 billion and approximately 13,600 employees.
-30-
Twitter: @EntergyARK
Facebook.com/EntergyARK
---