News Release > Entergy Arkansas, U.S. government sign first MOU to work toward 24/7 carbon-free electricity
For Immediate Release
Entergy Arkansas, U.S. government sign first MOU to work toward 24/7 carbon-free electricity
11/15/2022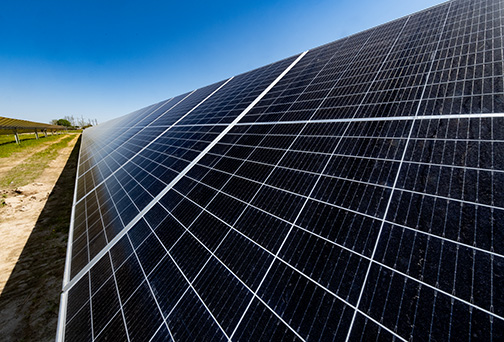 MOU will help federal agencies in Arkansas meet goals of sourcing 100% CFE by '30
WASHINGTON – Today at the 2022 United Nations Climate Change Conference, the Biden-Harris Administration announced the federal government's first Memorandum of Understanding (MOU) with a utility to work toward achieving 100 percent carbon pollution-free electricity (CFE), at least 50 percent of which would be provided on a 24/7 basis, in line with the requirements of Executive Order 14057.
The MOU between the U.S. General Services Administration (GSA) and Entergy Arkansas will help federal agencies in Arkansas meet the goals of President Biden's Executive Order, which sets the goal of sourcing 100% of the federal government's electricity from carbon pollution-free sources by 2030, including 50 percent 24/7 CFE, meaning delivered to the same grid region as the consuming facilities.
"This MOU marks a historic step forward and demonstrates how the federal government is partnering in initiatives to spur demand for carbon pollution-free electricity - when and where people need it," said GSA Administrator Robin Carnahan. "GSA looks forward to working with our agency partners and utilities across the country to replicate this MOU model - helping to promote local, clean energy sources and catalyze utility-scale energy storage, and create a more resilient grid."
Under the MOU, Entergy Arkansas, one of the top 10 suppliers of electricity to the federal government, will allow its public and private sector customers to utilize regionally-sourced nuclear and renewables, including solar, hydro, or wind. The new program is one of the world's first electricity utility tariffs that supports 24/7 hourly matching of CFE with consumers' electricity needs, blending both existing and new CFE power generation. Once fully developed and approved, it is anticipated that Entergy Arkansas customers in both the public and private sector will have a cost-competitive and reliable option for CFE that matches their electricity consumption for all hours of the day.
Andrew Mayock, the federal government's chief sustainability officer at the White House, added, "Today's MOU shows how innovative, customer-centric clean energy can help Federal agencies in Arkansas cost-effectively meet the clean energy goals of President Biden's Federal Sustainability Plan. By building upon existing nuclear power generation with new carbon-free renewable resources, this approach helps reach net-zero emissions while keeping costs low for consumers. We hope this partnership between GSA and Entergy Arkansas will serve as a model for other Federal agencies and suppliers to accelerate the transition to clean energy."
As a primary agency that procures electricity for the federal government, GSA is working with partner agencies to identify energy procurement options and develop strategies for reaching 100% CFE.
Entergy Arkansas provides electricity to approximately 728,000 customers in 63 counties. Entergy Arkansas is a subsidiary of Entergy Corporation (NYSE: ETR), an integrated energy company engaged in electric power production, transmission and retail distribution operations. Entergy delivers electricity to 3 million utility customers through its operating companies in Arkansas, Louisiana, Mississippi and Texas. Entergy owns and operates one of the cleanest large-scale U.S. power generating fleets with approximately 24,000 megawatts of electric generating capacity, including 5,000 megawatts of nuclear power. Entergy has annual revenues of $10 billion and approximately 12,000 employees.
GSA provides centralized procurement and shared services for the federal government, managing a nationwide real estate portfolio of nearly 370 million rentable square feet, overseeing approximately $75 billion in annual contracts, and delivering technology services that serve millions of people across dozens of federal agencies. GSA's mission is to deliver the best customer experience and value in real estate, acquisition, and technology services to the government and the American people. For more information, visit GSA.gov and follow us at @USGSA.
---