News Release > Entergy Building Workforce through New Partnership
For Immediate Release
Entergy Building Workforce through New Partnership
04/01/2016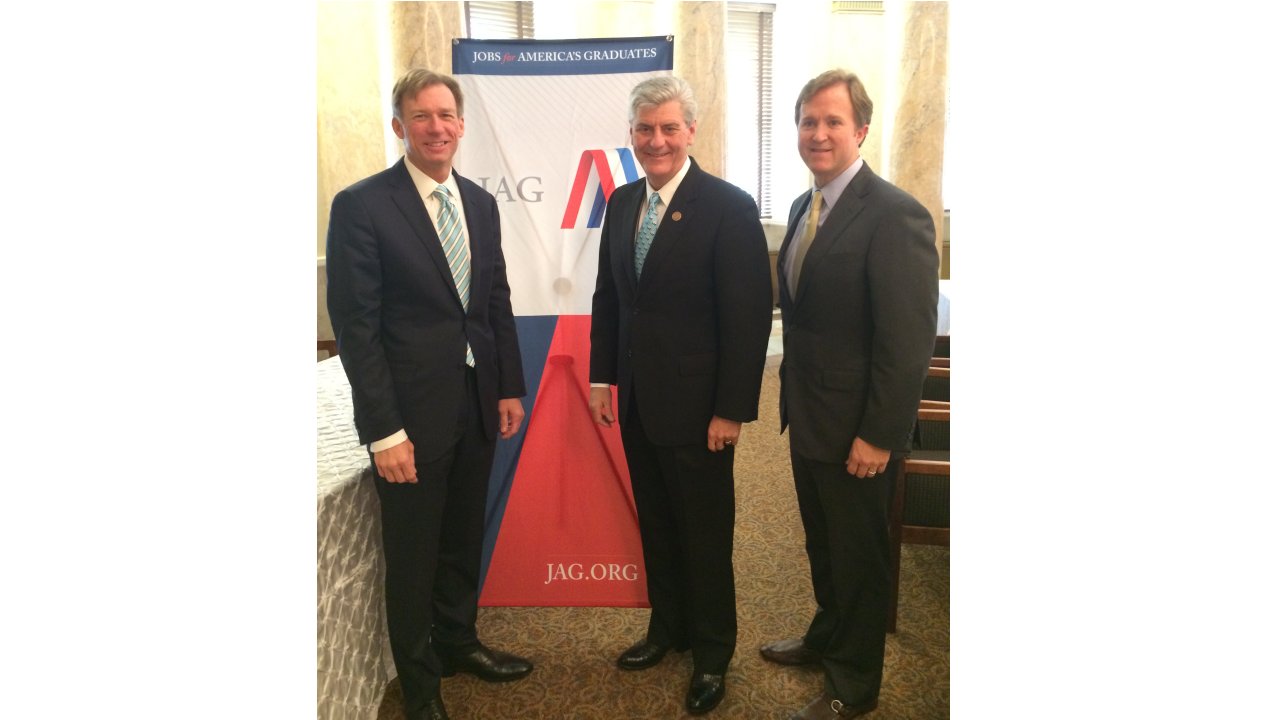 Support to Jobs for America's Graduates Helps Boost Education, Economic Development
JACKSON, Miss. – Expanding workforce training and readiness programs in Mississippi, Arkansas and Louisiana is the purpose of a new $250,000 grant to Jobs for America's Graduates from Entergy Corporation.
The grant, funded by shareholders, was announced by Entergy Corporation Chairman and CEO Leo Denault during a news conference hosted in the Mississippi State Capitol by Mississippi Governor Phil Bryant, who chairs the board of directors for JAG. Denault is a JAG board member.
"Entergy's vision is: We Power Life," said Denault. "That means providing safe, secure, reliable and affordable power, but equally important is our commitment to helping the communities we serve grow and prosper. Improving educational and economic opportunities for customers in our communities clearly demonstrates this commitment."
Entergy's grant is part of a five-year, $5 million initiative the company has launched to support workforce development training.
The JAG programs equip at-risk youth with the skills needed to transition successfully to careers or college, addressing critical workforce needs, closing skills gaps and creating a competitive advantage for local communities.  
In Mississippi, Jobs for Mississippi Graduates operates in 62 schools, serving approximately 2,200 young people. Jobs for Mississippi's Graduates will receive $75,000 of the grant to support growth of the local program.
"Entergy is helping grow Mississippi through recruitment of new business, support to existing business and expansion of educational opportunities that ensure a viable workforce today and tomorrow," said Haley Fisackerly, president and CEO of Entergy Mississippi. "This grant from our shareholders directly contributes to the success of this initiative."
JAG serves more than 52,000 disadvantaged young people nationwide each year, with graduation rates of 90 percent or above. More than 60 percent of JAG graduates enroll in college, and all JAG students learn new skills for better jobs.
"Jobs for Mississippi Graduates is one of our truly compelling success stories, helping thousands of young people in Mississippi succeed both in school and on the job," Gov. Bryant said. "We need many more well-prepared, enthusiastic, hardworking young people to meet the demands of employers moving to Mississippi and existing employers who are expanding their work here. Jobs for Mississippi Graduates delivers young people who are prepared and ready to work – exactly the kind of employees we need." 
Entergy Corporation is an integrated energy company engaged primarily in electric power production and retail distribution operations. Entergy owns and operates power plants with approximately 30,000 megawatts of electric generating capacity, including nearly 10,000 megawatts of nuclear power. Entergy delivers electricity to 2.8 million utility customers in Arkansas, Louisiana, Mississippi and Texas. Entergy has annual revenues of approximately $11.5 billion and more than 13,000 employees. 
-30-
Entergy.com
Facebook.com/Entergy
Twitter.com/Entergy
---