News Center > Entergy Charitable Foundation Awards $156,000 in Grants to Mississippi Nonprofits
For Immediate Release
Entergy Charitable Foundation Awards $156,000 in Grants to Mississippi Nonprofits
01/07/2016
February 1 is the deadline for 2016 applicants
JACKSON, Mississippi -- The Entergy Charitable Foundation is powering life in Mississippi communities with recent grants to nonprofit partners totaling $156,000. Charitable organizations may apply for 2016 support by completing the application form by Feb. 1, 2016.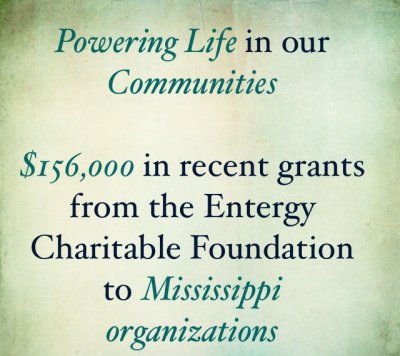 The grants, funded by shareholders, enhance educational opportunities, help protect the environment and provide resources for low-income customers. The grants bring Entergy Corporation's total giving for 2015 to approximately $16 million, including $2.1 million from the Entergy Charitable Foundation. The foundation awards grants in two cycles each year.
Grants awarded to Mississippi organizations in 2015's second cycle include:
· $30,000 to Teach for America to develop a robust teacher recruiting strategy targeting graduates from Mississippi colleges and universities.
· $25,000 to Excel by 5 to support the early childhood community certification initiative, which designates communities as child-friendly. This is the third installment of a $100,000 commitment towards early childhood education.
· $25,000 to Mississippi Wildlife Rehabilitation, Inc., to build an education pavilion at Lake Cormorant in DeSoto County to serve as an outdoor science learning lab for area schoolchildren. This is part of a $150,000 Entergy Environmental Initiative grant award announced by EMI in October.
· $20,000 to North Midtown Community Development Corporation for improved educational offerings at Jackson's Midtown Public Charter School.
· $20,000 to New Stage Theatre for Arts in Education touring performances and educational workshops for public schoolchildren. This is part of a multi-year grant.
· $10,000 to the Mississippi Children's Home Society for Jackson's CARES School, which provides educational and psychosocial services to children with severe emotional and behavioral challenges. This is part of a $50,000 commitment.
· $5,000 to Andrew Jackson Council of Boy Scouts to implement programming designed to encourage healthy food choices. It is part of a total $25,000 commitment from Entergy.
· $5,000 to the Craftsmen's Guild of Mississippi, Inc., to spur increased new membership opportunities for minority and young craft artists.
· $3,000 to Theatre Plus, Inc. in Port Gibson to further improve the organization's community performance facility.
· $2,500 to Ballet Mississippi, Inc. to help provide access to performing arts and educational materials for local schoolchildren.
· $2,500 to Girl Scouts of Greater Mississippi to support the leadership experience for Jackson-area youth participants.
· $2,500 to Operation Shoestring for Project Rise afterschool and summer program, helping Jackson-area at-risk kindergartners through eighth-graders rise to their potential.
· $1,500 to Christian Volunteer Service, Inc. for emergency service to elderly, handicapped, homeless or abused Port Gibson residents. 
· $2,000 to the Boys & Girls Clubs of Central Mississippi for Project LEARN, a comprehensive strategy consisting of programs that reinforce and enhance the skills and knowledge youth learn at school.
· $1,000 each to The Salvation Army in Greenville and Greenwood to further social and human services programs.
"Entergy employees power life by keeping the electricity flowing and by improving local communities through volunteerism and other contributions," said Haley Fisackerly, Entergy Mississippi, Inc. president and CEO. "Shareholder dollars made available through the Entergy Charitable Foundation strengthen our communities by supporting education, breaking the cycle of poverty and improving the environment."
Entergy Mississippi, Inc. provides electricity to approximately 442,000 customers in 45 counties. It is a subsidiary of Entergy Corporation. Entergy Corporation is an integrated energy company engaged primarily in electric power production and retail distribution operations. Entergy owns and operates power plants with approximately 30,000 megawatts of electric generating capacity, including nearly 10,000 megawatts of nuclear power, making it one of the nation's leading nuclear generators. Entergy delivers electricity to 2.8 million utility customers in Arkansas, Louisiana, Mississippi and Texas. Entergy has annual revenues of more than $12 billion and approximately 13,000 employees.
-30-
entergy-mississippi.com
Twitter: @EntergyMS
facebook.com/EntergyMS
---