News Center > Entergy Charitable Foundation Fuels Community Improvements
For Immediate Release
Entergy Charitable Foundation Fuels Community Improvements
01/12/2016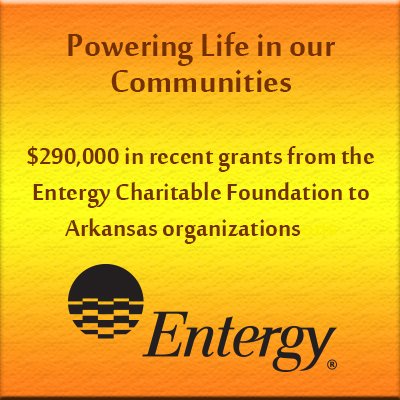 Grants totaling more than $290,000 power life in Arkansas communities
LITTLE ROCK, Ark. -- The Entergy Charitable Foundation is powering life in Arkansas communities with recent grants to nonprofit partners totaling more than $290,000. Charitable organizations may apply for support by completing the application form by Feb. 1, 2016.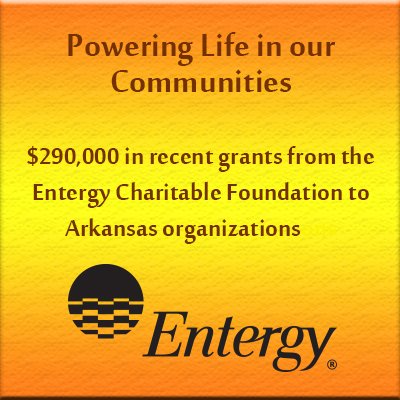 The grants, funded by shareholders, create value for customers and local communities by enhancing educational opportunities, protecting the environment and providing resources for low-income customers. The grants bring Entergy Corporation's total giving for 2015 to approximately $16 million, including $2.1 million from the Entergy Charitable Foundation. The foundation awards grants in two cycles each year.
Grants awarded to Arkansas organizations in this cycle include:
· $100,000 to the Arkansas chapter of The Nature Conservancy to protect water quality along the Little Maumelle River in the Ranch North Woods Preserve, enhance existing wetlands, reforest portions of fields and reestablish native plants.
· $50,000 to Teach For America, Inc. for recruitment, selection, training and ongoing support to corps member teachers in Arkansas.
· $25,000 to City Year in Little Rock for the Whole School Whole Child Social-Emotional Learning Program at Mabelvale Middle School providing school-wide and targeted culture, social-emotional learning and behavior support actions that foster a positive school climate and promote students' school connectedness, community- and civic-mindedness and self-perception as capable and committed learners.
· $20,000 to the Arkansas STEM Coalition in Little Rock for a Computer Science Leadership Summit allowing business and industry leaders to discuss the importance and relevance of computer science education and digital literacy for Arkansas public and charter school students grades kindergarten through 12.
· $15,000 to Central Arkansas Development Council in Benton in support of the Low Income Advocates Leadership and Community Development Conference focused on poverty solutions.
· $14,400 to the University of Arkansas Winthrop Rockefeller Center in Morrilton for the Uncommon Communities initiative providing participants chosen by their communities the opportunity to attend five carefully crafted sessions designed to address local skills and resource needs.
· $10,000 to the University of Arkansas Community College at Morrilton for the workforce training center and scholarship program designed to prepare students through career-specific instruction based on high-wage, in-demand occupations.
· $7,500 to Cross County High School in Cherry Valley to expand the College and Career Access Program focused on awareness, eligibility and preparedness for college and career choices.
· $7,500 to S. W. Chance, Inc. in Maumelle to expand its Transportation to Employment program for individuals with disabilities.
· $5,000 to AR Kids Read in Little Rock to support a community-wide literacy initiative mobilizing volunteers in Central Arkansas as in-school literacy tutors and other support roles.
· $5,000 for TOPPS -Targeting Our Peoples Priorities with Service for the DREAMS program designed to eliminate college preparation barriers by providing financial support for college prep fees, educating students and parents on the college admission process and exposing students to colleges and financial aid options as possible.
· $5,200 to Just Communities of Arkansas in Little Rock for youth programming aimed at reducing prejudice, fostering mutual respect and understanding and increasing communication and interpersonal leadership skills. 
· $5,000 to Arkansas Advocates for Children & Families in Little Rock to promote early education, healthcare, and child care as a means of reducing poverty.
· $5,000 to Camp Aldersgate in Little Rock offering weekend programs and services for individuals with special needs and senior adults in a camp environment.
· $5,000 to the CARTI Foundation in Little Rock for Access to Treatment -- Overcoming Barriers, a program providing housing to qualifying radiation treatment patients.
· $2,500 to Arkansas Hunters Feeding the Hungry, a Little Rock program providing venison, beef, pork and other wild game to those in need.
· $2,500 to Open Arms Shelter in Lonoke for "Enter-gize" the Kids-Phase II, allowing capacity expansion to better meet the emergency and residential care needs of abused and neglected children.
· $2,500 to the Independent College Fund of Arkansas in North Little Rock for the First Generation Project providing need-based scholarships for deserving students who are the first in their families to enroll in college.
· $2,500 to CASA 13th Judicial District in Fordyce for a court-appointed special advocate project aimed at recruiting, training and retaining culturally diverse community volunteers to advocate for abused and neglected children in the juvenile court system.
· $2,000 for the Arkansas Tech University Foundation in Russellville for a multi-year initiative designed to bring modern instrumentation into every level of the chemistry curriculum.
"Entergy employees keep the electricity flowing, and power communities through volunteerism and advocacy," said Rick Riley, Entergy Arkansas' vice president of customer service and operations. "Shareholder dollars made available through the Entergy Charitable Foundation strengthen our communities through education, literacy and low-income initiatives."
Entergy Arkansas provides electricity to approximately 700,000 customers in 63 counties. Entergy Arkansas is a subsidiary of Entergy Corporation, an integrated energy company engaged primarily in electric power production and retail distribution operations. Entergy owns and operates power plants with approximately 30,000 megawatts of electric generating capacity, including nearly 10,000 megawatts of nuclear power, making it one of the nation's leading nuclear generators. Entergy delivers electricity to 2.8 million utility customers in Arkansas, Louisiana, Mississippi and Texas. Entergy has annual revenues of more than $12 billion and approximately 13,000 employees.
-30-
 
entergyarkansas.com
@entergyark
Facebook.com/EntergyARK
---