News Center > Entergy Charitable Foundation Fuels Community Improvements
For Immediate Release
Entergy Charitable Foundation Fuels Community Improvements
12/16/2015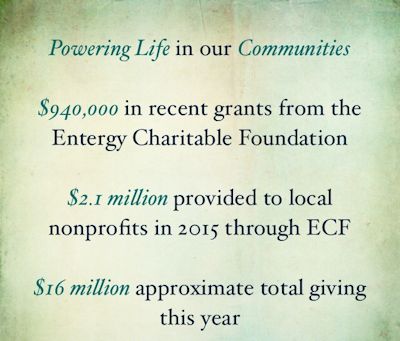 Grants totaling more than $940,000 power life in local communities
NEW ORLEANS -- The Entergy Charitable Foundation is powering life in local communities with recent grants to nonprofit partners totaling more than $940,000. Charitable organizations may apply for support by completing the application form by Feb. 1, 2016.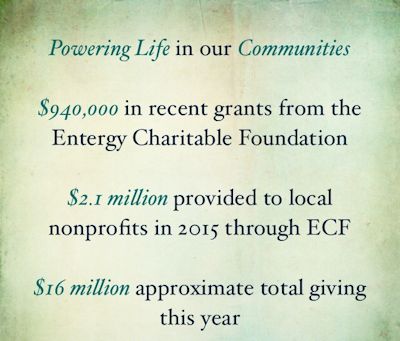 The grants, funded by shareholders, create value for customers and local communities by enhancing educational opportunities, protecting the environment and providing resources for low-income customers. The grants bring the company's total giving for 2015 to approximately $16 million, including $2.1 million from the Entergy Charitable Foundation. The foundation awards grants in two cycles each year.
Grants awarded this cycle include:
· $80,000 to Teach for America to improve learning opportunities in Mississippi and Arkansas.
· $15,000 to West Feliciana Drug Awareness Council in Louisiana for programming that leads to better decision making by local youth.
· $100,000 to The Nature Conservancy to protect water quality along the Little Maumelle River in Arkansas.
· $15,000 to SUNY New Paltz Foundation, Inc. in New York to support scholarships for underrepresented students in engineering programs.
· $47,000 to Texas nonprofit organizations for improvements such as enhanced programming at the Boys & Girls Club of Deep East Texas, meals delivered to elderly residents by the Orange Community Action Association, accommodations for medical treatment patients provided by Anayat House, Inc. and other local improvement programs and organizations.
"Entergy employees power life by keeping the electricity flowing and by improving local communities through volunteerism and other contributions," said Patty Riddlebarger, director of corporate social responsibility for Entergy. "Shareholder dollars made available through the Entergy Charitable Foundation strengthen our communities by supporting education, breaking the cycle of poverty and improving the environment."
Entergy Corporation is an integrated energy company engaged primarily in electric power production and retail distribution operations. Entergy owns and operates power plants with approximately 30,000 megawatts of electric generating capacity, including nearly 10,000 megawatts of nuclear power, making it one of the nation's leading nuclear generators. Entergy delivers electricity to 2.8 million utility customers in Arkansas, Louisiana, Mississippi and Texas. Entergy has annual revenues of more than $12 billion and approximately 13,000 employees.
-30-
entergy.com
Twitter: @entergy
Facebook: www.facebook.com/entergy
---