News Center > Entergy Charitable Foundation Grants $92,000 to Arkansas Organizations
For Immediate Release
Entergy Charitable Foundation Grants $92,000 to Arkansas Organizations
08/08/2016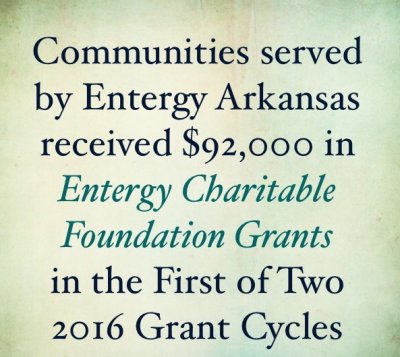 Money is Part of $1.5 Million Awarded to Groups in Seven States
LITTLE ROCK, Ark. – Arkansas School for the Deaf students are among the beneficiaries of the Entergy Charitable Foundation's grants for the first half of 2016. The school's program enriches technology access and skills and is an example of the more than 80 nonprofit organizations in seven states recently awarded grants totaling $1.5 million from the company's foundation. Organizations in communities served by Entergy Arkansas, Inc. received $92,000 in grants.
"We see it as a privilege to give back to communities around the state to help people and organizations prosper," said Tom Kennedy, vice president of public affairs for Entergy Arkansas, Inc.
The Entergy Charitable Foundation provides monies focused on education, poverty solutions and environmental programs that improve the quality of life in communities served by Entergy Corporation. Applications for the foundation's next grant award cycle can be submitted at "Our Community" at entergy.com for one month from January 1, 2017 through February 1, 2017.
"Making a difference in our communities through the Entergy Charitable Foundation is one of the many ways We Power Life for our customers, employees and communities," Kennedy added. "Entergy shareholders – our owners -- provide the funding for charitable organizations that create vibrant, healthy communities. In addition, our employees and retirees have the opportunity to take an active role in their local communities by taking part in Entergy's Community Connector Volunteer Program that allows employees and retirees to earn up to $750 in grants per year for qualifying nonprofits."  
 Among the programs supported by 2016 Entergy Charitable Foundation grants are:
Artchurch Studios in Hot Springs to provide art education and creative experience to all individuals in Garland County, especially individuals living in poverty and individuals with special needs.
H.O.E.B.E. to increase the literacy/reading comprehension skills of Hot Springs youth from low-income, single parent homes.
Arkansas Hunters Feeding the Hungry to support a community-minded program that provides venison, beef, pork and other wild game to those in need.
Arkansas Museum of Science and History to support 100 sixth-graders nominated for hands-on activities with local companies focused on hiring employees with strong skills in STEM studies.
Arkansas School for the Deaf for Laptops for Learning, providing technology, education, access and mobility to enrich learning and access to 21st-century skills.
Gaines House, Inc. of Little Rock for facility improvements to better meet the needs of homeless women suffering from mental illness and other challenges.
Habitat for Humanity of Pulaski County for Rock the Block, a focused neighborhood outreach approach for residents, organizations and volunteers to come together to assist with needed repairs, weatherization, safety, accessibility, landscaping and beautification.
Just Communities of Arkansas for summer social justice leadership institute programming to reduce prejudice, foster mutual respect and understanding and increase communication and interpersonal leadership skills.
Opera Theatre at Wildwood, Inc. of Little Rock for scholarships to students for a youth training program at Wildwood Academy of Music and the Arts.
Lucie's Place, Inc. of Little Rock for a transitional living program for homeless LGBT-identified young adults in Central Arkansas.
Lonoke County Task Force on Child Abuse and Neglect, Inc. Open Arms Shelter providing emergency and residential care in a safe, nurturing environment for area children who are victims of abuse and neglect.
ARVets of North Little Rock to establish a veteran resource center that will provide service members, veterans and their families with resources that improve their overall quality of life.
Arkansas Tech University Foundation 2016 Scholarship Benefit to help students in need of assistance pursue and attain their educational goals.
Arkansas Single Parent Scholarship Fund of Springdale for the Entergy Scholars Project helping impoverished single parents working hard to complete their post-secondary education and secure jobs with life-sustaining wages.
Partnerships with the United Negro College Fund and the American Indian College Fund benefit stakeholders in all Entergy utility service areas. A complete list of grants awarded can be found at: http://www.entergy.com/our_community/ECF_grant_guidelines.aspx
In 2015, Entergy shareholders awarded more than $15 million to local nonprofits through various grant programs. Over the past 10 years, Entergy Corporation has donated more than $150 million. Entergy employees engaged in more than 100,400 hours of volunteer service last year valued at more than $3 million. Learn more in our 2015 integrated report.
Entergy Arkansas provides electricity to approximately 700,000 customers in 63 counties and is a subsidiary of Entergy Corporation, an integrated energy company engaged primarily in electric power production and retail distribution operations. Entergy owns and operates power plants with approximately 30,000 megawatts of electric generating capacity, including nearly 10,000 megawatts of nuclear power. Entergy delivers electricity to 2.8 million utility customers in Arkansas, Louisiana, Mississippi and Texas. Entergy has annual revenues of approximately $11.5 billion and more than 13,000 employees.
-30- 
entergyarkansas.com
@entergyark
Facebook.com/EntergyARK
---